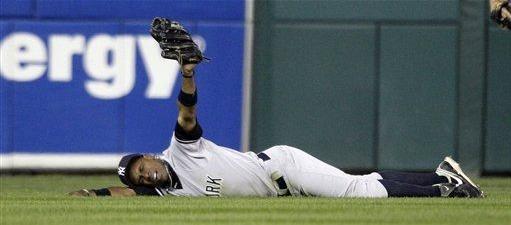 Last night's Game Four win was all about A.J. Burnett's surprisingly effective start and a late-inning offensive relay, where everyone in the lineup just kept passing baton to the next guy. The final score (10-1) doesn't really tell the whole story story though, because it was just 4-1 heading into the eighth. Baseball is a team game, but one man really stood on his head a bit and contributed to that 4-1 lead. That would be Curtis Granderson, the club's MVP.
I don't want to say that we're overlooking what Granderson did last night, I don't think that's case at all, but it's worth taking a step back to appreciate his efforts again during the off day. The defensive stats may not like him to varying degrees this year – DRS hates him (-15 runs), UZR doesn't like him much (-5.3), and dWAR says he's basically average (-0.2) – but even if you don't like Granderson's defense, you can't deny the two plays he made last night. That first inning lunging catch (video) completely changed the dynamic of that game. If it gets by him, that ball has inside-the-park grand slam potential. At the very least, it's three runs for the Tigers. Instead they got zero, then Burnett settled down and kept it that way. Six innings later, he made another thrilling catch on a Jhonny Peralta fly ball (video), laying out to save a run, keep the tying run from coming to the plate, and ending the inning.
On the offensive side of the ball, which is really what Granderson is known for, he doubled in the team's third run of the game, which also helped setup the fourth run later in the inning. He also tripled in Derek Jeter in the first inning of Game Three and whacked a solo homer in Game Two as the Yankees tried (and failed) to make a comeback. Everyone's spent so much time focusing on how poorly Alex Rodriguez, Mark Teixeira, and Nick Swisher have hit over the last two postseasons that they haven't bothered to notice what Curtis has done with the bat, namely hit .318/.464 (!)/.614 in the playoffs as a Yankee. Remember the came tying triple off Francisco Liriano in Game One of last year's ALDS? Another feature in his cap.
Granderson had a weak September (.205/.300/.375 in exactly 100 PA), no denying it, but he still had an MVP caliber year. We're talking a .262/.364/.552 batting with 41 homers, and he's shaken off that slow September to again become a force in the ALDS. He was a two-way threat last night, creating runs with the bat and certainly saving runs with the glove. Granderson impacted the game as much as any player on the field, which is something he's been doing all year.