Over the next few weeks, we're going to look back at what went right, what went wrong, and what went as expected during the 2011 campaign.

There are few things in baseball than qualify as sure things, but CC Sabathia qualifies as a sure thing. The big left-hander can be counted for a plethora of high-quality innings year after year, and that's exactly what he gave the Yankees in 2011. If you want to build a fun narrative, you can say Sabathia did it while performing with the pressure of having to be The Guy in a rotation that was full of question marks on Opening Day.
The season started with reports of weight loss, up to 30 lbs. thanks to a Captain Crunch-free diet. Sabathia cruised through Spring Training and opened the season with a win over Justin Verlander, holding the Tigers to two earned runs over six innings. He two-hit the Twins across seven scoreless next time out, then allowed one run in 5.2 IP to the Red Sox. CC finished the month of April with a 2.25 ERA in 40 IP, and he continued to pitch well into mid-June (3.39 ERA in 114 IP). Something seemed to click on June 25th, however.
Sabathia struck out nine Rockies across eight one-run innings that day, walking just one. Five days later he struck out 13 Brewers across 6.2 scoreless innings, tying his career high in strikeouts. Eleven whiffs in seven scoreless against the Indians followed that, then nine whiffs in a complete game shutout of the Rays followed that. On July 26th, Sabathia set a new career high with 14 strikeouts, flirting with a perfect game against the Mariners. From June 25th through July 26th, a span of seven starts, the big lefty allowed just five runs in 54.2 IP, striking out 72 and walking just 16. Opponents hit just .166/.232/.219 off him during those seven games. It was easily the best regular season stretch of his Yankees career.
That July 26th game against the Mariners featured a pair of rain delays, the first in the sixth inning (about 30 minutes) and the second in the eighth inning (about 14 minutes). Sabathia walked three batters in a row after the second delay, giving way to David Robertson in the eventual win. CC seemed to struggle with his control within the strike zone the rest of the season, because he still wasn't walking anyone, just giving up a ton of hits. Sabathia allowed exactly ten hits in four of his next ten starts, plus nine and seven hits in the other two. He was still piling up a ton of strikeouts (45 in 42.1 IP) and not walking anyone (just five), but the hits were falling in and his homerun rate (six homers through his first 168.2 IP) had started to regress (nine in those 42.1 IP, including five solo shots by the Rays on August 12th).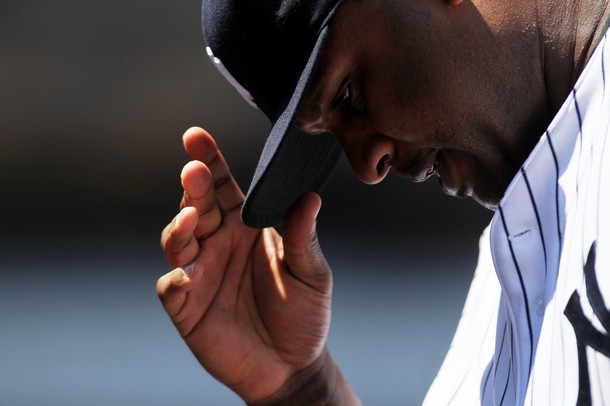 Sabathia stumbled to the finish, with a 4.30 ERA and a .314/.358/.502 opponent's batting line through his final nine starts. Some blame it on the rain delay game, some blame it on his increasing weight, some blame it on the six-man rotation used in the second half, and some blame it on something else entirely. The ALDS was a total mess, Game One was postponed due to rain after an inning and a half, then CC lost to Verlander three days later in the "new" Game Three. He was one of many relievers to come out of the bullpen in Game Five as well. All told, Sabathia allowed six runs in 8.2 IP against the Tigers, uncharacteristically walking eight while striking out eleven. The Yankees lost the series in five, and that was that.
Despite the slow finish, 2011 was Sabathia's best season in pinstripes. His strikeout rate (8.72 K/9) was the second best of his career, his walk rate (2.31 BB/9) was the third best of his career, his ground ball rate (46.6%) was the third best of his career, and his homerun rate (0.64 HR/9) was the best of his career. After three straight years of enjoying sub-.300 BABIPs, he had to live with a .318 mark in 2011. Sabathia logged 237.1 IP (!) during the regular season, his fifth (!!) straight season over 230 IP (!!!). Only twice all year did he fail to complete at least six innings in a start, and both times he went 5.2 IP.
Whether you prefer bWAR or fWAR, this was the second best season of Sabathia's career (6.9 bWAR and 7.1 fWAR), trailing only that monster 2008 campaign with the Indians and Brewers (7.1 and 7.6, respectively). His 3.00 ERA was the best by a Yankees starter since David Cone in 1997 (2.82), and his 8.71 K/9 was the best since Roger Clemens in 2002 (9.50). He also became the first Yankee to throw 230+ IP in three straight seasons since Ed Figueroa (1976-1978). This is nothing new for Sabathia though, he's spoiled us by being this great since the day he signed his contract, a contract he will inevitably opt-out of a few days after the end of the World Series.