Over the next few weeks, we're going to look back at what went right, what went wrong, and what went as expected during the 2011 campaign.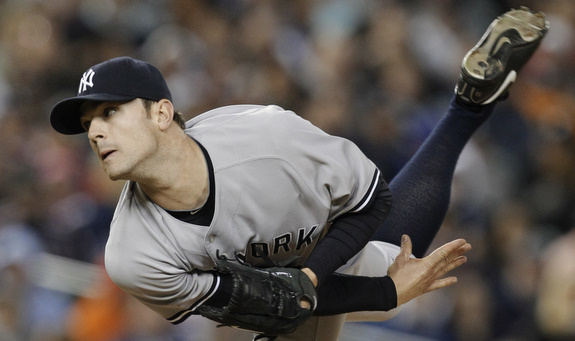 When the season started, David Robertson was third on the Yankees set-up reliever depth chart. He pitched very well in 2010, his first full season as a big leaguer, and he came into this year the proud owner of a 11.3 K/9 and 4.1 uIBB/9 in 135.1 career innings. On most teams, that guy is working the eighth inning or maybe even closing. On the Yankees, Robertson was just the sixth inning guy/fireman because of big money signee Rafael Soriano and incumbent setup man Joba Chamberlain.
The 26-year-old right-hander's month of April was more notable for how often he didn't pitch rather than how often he did. Robertson seemed to warm up every single game, but would be left with nothing to show for it when the starter got through the sixth inning and Joe Girardi went to his late-inning formula. He appeared in half of the team's first 20 games, striking out ten in 8.1 IP. When Soriano went down with an elbow issue in mid-May, Robertson took over seventh inning duties. When Joba went down with an elbow issue of his own in early-June, he took over the eighth inning.
At the time of Joba's injury, Robertson owned a shiny 1.16 ERA in 23.1 IP, but his underlying performance told a different story. He'd struck out 38 batters in those innings, but also walked 18. Those kinds of control problems can be scary late in the game, but it was like someone flipped a switch after the responsibility increase. After walking 18 in his first 23.1 IP (6.9 BB/9), Robertson walked just eight in his next 26.1 IP (2.7 BB/9). His strikeout rate remained sky high, and opposing batters were unable to top a .500 OPS off him. When Soriano returned from the disabled list in late-July, Robertson kept the eight inning job and forced the $35M man into the seventh inning.
All told, Robertson struck out 100 batters on the nose this season, becoming just the third full-time reliever in Yankees history with a triple-digit strikeout total. Mariano Rivera did it in 1996, and Goose Gossage did it three times. Robertson did it in at least 30 fewer innings than those guys, though. Only one batter managed to take him deep in 2011, J.J. Hardy of the Orioles on August 29th. That was also the only run he gave up on the road this season. Robertson's 1.08 ERA was the second lowest among relievers with at least 60 IP, his 1.84 FIP third lowest this year and 11th lowest in a single season since 2000. We're talking 2003 Eric Gagne, 2006 J.J. Putz territory.
In a season in which the Yankees got just 68 total innings out of their Opening Day eighth and ninth inning relievers, it was Robertson who emerged and did more than just fill in capably. He excelled and developed into one of the very best relievers in the game, a strikeout fiend with a knack for pitching out of jams. The "heir to Mo" talks are premature, but just the fact that the thought has crossed people's minds is a positive sign. Robertson went from a nice complementary piece to a core Yankee in just six months, and he'll be counted on for much more next season.