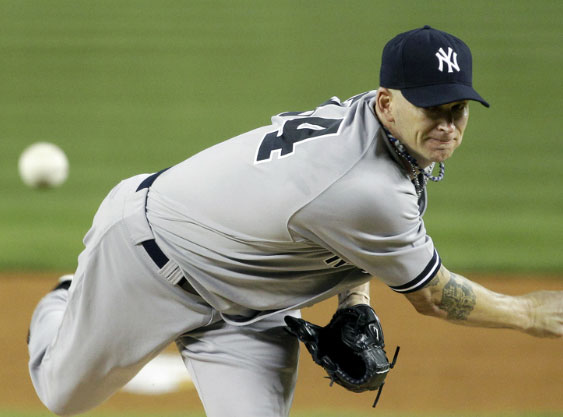 At this point you've no doubt read countless exasperated summaries of A.J. Burnett's second straight terrible season in pinstripes, but rather than dwell on how historically bad A.J.'s been, I wanted to dig a bit further into the numbers to see if we might actually be able to glean any positives from his 2011 season and whether we can expect at least a slightly better performance going forward. Especially in light of the fact that if he does stay on the Yankees they're basically stuck with him for ~65 more starts.
In case you weren't paying close attention, Burnett actually wasn't that bad for most of the first half of the season. Following seven innings of two-run ball against the Brewers on June 29, his ERA sat at 4.05 through 17 starts. He only gave up more than three runs in five of those 17 outings, and only failed to complete six innings six times. He did turn in a couple of classic A.J. stinkers — the May 16 game against Tampa Bay (brilliant through five innings before completely unraveling in the sixth) and June 8 game against Boston (just awful from the get-go) — but after his "performance" in 2010, any Yankee fan had to be thrilled with the results through the first three months of the season.
Of course, the wheels came off once the calendar flipped to July. He actually wasn't terrible in his July 4 start at Cleveland; you may recall he kept the Indians scoreless through six, and took a 2-0 lead into the bottom of the 7th, until a pair of former Yankees — Shelley Duncan and Austin Kearns — combined to knock in four runs before A.J. could get out of the inning. If Burnett keeps things at 2-1 in the 7th — the Kearns three-run jack came with two outs — who knows, maybe A.J. doesn't end throwing to an 8.18 ERA over his next nine outings. There's no way of knowing, and of course baseball doesn't work that way, but that Kearns home run wound up being a fairly big turning point in A.J.'s season.
Anyway, over those aforementioned following nine starts, A.J. only managed to pitch into the 6th inning twice, and really was just generally horrendous. Things seemed to come to something of a head on August 20 at Minnesota, as A.J. couldn't even get through two innings against the league's worst offense. He followed that up with what was probably his worst outing of the season against the Orioles, and with his next start slated to come at Fenway Park, pretty much every fan in Yankeeville was expecting the absolute worst-case scenario to occur.
Except then something incredibly strange and completely unexpected happened: A.J. Burnett threw a pretty good game. Against the Red Sox. In Boston. Including that September 1 outing, A.J. finished the season throwing to a 4.34 ERA over his final five starts. Still not great, but much, much better than what we'd become accustomed to expect. Anecdotally it seemed like A.J.'s curve had quite a bit more bite to it, and in fact he did rack up quite a few Ks, boasting an 11.2 K/9 on the month.
So given these three chunks of the season — pretty good A.J. (April through June), utterly horrendous A.J. (July and August) and good enough A.J. (September), here's a look at the breakouts for each of his pitches: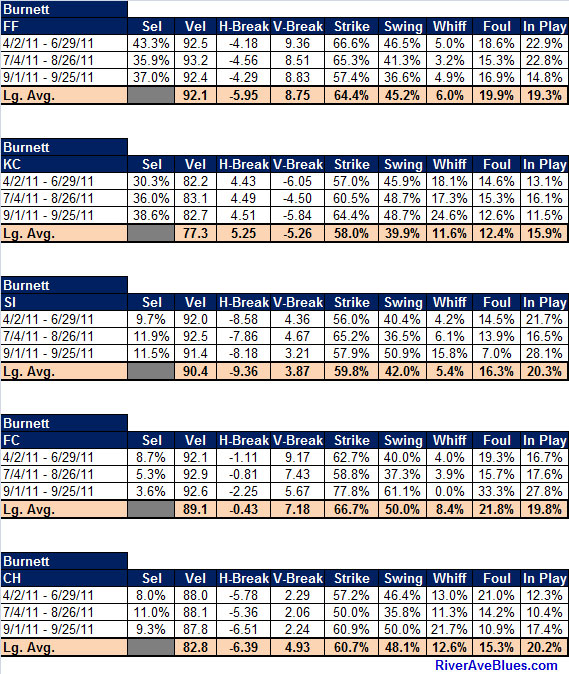 We often think of A.J. as a two-pitch pitcher — and he obviously doesn't stray too far off of the fastball-curve combo — but he actually does have some secondary stuff, although none of it's all that great.
It looks like one of the main differences between A.J.'s April-June and July-August was vertical fastball location. During the first three months he averaged 9.36 inches of v-break, but that number fell to 8.51 in July-August. He also went from throwing it 43% of the time to 36%, and basically replaced those fastballs with curves (which rose from 30% to 36%). This was likely problematic as his curve broke 1.5 inches on average closer to the strike zone vertically, which means his curve was that much more hittable. Though he more or less maintained his above-average Whiff%, his Swing%, Foul% and In Play% all went up on the curve.
Once the curve started diving again (from -4.50 to -5.84) over his last five starts, his numbers picked back up, and he posted a ridiculous 24.6% Whiff% with the curve, well above the 11.6% league average. Also worth noting is that he mixed in a sinker nearly 12% of the time during September, and managed to post an impressive 15.8% Whiff% (against 5.4% league average), and he even got a 21.7% Whiff% on his change — which has never been anyone's idea of a good A.J. Burnett pitch — against a 12.6% league average.
Granted, the September results are comprised of a mere five starts, but I'd rather look at it on the bright side and be encouraged. Maybe A.J. did indeed find something during the season's last month. You'll recall that he saved the team's season in the ALDS, pitching well enough to help the Yanks live to fight another day. Also, if you take out that awful nine-start stretch, A.J. threw to a 4.11 ERA over 135.2 innings. That doesn't erase his struggles from the ledger, but it perhaps places them in a slightly different light.
I don't know that the answer to the A.J. conundrum is as simple as "he needs to locate his curveball;" even if that does seem to have a disproportionate effect on his success/failures. I do know that A.J. Burnett has been and can be better than 5.00-plus ERA pitcher — we saw him turn in an above-average season two years ago — and if he's still a Yankee come the 2012 season, he'll have to figure out how to escape what's become an annual rut and turn in a full season of league average pitching, at the very least.