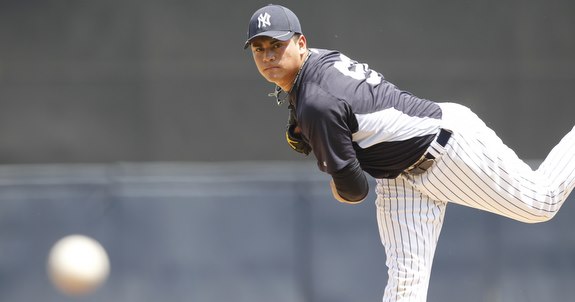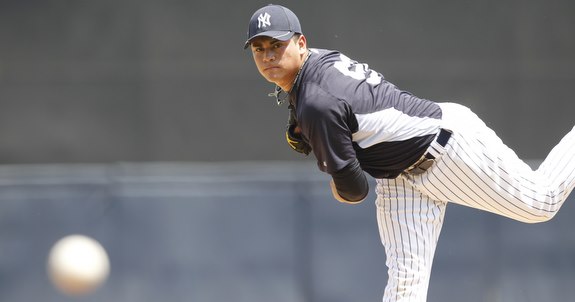 The Major League portion of our season review is just about complete, and now it's time to dig into the minor league system. As is the case every year, some things went right and some things went wrong in the farm system. There were breakout performances, injuries, disappointments, surprises, same kind of stuff we see every season.
What Went Right
First and foremost, it was health on the pitching side. Aside from David Phelps' sore shoulder (six weeks on the shelf) and Graham Stoneburner's neck sprain (two months), all of the Yankees' top pitching prospects remained on the mound in 2011. Adam Warren, D.J. Mitchell, and Brett Marshall combined to throw 454 IP and at least 140 IP each. Manny Banuelos and Dellin Betances each eclipsed the 120 IP plateau, right in line with what they were expected to do before the season. Even relief prospects Chase Whitley, Dan Burawa, George Kontos, and Tommy Kahnle were able to log 80+ IP each this summer.
Secondly, the Yankees enjoyed some nice early returns from their 2010 and 2011 draft classes. Mason Williams (.404 wOBA) and Tyler Austin (.478 wOBA) broke out in big ways in the lower minors, while Dante Bichette Jr. (.438 wOBA) and Matt Duran (.395 wOBA) made strong first impressions after being drafted in June. The team's Latin America program also enjoyed some success with Isaias Tejeda (.443 wOBA), Claudio Custodio (.439 wOBA), and Ravel Santana (.423 wOBA). These guys represent the next wave of prospects behind the crop at Double and Triple-A.
Thirdly, there were the breakouts and surprise performances. Williams was definitely the biggest breakout, but you had under-the-radar players like lefty Jose Quintana (2.96 FIP in 102 IP) force their way into the prospect picture. Ramon Flores (.350 wOBA) led the farm system in walks (61) a 19-year-old. The Almontes – Zoilo (.365 wOBA) and Abe (.331 wOBA) – stayed healthy and put together strong campaigns. The former did so as a switch-hitting outfielder and reached Double-A, putting him on the big league radar. It was the second and third-tier prospects that really stepped up this year, not necessarily the headliners.
What Went Wrong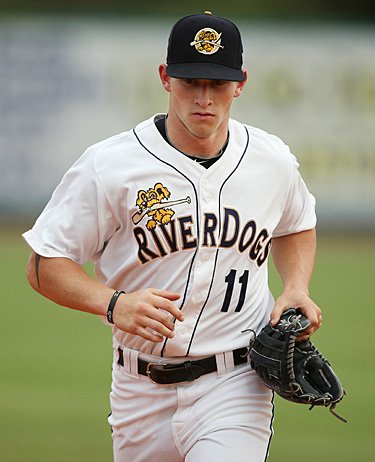 Obviously, Andrew Brackman's return to 2009 form headlines the disappointments. He completely flopped in 13 starts, walking 54 batters and striking out just 41 in 59.1 IP for Triple-A Scranton before shifting to the bullpen and finding himself a bit. After whiffing 34 and walking 21 in 36.2 IP out of the bullpen to finish the minor league season, the Yankees gave him his second straight September call-up and actually used him this time. He walked three and struck out none in 2.1 IP with the big league team. Brackman will be 26 in December, and rather than give him another chance, the Yankees declined his 2012 option and released their 2007 first rounder yesterday.
While the pitchers stayed healthy for the most part, many position players did not. Austin Romine was limited to just 89 games in Double-A due to a concussion and back trouble this summer, though he returned and was able to make his big league debut in September. Slade Heathcott injured his left shoulder again, his third shoulder injury since 2008. J.R. Murphy and Nik Turley were having fine seasons before a pair of fluke injuries ended them prematurely; Murphy fouled a ball of his leg and Turley took a line drive to his pitching hand. David Adams has played in just 29 games since fracturing his ankle last May, as in 2010.
Some players, like Melky Mesa and Jose Ramirez, did not take step forwards in their development. Mesa was unable to build on his standout 2010 season that earned him a 40-man roster spot, reverting back to his hacktastic ways that exposed a weakness against non-fastballs. Gary Sanchez started slow, had to be disciplined for attitude problems, then broke a finger while in the middle of a monster second half. Banuelos and Betances didn't have the dominant years we expected, but I think it's hars, h to consider them disappointments this season.
* * *
Overall, the farm system has a pretty average year, but it felt like a down year compared to the massive success of 2010, when seemingly everything went right. The Yankees still boast some star power at the upper levels in Banuelos and Betances, but Jesus Montero will graduate to the big league team next season, and their next real impact position player prospects are Sanchez and Williams in the low minors. Romine, Zoilo, and Corban Joseph are solid players that definitely serve a purpose, but they aren't stars. The Yankees system definitely took a hit this season, but it's still in the top half of all the farm systems in baseball.