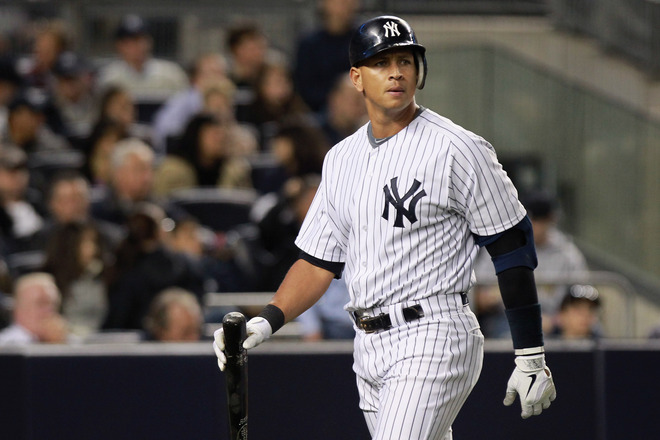 Brian writes: Just curious. If A-Rod was a free agent this offseason, what would his value be in terms of years and AAV?
When Albert Pujols signed his contract with the Angels, amongst Yankee fans, it put the spotlight back on A-Rod's massive deal. The two 10-year humdingers aren't what I would call good contracts, and the Yanks have seem A-Rod, who is going to get paid through 2017, break down considerably over the past three years. There's no doubt that if A-Rod were a free agent today, he wouldn't get a six-year, $143-million deal — essentially what he has now with the Yanks.
But what, as Brian wrote to us, would he get? I asked Joe, Larry, Mike, Moshe and Stephen to chime in on this one, and what follows is a RAB roundtable on this intriguing question. While opinions differ as to his likely landing place, everyone believes A-Rod would get three guaranteed years and decent money to boot. Keep reading for our predictions.
My Take: I've pondered this question a bit over the last few years, and my conclusion is that Scott Boras timed A-Rod's opt-out perfectly. Boras was able to trigger the opt-out after A-Rod's age 31 season when the slugger would still be a fearsome force and before any age-related decline began to show. Rodriguez was able to ask for the world, and he found one team willing to give it. Today, he wouldn't be so lucky, and I think he'd walk away with a Derek Jeter-like deal for three years with a fourth as a vesting option based upon playing time.
As for the dollars, as my colleagues note, the Aramis Ramirez deal provides a nice starting point. Ramirez signed a three-year deal for $36 million, and A-Rod is, despite his age, better than Aramis at the plate and in the field. I'd guess A-Rod would be able to land a three-year deal for $57 million with a fourth year vesting option for another $12-$15 million, and I believe the Yanks would give it to him. As we saw in 2007, they can't live without A-Rod and his offense even as many Yankee fans would rather let him leave.
Joe Says: Given his health history and age, I'd only be comfortable with two years with a vesting option based on health, perhaps a pair of vesting options. His league age might be 36 next year, but he turns 37 in July. He's also spent time on the DL in each of the last four seasons. He's capable of excellent production, and as we saw this year he can field his position. But unless I have considerable payroll flexibility I'd keep any offer to A-Rod limited.
My offer would not land A-Rod. Were he a free agent this off-season he'd probably get a three-year deal with a vesting option, similar to what Jimmy Rollins got. A-Rod would make a fair deal more per season than Rollins, and likely more than Aramis Ramirez. I would guess somewhere in the 3 years, $50 million range with the option taking it to four years and around $60 million. It only takes one team, and it appears that there are a few teams willing to make a splash this winter.
Larry Says: In light of both his injuries and diminished effectiveness over the last few seasons, I'd be hard-pressed to see how anyone could consider giving a 36-year-old Alex Rodriguez anything more than the three-year, $36 million deal that a 33-year-old Aramis Ramirez got for his Age 34 through 36 seasons. Though Alex is still slightly better than Ramirez, the two had very comparable years in 2011, with the injury-limited Rodriguez hitting .276/.362/.461, .361 wOBA in 428 PAs, and Ramirez putting up a .306/.361/.510, .373 wOBA line in 626 PAs. Of course, Alex wound up being worth slightly more than Ramirez — 4.2 fWAR to 3.6 fWAR — in less playing time due to superior defense. Alex is also a better bet to walk more often — 11% BB% to 6.9% — but also to strike out more frequently — 18.7% K% to 11%.
Of course, Ramirez hasn't exactly been the paragon of health either, having actually played in five fewer games than Alex since 2009. In fact, from 2009-2011, A-Rod hit .277/.368/.502 and was worth 12.3 fWAR, while Ramirez hit .286/.344/.491, worth 6.2 fWAR. If we assume a WAR valuation of ~$4.5 per win, Alex has been worth about $55.4 million over the last three seasons. If we apply the standard half-win penalty to Alex's next three seasons (and I actually go into this in detail about Alex in a post scheduled for the first week of January), we can project he'll put up seasons of 3.7, 3.2 and 2.7 over the next three years, respectively. That 9.6 WAR total gives us an approximate value of $43.2 million. If you do the same calculation for Ramirez's next three seasons it comes to $35.1 million, so it appears the Brewers knew what they were doing. So maybe someone out there would be willing to give an old A-Rod a deal that averages $14.4M per, but after applying whatever age penalty a team felt appropriate you could probably justifiably whittle the number back down to Aramis' $36 million.
Of course, if we're talking about the Yankees being involved in the bidding, then all bets are off. Considering a 36-year-old Derek Jeter got three years/$51 million last offseason and Alex is and always has been the better player, he'd probably be able to squeeze something like three years, $60 million (along with 80 player options) out of Levine & co.
Mike Says: The first thing that jumped to mind was Aramis Ramirez's three-year, $36M contract with Brewers. A-Rod has outproduced Aramis considerably over the last three years, but the 2011 season is going to hold more weight than the 2009 and 2010 seasons. Neither player has been all that durable in recent years, but most of Ramirez's injuries were kinda fluky, one-time things (dislocated shoulder, thumb strain, biceps strain). A-Rod had major surgery on his hip and also had his knee scoped in addition to some other smaller ailments. Big difference in medical histories there.
That three-year, $36M deal signed by Ramirez is a good comparable, but A-Rod has been the better player every year other than last year. He's also coming up on some historic milestones, which has some very real but tough to accurately quantify (from where I sit, anyway) off-the-field value. I bet he'd get more than Aramis did from the Brewers but less than Adrian Beltre got from the Rangers (five-years, $80M). Splitting the middle, you're at four years and $58M, or $14.5M per season. Given how the Marlins were spending this offseason, I wouldn't have been surprised if the bidding even went a touch higher. He is a hometown Miami guy.
Moshe Says: I don't believe in Alex's health at this point. He's a 36 year old who cannot stay healthy and has shown signs of offensive decline, particularly against lefties. While he looked better defensively in 2011, he strikes me as one leg injury away from being an old, declining first baseman or DH. He's still a middle-of-the-order hitter for the time being, so I would give him 2 seasons at about $15 million per season, with a vesting option for a third year based on a fairly high games-played threshold. I am fairly confident that he would get a larger offer elsewhere, probably something along the lines of Derek Jeter's latest contract.
Stephen Says: It's difficult for me to make contract predictions without a full assessment of which teams might be interested in bidding. Off the top of my head, I'd wager that the Jays, Tigers, Mariners, Marlins and Cubs all might have varying levels of interest. I'd put the Mets and Dodgers in there too if they had more clear ownership/funding situations. My best guess for the most interested team would be Miami. Alex is a local Miami native and would provide that link to the Latino community that the Marlins were seeking when they pursued Pujols.
Despite his age and injury history, Alex is still one of the best third basemen in the game. He's also something of an iconic figure, one of the best known players in baseball and one on the cusp of chasing down Babe Ruth, Hank Aaron and Barry Bonds for the all-time home run record, tainted as that chase is by steroids. I don't think he would have any difficulty netting a three year contract from multiple teams. In fact, I feel comfortable that with the right amount of cajoling from Scott Boras, some team would give him four years, or at least three years with a club or vesting option for the fourth. I'd be surprised if he signed for less than $15M per year, so a 4 year, 60M contract sounds about right to me. It'd be fraught with risk, of course, but the Marlins seem just crazy enough to do it. 4/60.