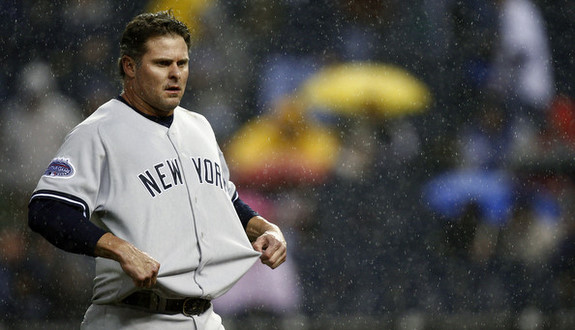 Just nine of the 31 nine-figure contracts in baseball history have run their course and been completed, and one of those nine belongs to former Yankees Jason Giambi. The Giambino signed with New York ten years ago today, receiving a seven-year contract worth a cool $120M. Tino Martinez was ushered out of town, and the Yankees brought in a former MVP and arguably the best hitter in the game.
Giambi's first year in pinstripes was pretty much everything we could have hoped for; he hit .314/.435/.598 with 41 homers and accumulated 7.0 fWAR and 7.3 bWAR. The only three position players to put up a seven-win season with the Yankees over the last 25 years are Alex Rodriguez, Derek Jeter, and Giambi. He dropped to still productive .250/.412/.527 with another 41 homers the next year, but then the injuries and the steroid stuff started to come into focus. Over the final five years of his contract, Giambi hit .247/.392/.496 with another 127 homers, but he was a butcher on defense and struggled whenever he played DH.
Everyone remembers Aaron Boone's walk-off homer in Game Seven of the 2003 ALCS, but Giambi set the stage twice by homering off Pedro Martinez earlier in the game. The Big G was a .279/.409/.510 hitter in the postseason with New York, though he came to town too late to be part of the dynasty and left too early to be part of the 2009 World Championship team. He hit .260/.404/.521 during his seven years with the Yankees, which is pretty damn impressive. Some people out there really don't like the Giambi because of the steroids and all that, but he was a fun dude and absolutely mashed, even in his down years. He'll always be a personal fave.
* * *
Here is tonight's open thread. The late NFL game is the Raven at the Chargers (8:20pm ET on NBC), but you can talk about anything you want here. You know what to do, so have at it.