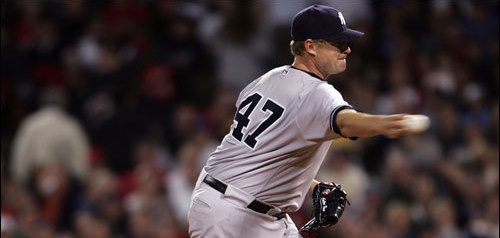 There's something about Quad-A relievers that separates them from Quad-A hitters or starting pitchers. Perhaps it's because they don't play enough and their flaws don't exposed as quickly, but there are always a few of them every year that make you think they could help the big league team if they'd just given 'em the chance. Colter Bean was that guy for the longest time, a funky sidearming right-hander with a sinker and slider that overwhelming minor league hitters.
The Yankees signed Bean as an undrafted free agent back in 2000, after he'd set all sorts of records at Auburn University. He slowly climbed up the minor league ladder, but by 2004 he was a mainstay in the Triple-A Columbus bullpen. He struck out 109 and walked just 23 in 82.2 IP that season, but the Yankees never called him up to help their beleaguered pitching staff. The next season he struck out 82 and walked 39 in 71.2 IP for the Triple-A squad, but he also got his first taste of the big leagues. The Yankees called him up in April and he made just one appearances, allowing a run on a hit and two walks in two innings against the Angels. That was the game when Alex Rodriguez hit three homers off Bartolo Colon and drove in ten runs. You remember that, I know you do.
All told, Bean appeared in just six games for the Yankees from 2005-2007, allowing seven runs on eight hits and nine walks in seven innings. The Red Sox thought he might have been of some use at one point, because eight years ago today they took him from the Yankees in the Rule 5 Draft. They returned him before the end of Spring Training though. Bean is a part owner of Bases Loaded Training Facility in Alabama these days, four years after his playing days ended with a stint in the Mexican League. In 589.2 minor league innings, he struck out 719 and walked just 267. Quad-A relievers man, they'll fool you every time.
* * *
Here is tonight's open thread. The Jaguars and Falcons are playing tonight (8:20pm ET), but you'll need the NFL Network to see that one. Either that or live in one of those two markets. Both the Islanders and Rangers are playing tonight as well. You can talk about anything you like here, it's all good.