Bumping this back up top because it quickly got buried by the Hiroyuki Nakajima news this morning.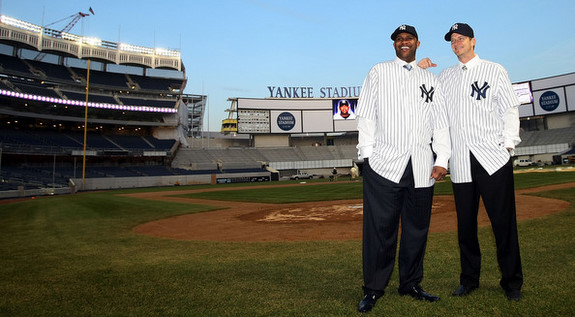 This is RAB's fourth year at the Winter Meetings and my third year, personally. The first time we were here was the 2008-2009 offseason, which is easily the most memorable winter in recent Yankees memory. Brian Cashman famously left Las Vegas and headed to Northern California to put the finishing touches on CC Sabathia's contract, and a few days later they added A.J. Burnett to the mix as well. Nick Swisher had joined the team a few weeks earlier, and Mark Teixeira was still a few weeks away from spurning the Red Sox at the last minute.
That was a franchise-altering week, one that contributed to the 2009 World Championship and still affects the Yankees' moves today. They're reportedly willing to eat money to move Burnett and the two years left on the contract he signed during that week in Vegas, and the opt-out clause Cashman gave Sabathia in NorCal resulted in a new extension a few weeks ago. The Yankees are flirting with a $195M payroll at the moment, thanks in large part due to the 2008-2009 offseason.
"We had a lot of money coming off of our payroll in '08," said Cashman to reporters yesterday. "So the decisions we made in the winter of '09, that was kind of like our 2010 and 2011 Winter Meetings combined. We're still living off a lot of those decisions that we made that winter, and it's benefited us. We've improved our club or tried to in various ways since then, but that obviously was a big, defining winter for us, no different than what Miami seems to be trying to do right now for them."
Cashman stuck with the company line yesterday, reiterating that he is not optimistic about making any kind of significant deal this week. The team appears unwilling to open its wallets for anything less than a pitcher they consider a frontline guy in the AL East, but maybe that would be different if they didn't already have so much money on the books. That's the downside of selling out for big name free agents three years ago, though the upside was oh so good.