While filing the position in right field presents no problems for the 2012 Yankees, the 2013 team could have a vacancy there. After the 2011 season the Yankees exercised Nick Swisher's $10.25 million option, keeping him in the Bronx at least one more year. But after this season he reaches free agency, at which time his value on the open market might be more than the Yankees are willing to pay him. After all, if the Yankees really do plan to get under $189 million in 2014, Swisher just might not fit into the plans. That is, if he's due a raise over his current salary. Given the current market, that might not be the case.
This week the Twins signed Josh Willingham to a three-year, $21 million contract. That looks like a bargain, since they reportedly had a three-year, $25 million out to Michael Cuddyer. Willingham has been a quality hitter in his six major league seasons, compiling a .262/.361/.475 slash line and a .364 wOBA (123 wRC+). He's had some health issues, and he's not the greatest outfield defender. But there's little question about his bat. His worst major league season came last year, when he played half his games at the Oakland Coliseum, and even then he produced a .350 wOBA and 123 wRC+.
If Willingham's career numbers look familiar, it might be because they resemble someone else's: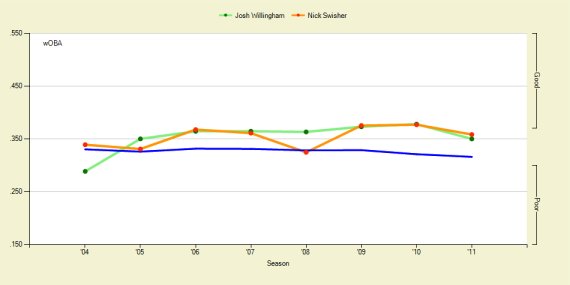 It's pretty crazy how those numbers match up almost exactly, save for Swisher's poor 2008 season. They also share eerily similar platoon splits, about .350 wOBA against right-handed pitching and .375 against left-handers. Of course, this doesn't mean that they're in line for the same payday. There are a few factors, beyond offense, that separate Willingham and Swisher.
Willingham is, by the numbers and the eye test, not a very good defender. Swisher might not be a gem, but he's serviceable in right. That gives him a leg up on Willingham.
Swisher will be a year younger hitting free agency. Willingham will be 33 next year, while Swisher's first year after hitting free agency will be his age-32 season.
Swisher has a far better health record. He's played in at least 150 games in every season since 2006. Willingham has yet to hit the 150-game mark.
Swisher already makes $10.25 million, so it's not likely he gets a pay cut, especially from the Yankees.
Still, even with the advantages Swisher holds over Willingham, it's not likely he'll fetch a significantly more lucrative contract next off-season. Perhaps Michael Cuddyer getting three years at $30 million might change the equation, since Swisher is a better hitter than Cuddyer, is younger, and has had fewer poor seasons. But since it's likely that Cuddyer gets something in Willingham's range, it's reasonable to expect Swisher to receive something in that range when he hits the open market.
If the Yankees could lock down right field from 2013 through 2015 at $11 million per season, would that work? One big issue at play here is a potential replacement. There are a few corner outfielders whom the Yankees could pursue, but they're all flawed in their own ways. Josh Hamilton has injury concerns and will still likely get paid far more than Swisher. Andre Ethier will likely get a decent payday by reputation, but he's only one year younger than Swisher and has nearly identical career numbers. Carlos Quentin will also hit free agency, but he has longstanding injury issues. Since the Yankees have no viable internal replacements, that means either trading prospects for a right fielder or re-signing Swisher. At $11 million per season that could be a viable proposition.
We can be sure that nothing will come of this until next off-season. The Yankees aren't eager to deal with any player under contract, and Swisher certainly isn't a priority. But when the time comes they might find that, even at three years and $33 million, he's the most reasonable on the market.