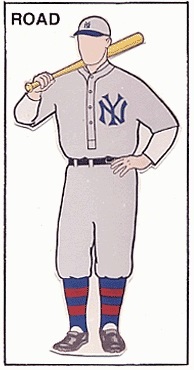 The Yankees play in one of the newest ballparks in baseball, but next year they're going to help celebrate the 100th anniversary of the oldest. They'll be in Boston to play the Red Sox when Fenway Park turns 100 years old on April 20th, a century after they were in town when the place opened in 1912. Well, technically the New York Highlanders were there in 1912, since they didn't become the Yankees until 1913.
The Sox will have all sorts of pre-game ceremonies to honor the place before the game, and the impossible to read Fenway Park 100th Anniversary Events site says that both clubs will wear 1912 throwback uniforms during the game. Reports earlier this month indicated that the Yankees had not yet agreed to wearing their old uniforms, but apparently the people at Fenway got the a-okay recently. A second throwback game between the Red Sox and Athletics is still tentative according to the Fenway site. The Yankees have not yet confirmed that they will be wearing the 1912 jerseys during the game, just to be clear.
Aside from various patches and whatnot, the Yankees have been using their current road jerseys since 1918* and their current home uniforms since 1936. The uniform above is the 1912 Highlanders' outfit they'll apparently wear during the game in Fenway Park, a rather  generic uniform aside from the multi-colored socks. You can see the accompanying home uniform at the Baseball Hall of Fame's site.
I do like that the Yankees have been using their uniforms for a baseball eternity, but the throwback idea is also pretty neat. What fun is having such a rich history if you can't go back and re-live it from time to time? Plus you know the team will make money off this, those hats and jerseys will be up for sale before you know it. Like I said, the Yankees have not yet confirmed any of this, but I hope it's true. I'm looking forward to seeing Mariano Rivera finish off the Red Sox 2012-style in 1912 uniforms.
* From 1927-1930, the uniform actually said YANKEES instead of NEW YORK across the chest.