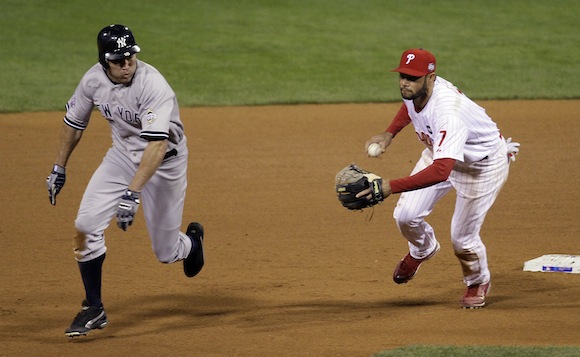 I was conflicted when the Yankees signed Johnny Damon on this date in 2006, giving him a four-year contract just two years after he broke our hearts during the 2004 ALCS. He was the enemy, he wasn't supposed to wear pinstripes. Like he's done everywhere else, Johnny grew on the fans during his time in New York and became an integral part of the team.
I think we all have a "signature moment" associated with players, like Scott Brosius and his homer off Byung-Hyun Kim or Jim Leyritz and his homer off Mark Wohlers, and my signature moment for Damon is the double steal in Game Four of the 2009 World Series. Dunno why, but whenever I think of Johnny as a Yankee, that's the first thing that jumps to mind. I remember thinking that he must have thought the ball went into center field when he first broke towards third, giving me a mild heart attack. Stuff like that is why baseball is better than any other spot; I'd never seen a player do that before, and Damon had just done it on the biggest stage possible.
Johnny turned 38 last month, a few weeks after wrapping a nice season with the Rays that was a far cry from his time in pinstripes. Damon hit .285/.363/.458 during his four years in New York, playing in 140+ games all four years even though he always seemed to be battling calf problems or a sore back or some other old baseball player ailment. I'm not sure if he qualified as a fan favorite, but he was a solid player with the Yankees and gave us one hell of a memory in that ninth inning on that cold November night.
* * *
Here is tonight's open thread. The Islanders are the only local team playing tonight, but guess what? Still no MSG if you're a Time Warner customer. Talk about whatever you like here, have at it.