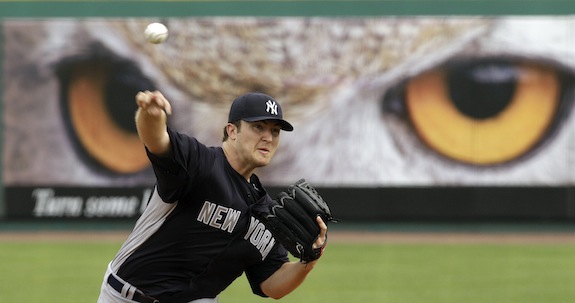 In the third and final installment of this Fifth Starter Case series (here's the cases for A.J. Burnett and Freddy Garcia), we're going to cover Phil Hughes. Believe it or not, he's the fifth longest tenured player and second longest tenured pitcher on the Yankees, behind only Derek Jeter, Mariano Rivera, Alex Rodriguez, and Robinson Cano. The rest of the roster has completely turned over since April of 2007.
Anyway, the 2011 season was a disaster for Hughes, who missed a bunch of time with a dead arm and back spams. He was unable to build on his solid 2010 campaign, finishing the year with a 5.79 ERA and a 4.58 FIP in 74.2 IP. His strikeout (5.67 K/9 and 14.1 K%), walk (3.25 BB/9 and 8.1 BB%), and ground ball (32.0%) rates declined from the year before, and his fastball velocity disappeared following the dead arm…
The velocity did come back a bit later in the season, but not to where it was last year. But still, he definitely didn't look right physically at any point during the season. Joe already listed some reasons why you could be optimistic about Hughes in 2012, but it's very easy to be down on the young right-hander after last year. Let's see why he belongs in the rotation next year…
He's Healthy
Injuries have followed Hughes his entire career, starting way down in the minors and continuing last year with the dead arm. The 80.1 IP jump from 2010 to 2011 probably didn't help, but he won't have to worry about that next season. He's had an offseason of rest and is apparently taking his conditioning more seriously, so the Yankees do kinda owe it to themselves to see what he can do when he's physically right. There's no lingering dead arm, no innings jump, no excuses.
He Was Better Than His Numbers Indicate (for part of the season)
As a whole, Phil's 2011 season was a train wreck. No denying that. He did, however, run off a nice eleven start stretch from July 6th (when he came off the DL) to September 12th (when the back spasms sidelined him), allowing more than two runs just three times. Those three times were complete duds — 19 total runs in 12.2 IP, with two of those three starts coming against the Athletics of all teams — but the other eight starts were at least five innings and no more than two runs. The only time he failed to complete six innings in those eight starts was his first one back from injury, against the Indians in Cleveland. Two runs or less in eight of eleven starts will more than get it done as a fifth starter.
He's Got A Chance To Be Part Of The Future
When it comes to both Burnett and Garcia, we know their days in pinstripes are numbered. Both guys will be gone when their contracts expire and they're both well into their mid-30's. Even though he will become a free agent after the 2013 season, Hughes at least has a remote chance of becoming part of the Yankees' pitching equation in the future by virtue of his age. He's still just 25, an age where it's reasonable to say that his best years are probably still ahead of him. With Burnett and Garcia, there's no doubt that their best work is already in the rear-view mirror.
* * *
To make a long story short, Hughes' case for the fifth starter job boils down to "he's younger and has more long-term upside than the other two guys." That's basically it, you're banking on him improving instead of banking on the other guys not declining with age. That's it in a nutshell. The Yankees don't need Hughes to be their number three starter like last year, giving him yet another shot to make it work as a starter in the fifth spot makes more sense than trying to squeeze water out of the aging veteran rock on some level.
One thing to keep in mind is the money, and I'm not talking about each player's current salary. Garcia and Burnett have already made their millions, but Hughes has significant financial motivation to perform well over the next two seasons. He's scheduled to hit free agency at age 27 (!), and if he shows that he can be a competent big league starter in 2012 and 2013, he's looking at a serious payday on the open market. There's no greater motivator than financial gain, and that extra motivation could work to the Yankees advantage.