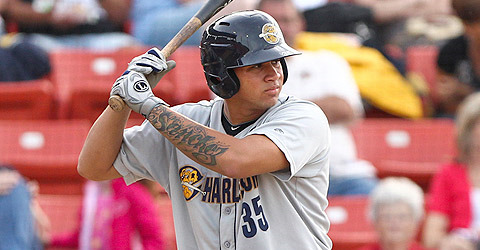 The Yankees traded away more than just everyone's favorite prospect when they agreed to send Jesus Montero to the Mariners for Michael Pineda last week, they also traded away their only impact bat at the upper levels of the minors. Jorge Vazquez has the gaudy stats, but he isn't exactly young and there are plenty of reasons to be skeptical about his ability to contribute in the bigs. Austin Romine is a quality prospect, but more for his well-rounded game than pure offense. Brandon Laird can hit, but not like Montero.
With no impact bat on the horizon and a lineup that isn't getting any younger, Gary Sanchez has suddenly became a very important cog in the Yankees' machine. Despite being just 19 years old and with fewer than 600 pro plate appearances to his credit, he's the best offensive prospect in the system with Montero on the way out, a right-handed bat offering power and patience worthy of the $3M signing bonus the team gave him in 2009. He's not as polished as Montero was at that age, but their offensive upside is comparable.
"Sanchez has a purer swing and more patience at the plate than Jesus Montero, to whom he's often compared," said Baseball America in the subscriber-only write-up of their top ten Yankees prospects list. "Sanchez has similar raw power, too, and scouts project him as a plus hitter in terms of both average and pop."
That raw power was on full display in 2011, as Sanchez clubbed 17 homers in 343 plate appearances for Low-A Charleston. That matched Montero's homer output at the same age and level in 2008, just in 226 fewer plate appearances. Sanchez also produced a .229 ISO in 2011, which is better than Montero's best single-season power showing (.228 ISO in 2010). That said, it's important to keep in mind that the reason Sanchez had such a relatively low number of plate appearances is because he was sent to Extended Spring Training for two weeks for disciplinary reasons before missing the final three weeks of the season with a sprained thumb.
As brilliant as his hitting tools are, Montero has never been one to draw many walks or post gaudy OBPs. Both he and Sanchez drew 36 walks in the minors this season, but the latter came to the plate 120 fewer times. Sanchez's 10.4% walk rate this year was better than Montero's best single-season walk rate (9.1% in 2010) by a not small margin. At the same time, Sanchez also struck out in 27.1% of his plate appearances this year, which is Chato territory. Montero's worst strikeout rate came this year and was just 21.1%. Like I said, the hitting tools are similar, but Jesus was much more polished at the same age.
Sanchez's defense lags behind his offense, but the general consensus is that he has a better chance to remain behind the plate long-term than Montero because he isn't as big (listed at 6-foot-2, 220 lbs.). Reports on his defense this year weren't great, but at this point the glovework is secondary. As impressive as Dante Bichette Jr. and Ravel Santana were in their pro debuts this year, Sanchez is the team's best hope of replacing the offense they're trading away in Montero. He's got the kind of power and patience needed to be a star hitter, but he also has more to work on than his prospect predecessor. Sanchez isn't just a fun lottery ticket to follow anymore, he's an important piece of the team's future.