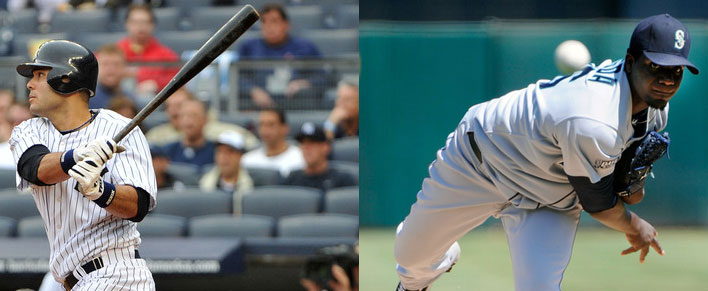 Nearly a decade ago, in December of 2003, Brian Cashman sent Nick Johnson, a player who had not only previously been the Yankees' number-one hitting prospect but the team's top prospect overall for three years running (along with Juan Rivera, who at the time of the deal appeared to be the team's top hitting prospect, and Randy Choate), to the Montreal Expos for Javier Vazquez. At that point in time, Vazquez had six Major League seasons under his belt, was coming off a 2003 campaign that saw him post a 3.23 ERA/3.31 FIP/3.41 xFIP (74 ERA-/74 FIP-/78 xFIP-), a 5th-best-in-MLB 9.40 K/9, 2.22 BB/9, and was widely considered one of the best young starters in the game (between 1998 and 2003 he was the 12th-most valuable pitcher by fWAR in all of MLB).
The 2004 Yankees had a severe starting rotation problem, in that three of their five rotation stalwarts from the 103-win 2003 squad — Roger Clemens (4.9 FWAR), Andy Pettitte (5.5 fWAR) and David Wells (4.1 fWAR) — weren't returning. Prior to the Vazquez deal the projected Yankee rotation for '04 was ace Mike Mussina, a coming-back-from-missing-the-entire-2003-season Jon Lieber, the recently-acquired-for-Jeff-Weaver Kevin Brown, Jose Contreras and I guess Jorge De Paula. The team pretty clearly needed to make a move for a starting pitcher, especially after missing out on Curt Schilling, and I remember thinking at the time (as did, from what I recall, seemingly everyone else) that Vazquez — as a young, dominating, strikeout-heavy righty who could front the team's rotation for years to come — fit the team's needs perfectly. I know I was sad to see longtime fanboy-crush Nick Johnson go, especially after all the talk that he was supposed to be the second coming of Don Mattingly, but with Jason Giambi continuing to block The Stick at first, he (and Rivera, who I didn't think twice about losing) seemed like a reasonable cost of doing business.
Unfortunately, despite Brian Cashman's best-laid plans in rebuilding a starting rotation that led all of MLB with a ridiculous 25.4 fWAR (for comparison's sake, the 2011 Phillies amassed 25.8 fWAR), the 2004 Yankees got 14.5 fWAR out of the rotation, and Vazquez found himself run out of town after one tough season, though he'd eventually get a second chance to redeem himself six years later. At the end of the day, the trade worked out pretty horrendously for the Yanks, who got 2.1 total fWAR out of Javy in the two seasons he wore pinstripes, while Stick and Rivera have combined for 22.7 fWAR since 2004, though the former has of course been arguably the most injury-prone player in baseball, while I doubt think anyone thinks the latter would have been much of a difference-maker for the late-aughts teams.
I revisit this particular moment in Yankee history because it's the closest thing I have to a benchmark for processing the blockbuster Jesus Montero-Michael Pineda trade (not to mention the stealth Hiroki Kuroda signing) that unfortunately broke on the Friday evening of a holiday weekend (in the midst of my watching "Moneyball" of all things), preventing me from fully fleshing my thoughts out about it until now.
To say this came out of nowhere would be a massive understatement. I've been operating under the assumption that the Yankees' too-quiet offseason was in preparation for an all-out blitz next winter in which the potential free-agent pitcher crop includes the drool-worthy likes of Cole Hamels, Matt Cain and Zack Greinke, among others, and at no point was I expecting that Jesus Montero's bat would not be in the 2012 Yankee lineup as the starting designated hitter.
Not only that, but being that I was in the middle of watching a movie my dad was the one who broke the news to me via a phone call, and no discredit to my dad, but as I'm generally plugged-in to what's going on in the world of the Yankees pretty much all day every day, I was even more shocked that I hadn't heard the news prior to his knowledge of the deal. When he first uttered the phrase "Mariners pitcher" I hoped for the best and thought the Yankees finally somehow acquired Felix Hernandez.
However, I quickly learned that the crown jewel of the Yankee farm system, a player that, similar to Nick Johnson, has been both the Yankees' best hitting and overall prospect for multiple seasons, was instead dealt for Pineda, a hulking, fireballing rookie who had an excellent inaugural season (and who, in yet another parallel to Vazquez circa 2003, is also coming off a 9.0-plus K/9 that ranked among the top 10 in all of MLB in 2011), but didn't immediately strike me as appropriate compensation for a hitter whose absolute best-case scenario could be Miguel Cabrera. To put it gently, my initial reaction to the deal was less-than-favorable.
Adding another layer of strangeness to the gut-wrenching I experienced in the immediate aftermath of learning about this deal is the fact that I've made no secret of my endorsement of the majority of the major moves Cash has made over the years. I loved the Curtis Granderson deal and liked the Home Run Javy trade both times, but this feeling of disagreement with a significant trade is rather foreign to me. It's going to be weird to tweet "should of kept Montero" with utter sincerity the first time he hits a home run off the Yankees.
Now, we all know comping anyone to Cabrera is the epitome of an overzealous expectation, but even though Montero is unlikely to reach that particular historically-good level of hitting, his bat has been near-universally regarded as an impact, middle-of-the-order force, one that doesn't seem outrageous to expect possible .300/.400/.500 lines from in the future. I realize both the opportunity cost and scarcity of acquiring a young, cost-controlled starter in Pineda, especially when compared to adding an offensive-oriented player, but more than four days in and I'm still not entirely sold on this being the right move.
For one, if the Yankees were going to move a premier hitting piece for a pitcher, I'd have preferred it have been for more of a sure thing. There's no question Pineda had a great 2011, and while the oft-cited supposed "second-half decline" has been debunked, and I'm aware of the fact that were he still a prospect, he'd be at the top of the Yankees' top ten list, the fact that he is primarily a righthanded two-pitch pitcher with a bit of a flyball problem coming to Yankee Stadium concerns me. I understand that many feel that Pineda has #1 starter upside, but that upside can only be realized if he is able to develop a functional changeup to help him combat lefties, and as we've seen from several of the Yankees' own starters, the change is one of the hardest pitches to learn.
In Pineda's favor, his two primary weapons — one of the fastest heaters in the game along with one of the nastiest sliders — are most definitely for real, and pairing the high-strikeout righthanded Pineda with the high-strikeout lefthanded CC Sabathia at the top of the rotation should form one of the nastier 1-2 punches in the game today. As our own Mike wisely noted via e-mail during the weekend, "I don't love the trade, but I don't think they got hosed or anything. Much easier to find a high-end bat than an arm. The first time Pineda throws seven shutout innings with double digit strikeouts, we'll be cool." I couldn't agree more, and I'm sure I'll forget all about Montero once I see Pineda start throwing.
However, the primary issue I'm having with accepting this deal is that it subtracts what was supposed to be a major source of offense from the lineup for a pitcher who has but one strong year under his belt, whereas Vazquez circa 2003 had well established himself as one of the game's elite pitchers. Many have noted that the Yankee offense got through last season just fine without Montero's bat for most of the year, and I certainly can't dispute that. Still, we got a taste of what Montero might be able to do in 69 scorching-hot September plate appearances, and though he hit well above his head, he appeared to be every bit as good as advertised. For those looking to discount a September cup of coffee due to supposed lessened competition between roster expansion and teams playing out the string, the majority of Montero's appearances came against clubs with playoff aspirations, not to mention the fact that the Yankees didn't exactly hammer the competition during the season's last month, posting their lowest monthly team wOBA in a decade.
The 2012 Yankees should again be a compelling offensive force, but depending on which projection system you prefer, Montero might have been anywhere from the 2nd to 5th-best hitter on next year's team. Robinson Cano, the team's current best player and a prospect no one saw coming (career .278/.331/.425 in the minors), hit .297/.320/.458 during his debut season in pinstripes. Of the five currently available projection systems, Montero's (career minor league line of .308/.366/.501) average projected line for next season is .279/.344/.489, .360 wOBA. Now, not everyone becomes as good as Robinson Cano, but there's a decent chance Montero eclipses Cano's career line of .308/.347/.496, .359 wOBA in his first full season. Who knows, maybe Montero turns into the next Ruben Rivera and not Robbie Cano. The underlying point of all of this is to say that Montero may be the best hitter Brian Cashman has ever traded, and while there are no sure things in baseball, Pineda is as much of a risk as Montero if not moreso, due to the highly volatile nature of developing young pitchers.
Now the team is forced to scramble to fill the DH role with the remains of the offseason, and while Carlos Pena is clearly the most ideal fit, it sounds as though he may be too expensive, and so the Yankees sift through the carcasses of old friends Johnny Damon, Hideki Matsui and others, while also telling people they might consider using strikeout-machine Jorge Vazquez in the DH role. One of the numerous points in favor of acquiring Pineda was that acquiring hitting is always easier than acquiring pitching, which is true in a vacuum; but the new 2012 austerity Yankees may now in fact be tapped out for something as simple as a reasonable DH upgrade. I'd expect a lot of my hesitation regarding giving up Montero would fade in the event they acquired a real designated hitter, but if not I'm having a hard time accepting what currently looks to be a slightly diminished offensive attack on paper, no offense to Andruw Jones.
Moving on, many have pointed out that this deal was probably a clear win for the Yanks if Seattle can't use Montero as a catcher, as they will have traded a #2 starter with five years of team control for a player without a position. If Montero is ultimately indeed primarily deployed as a DH, that will no doubt hurt his overall value, but if the bat becomes what many hope it can become, I think he'll mitigate his lack of fielding value. No one in Boston is complaining about David Ortiz's contributions to the Red Sox despite not donning a glove with any regularity since 2004. I've also read that there are still folks in the Yankee organization that view Montero as a catcher, to which I call BS on — there's no way the team would have traded a potential catcher with Montero's bat for anything other than an absolute number-one starter. But I'm sure the Yankees saying so publicly helped Seattle rationalize this deal internally.
I've seen others note that this is the ultimate "win-now" move for the Yankees, especially given that the window to win a championship with the current core of offensive players is likely closing. There's probably some validity to this, given that the Yankee offense is primarily composed of hitters on the wrong side of 30, although Cashman's done a rather commendable job of finding relatively younger players to replace aging ones — particularly in the outfield — and I'm not sure I'm sold on the idea that this particular group of Yankees only has so many more championship runs in it and that the Pineda move puts them over the edge. Does the Pineda move make them more scary right now? Absolutely. Does it make them that much better in a short playoff series? 100%. Would the team's chances of future glory be compromised if they had waited until next offseason to reap the benefits of what could be a bumper crop of a free-agent pitching market instead of having to surrender one of the best hitting prospects they've ever had? I doubt it (though TYA's Eric Schultz astutely notes that having Pineda in hand theoretically lessens the pressure of having to find a #1/#2-type next offseason, especially if some of the presumptive prize pitchers wind up signing extensions).
No one can argue that the prospective Yankee rotation for 2012 wasn't full of question marks prior to Friday night, not too dis-similarly from the 2004 iteration's predicament. Additionally, the team knows it got lucky to not only get through the 2011 season but secure the best record in the American League with the rotation it featured. I can't blame Brian Cashman for wanting to upgrade what had been the team's biggest weakness. But maybe the signing of Hiroki Kuroda would have been enough. All offseason we've been talking about adding Kuroda, and while a rotation of Sabathia-Kuroda-Nova-Garcia-Hughes/Burnett doesn't look quite as good as Sabathia-Pineda-Kuroda-Nova-whoever, I still think the former would've been plenty competitive.
The Yankees now have a ton of starting pitching depth, although the Pineda trade certainly reveals the team's true feelings regarding Phil Hughes and A.J. Burnett, either of whom many now expect to be dealt; and it also reveals to a lesser extent the team's feelings about the myriad fourth-starter-upside types they've been stockpiling at AAA, including Hector Noesi, who was of course part of this big trade. I know no one's shedding any tears over Noesi, but I was looking forward to seeing what he had to offer as a starter. And I haven't even gotten to discuss Jose Campos, whose upside seems to excite many prospect-watchers but who at this point simply remains a lottery ticket.
My judgment regarding this deal remains clouded by emotion; I imagine this is similar to how I'd have felt had Phil Hughes been traded during the 2007-2008 offseason. Still, many of the top analysts in the business have mostly been on board with the transaction being a net positive for the Yankees, while my blogging cohorts seem to be slightly more mixed, though some feel more positively about it than others.
As I noted earlier I know I'll fall in love with Pineda soon enough and I'm very excited to start delving into the PITCHf/x data, which I'm sure will uncover even more reasons to be excited about his acquisition. However, I'll do it with a heavy heart for Jesus, and will hold out hope that the deal — even though I wouldn't have pulled the trigger on it — ends up working out as favorably as possible for the Yankees.