With Spring Training fully underway, it's time to begin our season preview. We're going to change things up a bit this year, focusing on various aspects of the team rather than individual players. You'll see most players in multiple posts, but the concepts will all be different.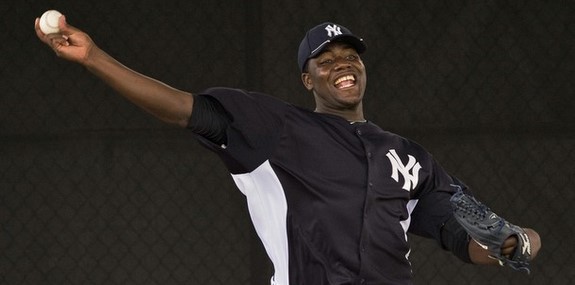 There is no such thing as rebuilding with the Yankees. They're perpetually retooling, attempting to integrate young players into the roster while contending for the World Series every year. That's much easier said that done, obviously.
Heading into 2012, the Yankees have a nice little collection of young players on the roster, including three with just one full big league season under their belt. Two of the three will be in the starting rotation while the third will see action off the bench and as an injury replacement, but they're all very young and have a chance to assume very important roles with the team in the near future. The ages listed below are as of April 6th, otherwise known as Opening Day…
Michael Pineda, 23
The Yankees didn't trade Jesus Montero (and Hector Noesi) to the Mariners just to improve their chances of winning in 2012, the move was geared towards improving their chances over the next half-decade. Pineda turned 23 the week of the trade and already has an above average big league season to his credit. He struck out more than a batter per inning last summer (9.11 K/9 and 24.9 K%) despite the lack of a quality changeup, a problem he has worked to correct with pitching coach Larry Rothschild early in camp.
They Yankees didn't just acquire any ol' young pitcher in Pineda. The CC Sabathia-sized right-hander combines high-octane stuff with surprisingly strong command (2.89 BB/9 and 7.9 BB%), hitting the mitt with his mid-90's heat and wipe-out slider pitch after pitch. He's not a finished product, but no one is at age 23. Pineda is starting from an extremely high baseline and still has plenty of room for growth, giving him scary upside and ace potential even in the rugged AL East. With five more years of team control remaining, the Yankees expect Pineda to form a dominant and historically large one-two punch with Sabathia for years to come.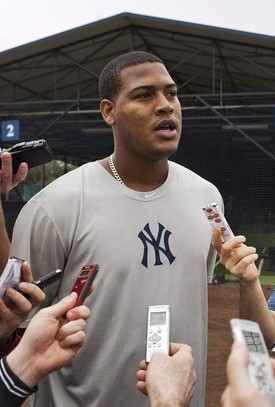 Ivan Nova, 25
While Pineda was cutting his teeth with the Mariners last season, Nova was busy stepping up his game and serving as Sabathia's running mate in the second half. A midseason demotion to Triple-A was largely undeserved but may have been the best thing that happened to him, as he improved his slider and gained enough confidence in the pitch to rely on it as his go-to weapon late in the season. Combined with his usual helping of ground balls, the right-hander exceeded all expectations in 2011.
Now that the curtain has been lifted on 2012, Nova will be counted on to not only repeat last year's performance, but improve upon it. His walk rate (3.10 BB/9 and 8.1 BB%) is fine, though the Yankees would surely like to see him beef up the strikeout total (5.33 K/9 and 13.9 K%) going forward while maintaining his ground ball rate (52.7%). Like Pineda, Nova isn't a finished product, but he is a bit more refined in the sense that he uses three pitches regularly (fastball, slider, curve) while working in the occasional fourth offering (changeup). With another five years to go before free agency, Nova has a chance to develop into that rock solid, mid-rotation workhorse that takes the ball every five days and gives the team quality outings each time out. With any luck, he'll become more.
Eduardo Nunez, 24
It's not easy to crack the Yankees roster as a young infielder, with a bench role being the only realistic way of making the team. Nunez got that chance last year and performed fairly well compared to most utility infielders, producing a .313 wOBA and a 92 wRC+ in 338 plate appearances. When Derek Jeter and Alex Rodriguez went down with injuries for weeks at the time, Nunez stepped in and hit .281/.333/.401 across two months. His offensive game revolves around putting the ball in play (10.9 K%) and stealing bases (22-for-28), two traits that suit a bench player.
While there is no star potential here, the offensive bar at shortstop is very low — league average at the position was a .303 wOBA and an 88 wRC+ in 2011. If Nunez can tighten up his throwing and become a passable defender at short, he's by far the best in-house replacement candidate for Jeter. If that doesn't happen, he can still be a viable part-timer as the two players on the left side of the infield continue on the path towards the glue factory.
* * *
The Yankees have a number of other players that appear to have long-term places on the roster — Robinson Cano, David Robertson, Brett Gardner, etc. — but none of them are under contractual control through 2016 like Pineda, Nova, and Nunez. Phil Hughes and Joba Chamberlain are friendly reminders that these things can veer off course, since both of those guys looked to have long-term roles with the team as recently as last spring. Now they're question marks, question marks just two years away from free agency.
As always, the farm system has a chance to supply the Yankees will more long-term building blocks. Austin Romine and Manny Banuelos could spend the next six years as a battery if things break right, and 40-man roster guys like Dellin Betances, George Kontos, and Zoilo Almonte could force their way into the picture as well. Pineda and Nova are very clearly the future of the Yankees rotation at the moment, and Nunez's importance to the club is dependent on the healthy of Jeter and A-Rod. Those guys may not form the next core of the Yankees when it's all said and done, but they will be given every opportunity to assuming important roles on the team going forward.