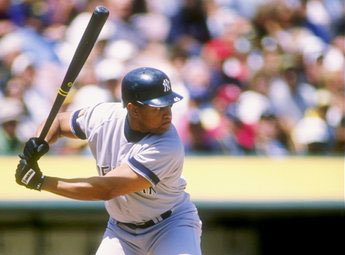 As we near the end of Retro Week at RAB, I thought I'd take a look at one of the unsung heroes of the early-90s Yankee teams, a man who seemed to go entirely underappreciated despite putting up several very strong pinstriped campaigns: the immortal Danny Tartabull.
Tartabull, born to Cuban parents in San Juan, Puerto Rico, was drafted by the Cincinnati Reds in the third round of the 1980 amateur draft. He turned in two productive seasons in Rookie and A-ball, but struggled a bit after being promoted to the Reds' AA affiliate. Following the 1982 season, he was selected by the Mariners as a free agent compensation pick, according to Baseball-Reference. Apparently teams could do that back in the day.
However, "struggled" is probably a bit unfair — he only really struggled by virtue of the fact that he managed a .774 OPS at AA after a .954 the year prior in Single-A. Additionally, it should be noted that Tartabull walked eighty-nine times in 126 games at AA and had an IsoD of .139, so even though his BA and SLG declined rather precipitously, his batting eye was outstanding and remained that way throughout his career.
He spent the 1983 season rediscovering his power stroke, and finally got a taste of the show in 1984, receiving 24 plate appearances for Seattle at age 21 at the end of the season. It all seemed to come together for Tartabull the following year, as he spent the 1985 season utterly annihilating AAA to the tune of a .300/.385/.615 line over 546 PAs, during which time he clubbed forty-three home runs and won the Pacific Coast League MVP.  Tartabull was rewarded with a September call-up for a second-straight year and hit to a Jesus Montero-esque .413 wOBA over 69 PAs.
Tartabull stayed in the bigs for good, breaking camp with the Mariners in 1986 and posting a robust .361 wOBA during his first full season in the Majors. After the season the M's shipped Tartabull (along with reliever Rick Luecken) to Kansas City for starter Scott Bankhead, outfielder Mike Kingery and reliever Steve Shields. Shields only lasted one season in Seattle and was out of baseball after 1989; Kingery posted an exactly league average year in 1987 but was a decidedly below-average hitter for the majority of the remainder of his career; while Bankhead turned in two strong seasons and two injury-shortened campaigns in Seattle before leaving as a free agent in 1991.
Unfortunately for Seattle, Tartabull absolutely killed it in Kansas City, turning in a .392 wOBA  (145 wRC+) from 1987-1991, which was the fifth-highest wOBA in all of baseball during that five-year period. The Bull parlayed his outstanding production into a big-time contract with the Yankees, who signed the then-29-year-old to a five-year, $25.5 million deal which made him the fifth-highest-paid player in baseball at the time.
Interestingly, the Yankee 1991-1992 offseason apparently bore some striking similarities to this past winter's. From YES's own Jack Curry in a January 7, 1992, story in The New York Times:
After two months of offseason lethargy and front-office chaos, the New York Yankees emerged Monday with a $25.5 million free-agent outfielder and a suddenly voracious appetite for the trade market.

In a quick move that surprised fans and baseball people alike and reminded many people of George Steinbrenner`s previous spending sprees, the Yankees signed slugger Danny Tartabull to a $25.5 million contract just after midnight on Monday.


–snip–


But by making a splash in the free-agent market and promising Monday that more roster changes were imminent, the Yankees indicated that their club philosophy had been altered and additional transactions are expected before spring training.

Now that Tartabull is signed, the Yankees have a surplus of outfielders, and Michael will almost certainly try to peddle Jesse Barfield for a pitcher or a third baseman.

Michael is reluctant to trade Roberto Kelly, who is very marketable. Mel Hall is a left-handed hitter, and that makes him valuable at Yankee Stadium, especially if the Yankees get a right-handed-hitting third baseman, such as Montreal`s Tim Wallach.
The Yankees ended up holding onto Barfield, who played one more season in pinstripes (putting up a heinous 21 OPS+ in 105 PAs) before retiring, and Curry wound up being a year early on Kelly, who of course was famously traded after the 1992 season for Paul O'Neill.
For his part, Tartabull lived up to his contract during his first two years in the Bronx, posting an outstanding .397 wOBA in 1992 — 4th-best in the American League that season — and a very good .376 in 1993. His production dipped some in the strike-shortened 1994 — a .358 wOBA in 470 PAs — but he really fell off in 1995, hitting to a paltry .321 wOBA through 59 games before the Yankees shipped him out to the A's for Ruben Sierra.
All in all, Danny Tartabull was a pretty solid Yankee, posting a .370 wOBA (127 wRC+) during his three-and-a-half seasons in pinstripes. However, he was arguably only the third-best hitter on the team during that time frame, despite getting paid as if he were the best, and this — along with his precipitous decline from 1994-1995 — is presumably why he's seemingly never been all that fondly reminisced by Yankee fans. Well, except for my brother, who is very likely the only person in the world with a customized "TARTABULL 45" name-and-number tee. (Yankee fans familiar with the all-time SNES classic, 1994's Ken Griffey Jr. Presents Major League Baseball, also likely have warm memories of Tartabull, who was an absolute BEAST in that 16-bit classic).
Still, a closer look at his pinstriped career reveals a player who was pretty much the ideal Yankee — Danny Tartabull got on base with the best of them, posting a terrific 16% BB% (he finished his 14-year career with a 13.1% BB%; for reference Alex Rodriguez has an 11% career BB%, though he's also played four more seasons) that helped fuel an excellent .372 OBP; and he hit for power, posting a .221 ISO and .473 SLG. So in essence, Tartabull was basically Nick Swisher, with even more walks and a touch less power.
Tartabull was traded to the White Sox for the 1996 season and had a reasonable bounceback year with a .353 wOBA, which he then parlayed into a one-year deal with the Phillies. Tartabull played in all of three games for the Phils in April of 1997 before fouling a ball off his toe which somehow caused him to miss the remainder of the season. Tartabull retired after the season, culminating a largely underrated career in which he swatted 266 bombs and posted a very respectable .377 wOBA and 132 wRC+.
Despite the apparent mutual dislike between Tartabull and the Bronx — he was quoted as saying "I feel like I've been released from jail" following being traded for Sierra — the statistician in me is happy to have had him on the Yankees, especially as the team began to emerge from the darkest period in franchise history.