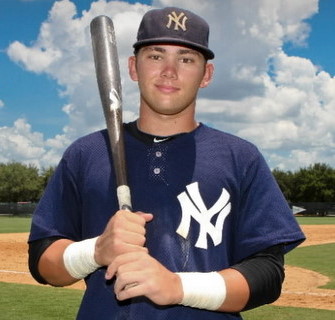 The new Collective Bargaining Agreement will change the way teams spend in the draft but probably not their philosophies. The Twins are still going to grab safe college arms, the Phillies will keep trying to hit homeruns with raw high schoolers, and the Rays will look for unheralded mid-rounders to turn over to their player development staff. The Yankees are no different, and just like the last few years they figure to again emphasize makeup in 2012.
Dante Bichette Jr. — the Yankees top selection last year — is a perfect example of what the Yankees seem to be going for. His bat was a standout tool, specifically his right-handed power, but his defense at the hot corner was a big question. He made some major strides with his glovework after turning pro, thanks in part to his determination and work ethic. Bichette is no longer considered a lock to move to first or left field, which heightens his prospect stock and potential big league value.
Talent still reigns supreme, but the belief seems to be that good makeup guys have a better chance of maximizing their talent. That point is debatable, but the team's recent drafts (as well as their recent player movement in general) indicate a renewed emphasis on character, something they got away from for a while. Here are a few players available this June that offer both talent and strong makeup….
Andrew Heaney, LHP, Oklahoma State (video)
The typical pitchability left-hander, Heaney is a four-pitch guy that uses multiple arm slots to confuse batters and give them different looks. When using his normal three-quarters slot, he'll sit 88-92 with the four-seamer and a bit lower with his cutter. An upper-70s curveball and a fading changeup round out his repertoire. Heaney has had trouble staying healthy in college, throwing just 133.1 IP during his first two years. Listed at 6-foot-2, 175 lbs., he still has to prove he can hold up under a starter's workload and take the ball every five days. Like everyone else in this post, his makeup is considered a plus and he's a hard worker. Considered more of a third-to-fifth round type right now, a strong spring could result in Heaney coming off the board much earlier.
Ty Hensley, RHP, Sante Fe High School (Edmond, OK) (video)
The son of former Cardinals second round pick and current Kansas State head coach Mike Hensley, Tyler is a big right-hander listed at 6-foot-5 and 220 lbs. He'll sit anywhere from 90-95 with his fastball and backs it up with a mid-70s curveball and a nascent changeup. His delivery is surprisingly smooth and consistent given his size, allowing him to throw strikes regularly. Hensley grew up around the game and considered very coachable. He's committed to Mississippi and figures to be selected in the sandwich round at the moment.

Nolan Fontana, SS, Florida (video)
Middle infielders are always in high demand, and Fontana is one of the few players in the class expected to remain at shortstop long-term. He fits the whole undersized grinder stereotype perfectly, standing just 5-foot-11, 190 lbs. with an all-out style of play. Fontana plays the small-ball game well, drawing a ton of walks and getting hit by plenty pitches to go along with the innate ability to make contract and avoid strikeouts from the left side. He won't hit for much power or steal a ton of bases, but he grinds out at-bats, gets on base, and plays strong defense at a critical position. That's enough to get him drafted in the first or early-sandwich round.
Jesse Winker, OF, Olympia High School (Orlando, FL) (video)
Winker will get lots of looks this spring because his teammate Walker Weickel is a legit first round talent with a chance to go in the top ten. He's a left-handed hitter with big power and loads of leverage in his swing, the kind of guy who could really take advantage of Yankee Stadium. There are very few questions about his bat, but he's not a great runner and doesn't have the strongest arm. Although his instincts help hide those flaws, he'll likely be relegated to left field or first base down the line. His brother Joe in currently in the Dodgers organization. As expected, Winker is a baseball rat and is said to have excellent makeup. He's committed to Florida and is currently expected to go in the late-first round or early-sandwich round.
Rhett Wiseman, OF, Buckingham Browne & Nichols High School (Cambridge, MA) (video)
A big time tools guy, Wiseman is young for his draft class and will graduate at 17. He's been on the radar for years and had been offered a scholarship by Vanderbilt by his sophomore year. At 6-foor-2 and 175 lbs., Wiseman offers top notch speed and power from the left-handed side of the dish with athleticism to spare. He's also very raw with a swing that needs work, and he's struggled at times against better pitching in showcase events. Wiseman is his class president and gave up football this year so he could focus on baseball and wrestling. They're first round tools but there is a ton of risk, plus Vanderbilt commitments are traditionally tough to break. A strong spring could have him come off the board in the first 30 picks, but he could also go completely undrafted if teams think he is unsignable given the new draft spending restrictions.