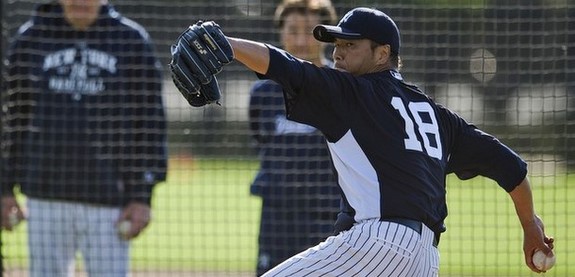 Two days ago, Michael Pineda got his first chance to show us what he had (for two innings). Now it's Hiroki Kuroda's turn, the other guy the Yankees acquired on Friday the 13th. The veteran right-hander has seemingly flown under the radar this spring despite being on track to serve as the number two starter on Opening Day. I've been hoping the Yankees would acquire the guy for about two years now, so I'm very much looking forward to today's start even if it doesn't mean anything in grand scheme of things. Here's the starting nine…
SS Derek Jeter
CF Curtis Granderson
2B Robinson Cano
1B Nick Swisher
DH Raul Ibanez
3B Eric Chavez
RF Andruw Jones
C Russell Martin
LF Brett Gardner
RHP Hiroki Kuroda
Available Pitchers: RHP Rafael Soriano, RHP Cory Wade, LHP Boone Logan, RHP Adam Warren, LHP Clay Rapada, and RHP Kevin Whelan are all scheduled to pitch. RHP David Phelps, LHP Cesar Cabral, RHP Ryan Pope, RHP Dan Burawa, and LHP Juan Cedeno are also available if needed.
Available Position Players: C Jose Gil, 1B Jorge Vazquez, 2B Bill Hall, SS Jayson Nix, 3B Corban Joseph, LF Brandon Laird, CF Dewayne Wise, RF Colin Curtis, and DH Cole Garner will replace the starters. Garner was battling a minor hamstring problem earlier this week, but is apparently fine now.
The game is scheduled to begin at 1:05pm ET and will air live on YES. MLB Network's replay won't air until 9am ET tomorrow. Like Monday, we're going to chat in honor of Kuroda's unofficial debut. I'm not going to stick around for all nine innings, but definitely for the first few. Fun starts after the jump…
Update: Cover It Live is having issues, so no chat today. Sorry, blame the iPad launch.