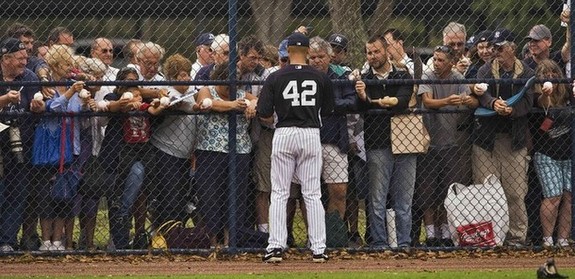 Soon after arriving at camp, Mariano Rivera went from being the world's greatest closer to the world's greatest troll by announcing that he knows what he's going to do after the season … but won't tell anyone. His tone and other comments indicate that 2012 will be the final season of his Hall of Fame career, but Mo says he will have mercy on us all and reveal his decision at some point this summer. "I think maybe it will be before the All-Star break," said Rivera to Kevin Kernan yesterday.
"These are only games, now we are talking about lives," added Rivera. "There is nothing better than that. That's closing the deal … There is definitely a higher calling. I'm not a man to talk about fame or what I have accomplished, none of that stuff. To me that is good, but it is not important … If I can get hold of a teenager and tell him, 'You know what, Jesus loves you, He cares about you and your family,' that is the message. That's what I want to do."
Put me in the camp that thinks he's going to retire, only because I've kinda been assuming he would retire after each of the last three or four seasons. I think it was my way of bracing for the inevitable, assume the worst each year and you'll never be disappointed. If he is retiring, the midseason announcement would be appreciated so we could all give him the grand send-off he deserves. As much as I loved Mike Mussina, I was kinda bummed when he retired because we hadn't had a chance to give him that huge ovation off the field and demand a curtain call and all that.
The Yankees will eventually replace Rivera the closer, someone capable of shutting the door in the ninth inning about 40 times a year. They're never going to replace Mariano though, that aura of invincibility and comfort of knowing that he's out in the bullpen to make things okay even when there's total chaos on the field. There are no funny dances, no beards, no fist pumps, just class. I've always loved that calm, collected, and business-like approach. Mo's retirement will be very bittersweet whenever it happens, and I hope it's later rather than sooner.