Five questions this week, but the answers were a little longer than I expected. Sorry. Remember to use the Submit A Tip box in the sidebar whenever you want to send us something.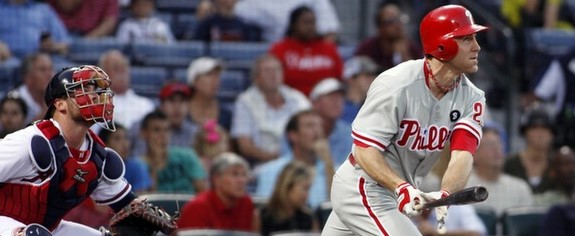 Zac asks: Hypothetical: if Chase Utley returns but the Phillies decide he can't play in the field every day due to his knees, and if they decided to make him available in trade to an AL team where he could DH, would/should the Yanks be interested? If so who would you offer?
Sure, the Yankees should at least entertain the idea. Utley will make $15M both this year and next, conveniently becoming a free agent just before the whole 2014 payroll plan takes effect. His offensive production has steadily declined in recent years, and it's not just because of the injuries. He's also become more and more susceptible to left-handed pitchers (just a .280 wOBA vs. LHP last year), and his ability to rake same-side pitchers is part of the reason why he was such a great hitter for so long.
The Phillies trading Utley would almost be like the Indians trading Victor Martinez a few years ago, in the sense that he's an aging but still valuable player whose best position is DH. Using the V-Mart trade as a blueprint, something like David Phelps, Dellin Betances, and Chase Whitley could work as a trade package. Utley is three years older than Martinez was at the time of his trade, so maybe knock off the third player or something. Phelps and Betances for the Phils' long-time second baseman? That's reasonable, though I might be biased.
Hypothetical or not, Utley is a cautionary tale of how quickly second baseman can fall off the cliff. Robinson Cano is a star right now, but when his contract expires after next season and Scott Boras is asking for six or seven or eight years at $20M+ annually for a 30-year-old? You'll be able to make a very strong argument that letting him walk is the best thing the Yankees could do.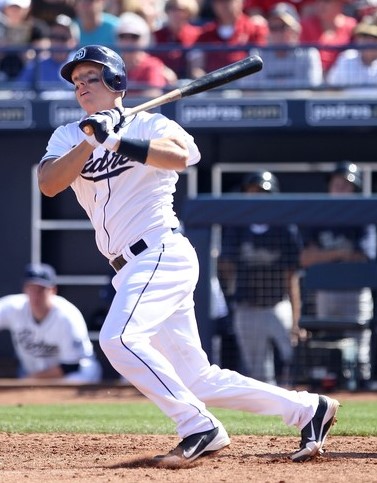 Levi asks: What would it take to get Nick Hundley from the Padres? They seem to want young hitters, so would a package built around Tyler Austin do it?
Hundley just signed a new extension with San Diego, a three-year pact worth $9M with a $5M club option for a fourth year. The Padres also have Yasmani Grandal — part of the Mat Latos trade — waiting in Triple-A, plus some more excellent catching prospects down in the lower minors (Jason Hagerty, Austin Hedges). Hundley is only 28, has some power (career .165 ISO), and is generally regarded as a good but not great defender, yet I could definitely see them trading him after the season if Grandal shows he's ready to step in full-time.
I do like Hundley and would have definite interest in trading for him next offseason if Russell Martin's contract demands get outrageous (thanks Yadi!), but I don't think the two teams match up well in a trade. The Padres surely want young hitters in return, and the Yankees don't really have any close to the majors bats to give them. Brandon Laird doesn't count. Perhaps someone like Austin or Ramon Flores has a huge year and jumps a level or two, or maybe David Adams stays healthy and gets back on the prospect track, but otherwise I don't think it'll work. I can't imagine a package of Single-A bats will get it done for San Diego. Like I said, I like the idea of trading for Hundley if Martin leaves, but I'm not sure they can get it done.
Paul asks: Why does everyone assume Ivan Nova is in the top 4 of the rotation? I agree he has the potential to be, but we're really talking about a guy with half a season of being above average under his belt, hardly enough to warrant this much confidence. I could easily envision a scenario where Freddy & Phil are both outperforming him (not to mention Pettitte in May). So why does it seem that everyone just assumes he's the #4 or higher starter?
Well Nova did finish last year well and hasn't done anything to lose his rotation spot over the winter. That said, he's been the team's worst starter this spring and it's not particularly close. He's really struggled with command of all his pitches, and that's a bit of a red flag considered he has an elbow injury in the recent past. I guess everyone's been too focused on Michael Pineda to notice that something might be up with the other young right-hander.
The Yankees sent Nova down at midseason last year and I don't think they'll hesitate to do it again if he's being outpitched by everyone else on the staff. For now, he deservedly gets the benefit of the doubt.
Aaron asks: With the number of teams searching for catching depth growing (TB's reported interest, KC's sudden need with Perez's injury, etc.), do you see this increasing the odds that Cervelli is dealt before the season? I know at one point last July there were rumors of a near-deal with Pittsburgh for Brad Lincoln. What would Cervelli bring back now in a deal?
This was sent in a week or two ago, but my answer would be the same anyway. Frankie Cervelli's not going anywhere, the Yankees need him right now to be the backup catcher. Austin Romine needs to get some regular at-bats in Triple-A and the Jesus Montero security blanket is gone. If they trade Frankie and Russell Martin gets hurt, all of a sudden they're looking at a big league catching tandem of Romine and Gus Molina. That's not going to cut it.
Considering that the Pirates weren't willing to give up a borderline non-prospect like Lincoln for Cervelli, I have a hard time thinking the Yankees would get back enough to make a trade worthwhile. His trade value has probably gone down since then given the latest concussion as well. I know catching is scarce around the league, but I do think Frankie is more valuable to the Yankees right now that anything they realistically could get back in a swap. They shouldn't overplay their hand with the catching depth, it can disappear quickly.
Arad asks: Let's say there were to be an expansion draft, and the Yankees had to protect 15 players on their team, who would they be? This includes contract, age, ability and everything.
I've answered this question before, but the roster has changed a bunch of times since then so it's worth revisiting. Maybe we'll make a Spring Training tradition.
Just a quick primer on MLB's expansion draft rules: Every team gets to protect 15 players, and that's the entire the organization, not just 40-man roster guys. Players with no-trade clauses and 10-and-5 rights must be protected, which bites. Any player a) selected in the last two drafts (so 2010 and 2011), or b) signed at age 18 or younger within the last three years is ineligible for the draft and doesn't have to be protected. Players due to become free agents after the season don't have to protected either. Based on those rules, here are my 15 (in no particular order)…
Alex Rodriguez (no-trade)
CC Sabathia (no-trade)
Derek Jeter (no-trade)
Mark Teixeira (no-trade)
Mariano Rivera (no-trade)
Robinson Cano
Curtis Granderson
Brett Gardner
Eduardo Nunez
Ivan Nova
Michael Pineda
David Robertson
David Phelps
Manny Banuelos
Austin Romine
I'm not sure if Cano and Granderson have to be protected since they are technically scheduled to become free agents after the season. The Yankees do hold 2013 club options for both guys though. If they don't have to be protected, I'd take Phil Hughes and Adam Warren in their place.
Anyway, those no-trade clauses really kill the Yankees. I can see the argument for Hughes or Joba Chamberlain over someone like Phelps, but those two are going to be free agents relatively soon while Phelps has all six years of team control left. Teams can protect three additional players after each round, and the next three I would add are Hughes, Warren, and D.J. Mitchell. Joba, Dellin Betances, and Frankie Cervelli would be the next three after that.