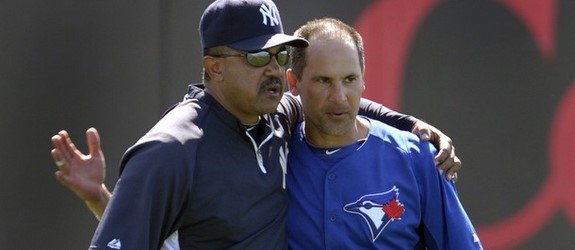 Time to panic, the losing streak has hit four games. The Yankees lost to the Blue Jays 6-1 this afternoon. Ivan Nova got hit around pretty hard, allowing five runs on six hits (one homer and one double) in 2.2 IP before reaching his pitch count. He told Jack Curry that fastball command was the problem, but "I know I'm going to get it back."
The lone run came on a Colin Curtis solo dinger, but the only other extra-base hit was a Ramiro Pena double. Mark Teixeira did single to left as a left-handed batter, so hooray for that. David Phelps and Dellin Betances weren't great, but they didn't allow any runs in 3.1 combined innings. Cesar Cabral allowed a run in his inning of work. That's pretty much it, here's the box score and here's the rest from Tampa…
Mariano Rivera threw live batting practice today and is slated to appear in a game for the first time this Sunday. "Fine. All good," said the closer when asked how it went today, just in case you were worried. [Jeff Bradley]
George Kontos, Joba Chamberlain, Cory Wade, Brad Meyers, Boone Logan, Hiroki Kuroda, and Clay Rapada will all throw bullpens tomorrow. It' will be Kontos' first time on the mound since his oblique problem. Graham Stoneburner, Brett Marshall, CC Sabathia, and Phil Hughes all threw today as planned. [Chad Jennings]
In case you missed it earlier, David Robertson suffered some kind of foot injury slipped down some steps last night. An MRI showed "cause for concern," and he's being sent for more tests.
Here is your open thread for the night. All three hockey locals are in action tonight, and MLB Network will be showing a game later on. Talk about whatever you like here, enjoy.