Six questions and five answers this week. Remember to use the Submit A Tip box in the sidebar for all your contacting RAB needs.

Mark asks: Does the new payroll austerity plan all but eliminate the chance of the Yanks signing either Hamels or Cain after this season? I never personally thought the team would ever be in on either, unless Nova, Phelps, Warren, Banuelos, Betances and Hughes all regress in 2012, though signing either Hamels or Cain seems to be the long-term hope of Yankee fans – thoughts?
If they really wanted to, the Yankees could still add one $20M a year player and fit under that $189M luxury tax threshold in 2014. They'll have to cut costs in a big way elsewhere — namely replacing Nick Swisher, Russell Martin, Mariano Rivera, and Rafael Soriano with guys making no money — but it can be done.
I'm certain Matt Cain will sign an extension with the Giants soon, maybe even before the start of the season. Cole Hamels is a bit more of a question mark; I could see him signing an extension or testing the free agent waters. I don't think the Yankees will heavily pursue either guy as free agents after the season, but they'll surely remain in touch just to see what happens. That's pretty much what they did with C.J. Wilson and Yu Darvish this past offseason, if they fall into their laps at a lower than expected rate, great. If not, then no big deal. I love Hamels as much as the next guy, but it would be cool if the Yankees didn't need to add another $20M a year pitcher after the season.
Jonathan asks: Torii Hunter is in the last year of his contract and stated that "I made money now I want a ring." What would you think of letting Swish walk and getting Torii on the cheap 2/16m?
Peter asks: If the Yanks let Nick Swisher walk at the end of the season, would a Andruw Jones/Chris Dickerson RF platoon make sense as an alternative, with an eye on 2014?
Well, there's nothing cheap about Torii Hunter for two years and $16M. His power and overall offensive production has been declining for years now, and his defense was never as great as it was cracked up to be. He's also close to a dead pull right-handed hitter, and those guys don't have great success at Yankee Stadium unless we're talking A-Rod or Andruw type power. I'm the president of the Torii Hunter Haters Club, but there is some merit to looking at him as a stopgap solution if Swisher is allowed to walk after the season. Two years is one too many, however.
As for Andruw and Dickerson, I actually thought about that this offseason back when there was some talk that the Yankees might try to trade Swisher for a pitcher. That platoon wouldn't be great but it would get the job done, probably a bit below average offensively (since Jones is on the short-end of the platoon stick) and a bit above average defensively (because Dickerson would get more time). I'd rather go with those two next season rather than Hunter, but I do think the Yankees could do better. They're basically a solid Plan B in my book, nothing more.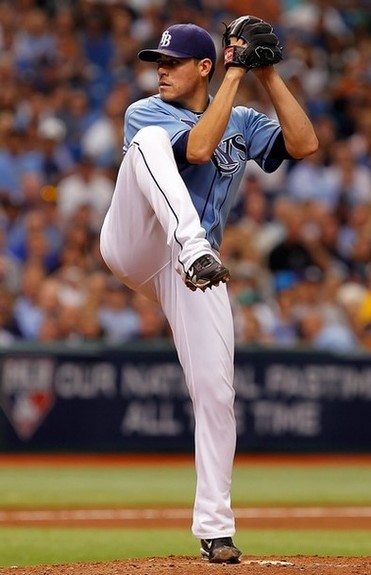 Cameron asks: If you were given the opportunity to swap rotations with another team in the league, 5 guys for 5 guys, which team would it be?  The Rays, the Phillies?  Someone else?  I guess on the surface it could be an easy question, like 'oh yeah, I'd take the Phillies rotation for sure' but obviously there are a lot of factors like pitching in the AL, and the East specifically, etc.  Just curious what you think.  Thanks!
Just five-for-five, I would definitely trade rotations with the Phillies, Rays, Giants, and Angels. If I knew Chris Carpenter (career high in innings last year and his elbow was barking in the playoffs) and Adam Wainwright (coming off elbow surgery) were going to be their usual selves, I would include them as well. Given the uncertainty, they're on the outside looking in right now.
With Philadelphia, the reasons are obvious. Three guys who are legitimate aces right now plus two more serviceable back-end arms. That same logic applies to the Giants, who have three aces (Cain, Tim Lincecum, Madison Bumgarner) and two other serviceable arms. The Rays have two ace-caliber guys in David Price and Jamie Shields, plus another huge upside guy in Matt Moore. Jeremy Hellickson and either Jeff Niemann or Wade Davis are fine at the end of the staff. Jered Weaver, Dan Haren, C.J. Wilson, Ervin Santana, and a potted plant is a pretty dynamite rotation as well. You can make arguments for the Brewers, Tigers, Nationals (if you knew Stephen Strasburg and Jordan Zimmermann were going to get 200 IP each),  and White Sox (if Jake Peavy was healthy) as well, but I think those are up for debate.
Shaun asks: I was just wondering if Joba Chamberlain had any options left and if there was a way to delay his free agency by a year or so. I supposed this is irrelevant now that he will be back sometime in June but could the Yankees have saved anything from sending Joba down prior to him going on the DL? Still trying to wrap my ahead around the potential 2014 Yankees! Thanks!
Joba was called up in August 2007 and has never gone back to the minors, so he has all three options left. If they want to delay his free agency by a year, he'll have to spend approximately two months in the minors between now and the end of the 2013 season. He will collect service time while on the DL and on a minor league rehab assignment, so that won't help the team's cause.
Unless he comes back from Tommy John surgery a shell of his former self, there's no reason for the Yankees to send Joba to the minors. The union would flip out because his performance doesn't warrant a demotion, and it's not worth the hassle. If they would have sent him down and then put him on the DL, he would have filed a grievance and won. Glen Perkins and Tony Abreu have won grievances for this exact situation; their teams sent them down injured and tried to stash them on the minor league DL rather than allow them to accrue service time on the big league DL.
Tom asks: With caps on draft and international spending, is there any punishment for teams who do not use up their cap money? It seems that if teams only used part of their allotted amount, it's a waste to the game as a whole because that's money that other teams could have used to help bring more players into the game.
There's no punishment, and teams won't be able to save that money and use it on players the next year or anything like that. These draft and international spending restrictions are in place for one reason: to keep costs down. The less teams spend on amateurs, the happier the owners and union will be. It's completely stupid, but it is what it is. At the end of the day, MLB and the 30 clubs are still for-profit organizations and the new Collective Bargaining Agreements reflect that.