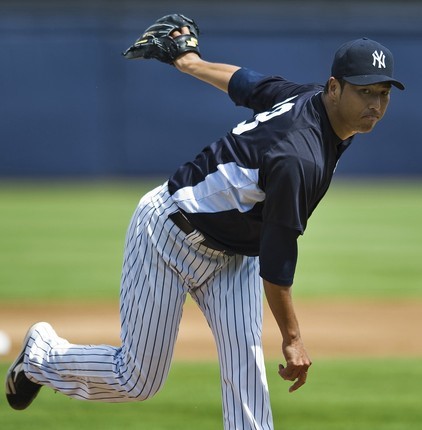 The Yankees have a top-heavy roster in terms of payroll, but no longer in terms of talent. A few years ago the club was loaded with high-priced superstars that carried the majority of load with little depth, forcing the team to scratch and claw for bench help, bullpen fodder, and depth pieces. The Yankees still rely on those high-priced superstars to lead the way, but now they have depth in all forms — quality veterans and kids in Triple-A. The payroll hasn't changed all that much in recent years, but the roster construction certainly has.
All those high-priced stars typically make it difficult for the Yankees to add reserve players via free agency because no one wants to sit on the bench or rot in the bullpen while the big money guys play as much as possible. That's why they've had to swing trades for Wilson Betemit and Enrique Wilson types in the past. That has changed a bit in the last year or two, and we've actually seen some quality veteran players take less money and smaller roles to come to New York, perhaps in an effort to win a ring. As a result, the Yankees can now afford to be patient during the offseason and add players on favorable terms.
"We were able to take advantage of the month of January in terms of value in the back end of the free agent market," said Brian Cashman recently. "Plus, the wishes of certain people to come to camp with the Yankees was a factor. I always remember a ways back when that wasn't the case — when it was hard to get players to come here — so we can now be patient with the free agent market."
The Yankees brought in a number of players on below-market contracts this offseason, getting serious value on the margins of the roster. Freddy Garcia returned for one year and $4M, a bargain compared to similar free agent hurlers like Bruce Chen (2/10), Aaron Harang (2/12), Tsuyoshi Wada (2/8.15), and Chris Capuano (2/10). Andruw Jones came back for just $2M while Juan Rivera and Ryan Ludwick got $4.5M and $2.5M, respectively. Bill Hall, Dewayne Wise, and Clay Rapada took minor league pacts from the Yankees even though they probably could have gotten more of an opportunity elsewhere. Andy Pettitte's deal could be the bargain signing of the offseason.
Patience is no fun for us fans, especially since we're so used to loud offseasons and constant rumors. It's easy to misconstrue patience for cheapness and negligence, but every April there's a championship-caliber club on the field. There will still be aggressive pursuits of big-name free agents in the future, but the Yankees have put themselves in a position to let second and third tier free agents come to them to fill miscellaneous roster holes later in the offseason. It's easier said than done of course, especially since those types of free agents tend to be more volatile than the established everyday guys.
"I know it looks good now," cautioned Cashman, "but I've come to learn that whatever makes sense over the winter doesn't necessarily transfer itself into the regular season."