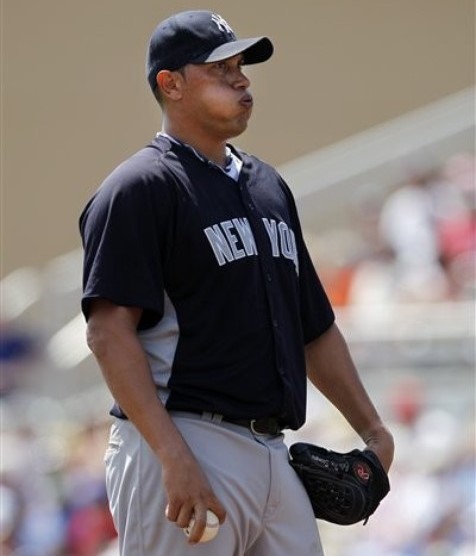 The most exciting minor league signing in Yankees history (or at least recent history) has some far-reaching implications, as Andy Pettitte's return further crowds and already crowded rotation and trickles down into the Triple-A pitching staff. The Yankees brought Pettitte back simply because they couldn't say no, as a non-guaranteed $2.5M contract for a pitcher of Andy's caliber is too good to pass up even if he is closing in on his 40th birthday. There's no such thing as too much pitching depth, as they say.
Freddy Garcia was already at a disadvantage in camp, having to compete with younger pitchers for too few rotation spots despite doing nothing to lose his job over the offseason. The fifth starter competition is reportedly rigged in Phil Hughes' favor, and now Freddy has to look over his shoulder as Pettitte's eventual return to the rotation draws closer as well. It's not at all fair, but it does come with the territory. That doesn't mean he has to be happy about it.
"I don't really care," said Garcia when asked about Pettitte's return over the weekend, throwing his hands up. "That's their decision. I'm here to pitch and that's what I want to do … I don't know [if the signing is good for the team] man. Ask the people. I don't know. I guess."
The Yankees can't trade Garcia without his consent until June 15th because he signed as a Major League free agent this winter, but the veteran right-hander has not requested a trade according to Marc Carig. He still intends to compete for a rotation spot, which is great to hear. Freddy might be disappointed by Pettitte's return — and he has every right to be — but it doesn't seems like he's going to go about his business any differently. He's already let it be known that he's willing to work out of the bullpen, what more can the guy do?
For now, the Pettitte signing doesn't change anything. He won't be ready in time to start the season, so the Yankees still have six starters for five spots at the moment. I can't remember the last time the team made it through the month of April without one starter either getting hurt or being a total disappointment, so my money is still on Garcia being in the rotation at some point. How long he remains there is another matter entirely. Freddy's made a fortune in this game and already has his World Series ring, and when you've been around the game as long as he has, you know how quickly situations can change. "You play with the Yankees, nothing surprises you."