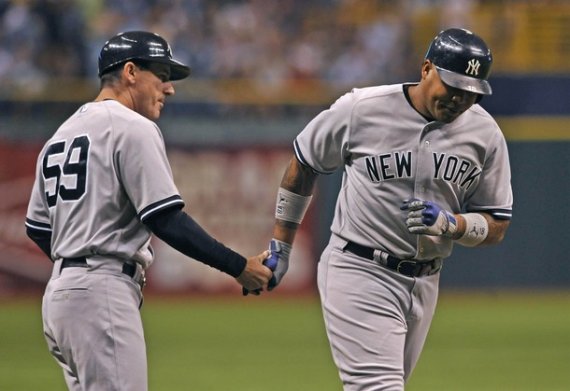 Platoons in baseball can be tricky machines. In theory they're great. They allow batters to emphasize their strengths and hide their weaknesses. But in practice they don't quite add up perfectly. There are all sorts of issues that go along with platoons, not least of which is the sheer number of roster spots available. As such, teams have to pick their platoon guys with care. The 2012 Yankees seem to have one prominent platoon pair, with a couple of other low-level ones to consider on occasion.
Andruw Jones
Heading into the 2010 season, the Yankees needed a righty outfield bat. They had just traded for Curtis Granderson, who had struggled against left-handed pitching for most of his career. They were also going to try Brett Gardner, another lefty, in left field. Having a right-handed outfielder to spell one of them seemed not only like a good idea, but a pretty necessary insurance plan. And so, despite Marcus Thames' subpar spring training, he made the team.
Deciding that they'd gotten the best of Thames, the Yankees sought another lefty masher for their 2011 lineup. Andruw Jones appeared to be a perfect fit. After slipping in 2007 and turning in a disastrous 2008, Jones had recovered to be a serviceable part-time player, excelling particularly against left-handed pitchers. His continued production against left-handed pitching earned him a return trip for 2012.
Jones has expressed a desire for a more regular role, facing both lefties and righties. He might get that opportunity, given the concerns with our next entrant on the platoon bats list. But chances are he'll be at his most effective against left-handed pitchers. Since 2009 Jones has produced a 129 wRC+ against left-handed pitching, which ranks 55th among all major leaguers with at least 200 PA (against LHP).
Raul Ibanez
Once the Yankees traded Jesus Montero, their DH situation became a big clearer. Jones could take reps at DH against left-handed pitching, leaving Brett Gardner to a full-time role in left. But that still left open the strong side of the DH platoon. By that point in the off-season there weren't many viable options remaining, and so the Yankees picked the player whom they thought gave them the best combination of the skills they valued. That turned out to be Ibanez.
Like Thames two years ago, Ibanez has started slowly in the spring. Given his guaranteed contract and lack of competition, however, he'll likely break camp with the team and commence his role as the platoon DH. Yet it's difficult to expect big things from him. Since 2009 Ibanez has produced a 112 wRC+ against right-handed pitching, which ranks 65th out of 147 qualified hitters. That does include a poor 2012 as well as a torrid 2009. The Yanks will do best to avoid all confrontations between Ibanez and lefties.
While Ibanez and Jones represent the bulk of the Yankees' platoon opportunities, they do have a few other players who carry platoon splits. They likely won't get platooned, at least not frequently, but their rest days would preferably come when facing same-handed pitchers. (Though that should be the rule of thumb regardless, right?)
Brett Gardner
Last year Gardner saw fewer at-bats against left-handed pitching. This is partly because Jones hit them so well. But there were also signs that he was struggling against them. He didn't hit for average (.233) and had absolutely no power (.039 ISO). While he did walk and strike out against lefties less frequently than he did against righties, the overall result was pretty negative (75 wRC+).
With the DH spot open against left-handed pitching, Gardner could see more opportunities this year. He did hit lefties fairly well in 2010, a .373 OBP and a 102 wRC+. He'll get days off against lefties for sure, but it does appear that he'll get a few more chances to prove his mettle against them in 2012.
Derek Jeter
Jeter did bounce back in the second half of last year, but his total season numbers against righties still disappointed. In fact, it was his torrid production against lefties, a 160 wRC+ in 168 PA, that contributed greatly to his overall success. Against rigthies, whom he faced 439 times, he hit just .277/.329/.338. Still, that was an improvement on his 2010 season, in which he hit .246/.315/.317 in 500 PA against RHP. The last time he hit righties effectively was 2009: .311/.381/.435. Given his age it's difficult to expect more out of him than he hit last year. If he can keep up that pace he'll be OK. But it's easy to see how his production against righties will hurt his overall numbers in the final years of his contract.
Alex Rodriguez
Larry covered A-Rod's continued woes against left-handed pitching earlier in the off-season. He did a pretty comprehensive job, so there's no need to rehash it here. A-Rod's poor production against lefties makes Eric Chavez an unideal understudy, since he'll face mostly right-handed pitchers. But perhaps the new, more balanced A-Rod will buck the trend and once again mash left-handed pitching.
There could also be room here to mention both Nick Swisher's and Mark Teixeira's struggles against righties, but that's not really a platoon issue. That is, they're not going to sit against right-handed pitching, since they're their own platoon partners. But those issues do exist. Just to be clear.