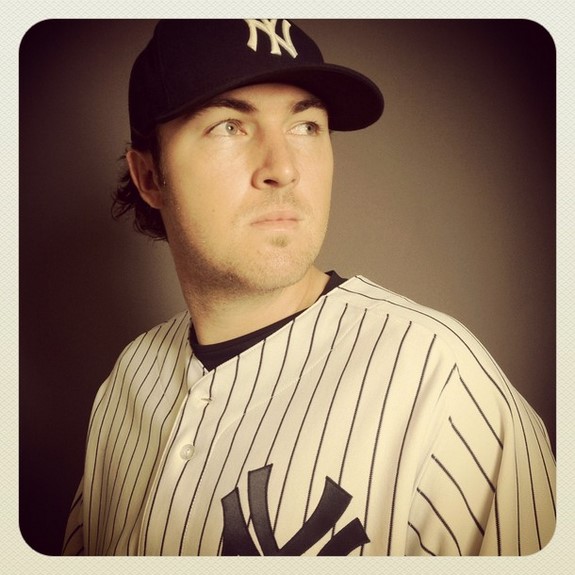 The hot story of Spring Training has been Michael Pineda and his weight, his velocity, and his changeup. We hear about it everyday for better or worse, but that's just part of the game now. Phil Hughes went through all of that stuff last year; he's been there, done that. He's been part of rotation competitions, been under the microscope, and had to answer questions about his missing velocity. Last season was basically a lost year for the 25-year-old, but the struggles appear to have led to refocused and rededicated Hughes.
"I feel a lot better," he said yesterday. "It's easier to sleep at night for sure compared to last year. Hearing the velocity issues and knowing that something's not right. Right now I just feel like I can go out and pitch and not worry about all that stuff. Get my changeup going. Throw my breaking ball. Just worry about pitching and not necessarily throwing the ball as hard as I can to generate velocity."
Hughes worked out at Athletes Performance Institute this offseason and reported to camp in noticeably better shape. The shoulder inflammation that cost him velocity and effectiveness early last year appears to be a thing of the past, as he's regularly sat in the low-90s with the occasional 94 during exhibition games. His curveball even regained some bite and yesterday he threw more than a handful of changeups. You can see two of better ones at 0:31 and 0:41 of this video.
"I feel like he is throwing almost better than he ever has," said one scout to Andrew Marchand. "That good curveball seems to have comeback … Unless he has a setback, he has to be a starter." Another scout told Erik Boland that Hughes is a "totally different pitcher than last spring."
The fifth starter competition is apparently rigged in Hughes' favor, just like it was two years ago. Freddy Garcia is a nice guy and an effective pitcher, but he's going to be gone after the season if not sooner. Hughes is still under team control as an arbitration-eligible player in 2013, and I do think the Yankees owe it to themselves to see what they can get out of him, if anything. After all the innings limits and injuries and rotation-to-bullpen-to-rotation nonsense, let's just see him pitch this summer and hope for the best. It'll be easier to stomach as the fifth starter rather than the third starter like he was expected to be at this time last year.
"It's hard to worry about [my role] when I just come in and do my work and do everything I can and just leave everything else up to the organization," said Hughes. "Whether it's signing Andy Pettitte or coming in with six guys for five spots, whatever it is, I'm just trying to show the best stuff that I can and see where it takes me."
Phil Hughes still has a long way to go as far as being a reliable big league starter, especially one for the Yankees. He's ridden the career roller coaster already and is again starting anew this season, showing livelier stuff and an emphasis on conditioning that is encouraging if not overdue. "It was a long hard season for him [in 2011]," said Joe Girardi yesterday, "and sometimes those can be the seasons where we learn the most."
[Photo via Nick Laham/Getty]