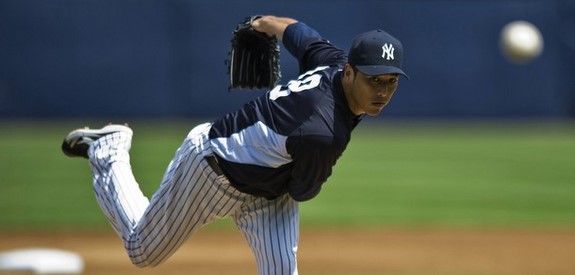 The writing had been on the wall all Spring Training, but yesterday Joe Girardi officially announced that Hiroki Kuroda will start the second game of the regular season behind CC Sabathia. The veteran right-hander has flown completely under the radar since joining the Yankees, but that will happen when you sign the same day the team trades Jesus Montero for Michael Pineda. Kuroda has been just as advertised so far, quietly effective and reliable. Can't wait to see him in a game that matters. Here's the lineup…
SS Eduardo Nunez
2B Robinson Cano
1B Mark Teixeira
DH Raul Ibanez
3B Eric Chavez
C Francisco Cervelli
CF Dewayne Wise
RF Chris Dickerson
LF Justin Maxwell
RHP Hiroki Kuroda
Available Pitchers: RHP Cory Wade, RHP Adam Warren, RHP George Kontos, LHP Juan Cedeno, LHP Cesar Cabral, RHP Cory Arbiso, RHP Ryan Flannery, and SwP Pat Venditte.
Available Position Players: C Gus Molina, 1B Addison Maruszak, 2B Jayson Nix, SS Doug Bernier, 3B Bill Hall, and LF Tyler Austin will replace the starters. C Mitch Abeita, IF Walt Ibarra, SS Cito Culver, and OF Abe Almonte also made the trip and are available if needed.
Today's game starts at 1:05pm ET and can be seen on ESPN. We're going to chat for the first few innings of today's game, so join in the fun after the jump.