The Yankees have shown a bit of a drafting pattern under scouting director Damon Oppenheimer, favoring college pitchers and high school position players over the alternatives. They also prefer strong makeup and — more tangibly — a strong track record in wood bat leagues. That's why they've targeted so many Cape Cod League standouts over the years, drafting players like Andrew Brackman, Adam Warren, David Adams, and D.J. Mitchell after stellar showings on the cape.
The CCBL is the best college summer league out there, drawing the very best talent from all around the country. It's still a pitcher's league but not as extreme as it was a few years ago. The Yankees don't figure to change their target demographic in this summer's draft despite the new spending restrictions implemented by the Collective Bargaining Agreement, so here's a look at five guys who performed well on the cape last summer and could find themselves on the team's draft board.
Dylan Floro, RHP, Cal State Fullerton (video)
After two years as a swingman type, Floro assumed a spot in Fullerton's rotation this spring after a dominant showing with Hyannis last summer. The 6-foot-2, 180 lbs. right-hander is a classic sinker-slider type, sitting 89-91 with the heat and in the upper-70s with the breaking ball. He also throws a low-80s changeup and adds deception with a whippy arm action. Floro is an extreme strike-thrower — four walks in 52 IP this spring and 28 walks in 198 IP during his college career (1.27 BB/9) — and probably to a fault. He's hit prone because he's around the zone with less than stellar stuff, though at least most of the balls in play are on the ground. For what it's worth, Floro also draws raves for his competitiveness and makeup, which the Yankees love. He's more of 5th-10th round guy at the moment.
Kyle Hansen, RHP, St. John's (video)
A starter for the Red Storm who closed for Yarmouth-Dennis last summer, Kyle is the younger brother of former future Red Sox closer Craig Hansen. He's built off his CCBL success and has struck out 43 while walking just 11 in 34.2 IP this spring. Brian Cashman recently said he's a "crack addict for size and power," so he'll surely like the 6-foot-8, 215 lb. Hansen. He sits 91-93 as a starter while running the heat up to 96 as a reliever, and he can miss bats with a low-80s slider that isn't nearly as good as his brother's. It occasionally morphs into more of a curveball, so he's got some work to do. The changeup isn't anything special and the delivery qualifies as funky. Hansen is likely a reliever long-term, and he's currently expected to come off the board in the third or fourth round.
Dane Phillips, UTIL, Oklahoma City University (video)
A Chatham alum, Phillips had to transfer to OCU because the NCAA ruled him ineligible for the 2012 season after he tried to transfer from Oklahoma State to Arkansas. Baseball is like football now, meaning if you transfer from one Division I school to another you have to sit out a year for whatever reason. Phillips is completely annihilating the competition (.423/.507/.854 in 34 games) and has settled in well behind the plate. He's a left-handed hitter with a nice swing and strong plate discipline, plus he hangs in well against same-side pitchers. Phillips shows big power to the pull side during batting practice, but he uses the entire field during games and doesn't really tap into his pop as much as he should. If catching doesn't work out long-term, he has the experience and athleticism to handle a corner outfield spot or first base. Phillips is a personal fave, and right now he's expected to come off the board in that 5th-10th round range.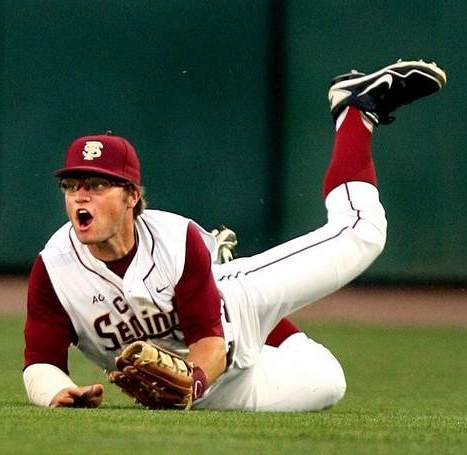 James Ramsey, OF, Florida State
The top college senior in the draft class, Ramsey had a big summer with Yarmouth-Dennis and won the MVP award at the CCBL All-Star Game after homering into the Fenway Park bullpen. He's a left-handed swinger with some power and an all-fields approach, plus he can also run well. Strong plate discipline helps him get the most of his offensive ability. Ramsey has 'tweener potential because he might not stick in center field long-term or have enough power for a corner, but he plays very hard and offers a little of everything with no glaring weakness. A huge spring (.426/.556/862) has Ramsey climbing up draft boards after the Twins took him in the 22nd round last year. He's a top three rounds guy after dominant performance with wood bats on the cape last summer.
Adam Brett Walker, 1B/OF, Jacksonville (video)
Walker is the son of former Minnesota Vikings running back Adam Walker, and his athletic bloodlines are obvious in his 6-foot-5, 220 lb. frame. The right-handed batter has some of the biggest raw power in the country, launching absolute moonshots with wood bats last summer. Walker is a Grade-A hacker though, susceptible to breaking balls and quality elevated fastballs. There is big time upside here, but also a lot of risk given his propensity to make poor contact and swing and miss. Walker is a 3rd-5th round type based on his physical tools, which still haven't translated all the way into baseball skills.