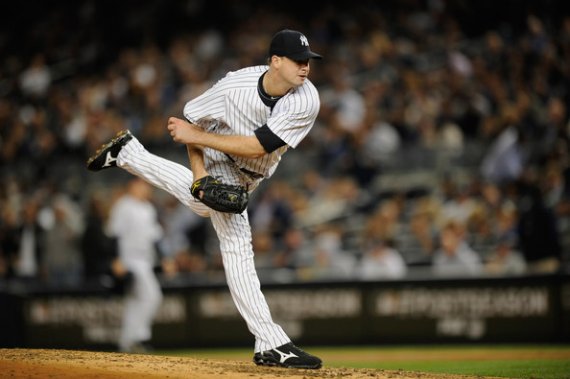 Coming into spring training, the Yankees had a pretty solid plan for their bullpen. With Mariano Rivera, David Robertson, Rafael Soriano, Boone Logan, and Corey Wade already in place, they needed to fill just two spots. Given the number of pitchers they brought to camp, finding worthy candidates didn't seem like a difficult task — especially given that Freddy Garcia was a favorite to slide into a bullpen spot due to the starting pitching surplus. Yet as we see nearly every spring, injuries have altered the picture.
While a few relievers suffered injuries of varying degrees this spring, the staff remained mostly in tact and ready for Opening Day. That is, until last Friday. That's when Michael Pineda revealed soreness in his shoulder that turned out to be tendinitis. It's also the same day that Cesar Cabral suffered a stress fracture in his elbow, shelving him indefinitely. Today we learned of another bullpen casualty: Boone Logan will visit a doctor to examine his aching back. Backs ailments are never to be taken lightly. Losing Logan for an extended period could seriously alter the Yankees bullpen outlook.
Pineda's injury already had the Yankees pulling from their pitching depth. Instead of having Garcia in the bullpen as the long man, it appears that they'll now use David Phelps. Now with Logan's injury they'll have to choose yet another pitcher who they did not plan to carry. That could be George Kontos if Logan's injury is serious enough to warrant a DL trip, but not serious enough to worry about long-term. If Logan will miss significant time, the Yanks might look at other lefty options — Mike Gonzalez is still unemployed, and has been working out for teams.
The Yankees, of course, will be just fine with however this situation plays out. They did, after all, survive a stretch last year in which they carried both Amaury Sanit and Pants Lendleton in the bullpen. But their outlook has certainly changed in the past week. The Logan injury could potentially cause a few significant roster changes. Thankfully, the Yankees have enough options to fill the void.