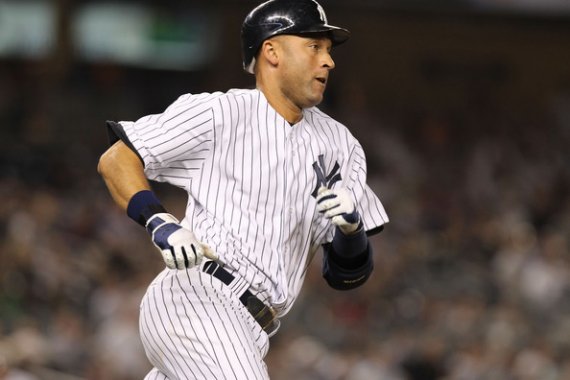 Father Time caught up with Derek Jeter years ago, but didn't have the heart to tell him.
We could spend all day coming up with Derek Jeter facts, and I'm sure we'd have a ball doing so. You know what's more fun, though? Ticking off actual Derek Jeter facts — things he's done in the first 10 games of the season and how they stack up to his personal history and the league. For instance:
Derek Jeter hit his third home run of the season last night. It took him 29 games to hit his first home run last year (and his second), and he had played in 67 games before hitting his third.
Only 10 players this season have hit more home runs than Derek Jeter. Last year 235 players hit more home runs than Derek Jeter, including Brett Gardner.
Derek Jeter has more hits than any other player in the American League.
It took Derek Jeter 18 games to reach 17 hits last year. This year he's done it in just 10.
Of the 42 balls Jeter has put in play this year, 17 have been in the air, or 41 percent. He hasn't put more than 40 percent of his balls in play in the air since 2009.
Jeter's 33.3% HR/FB ratio won't regress.*
*Not an actual fact.
Derek Jeter has not popped up a pitch to an infielder this year.
A newfound spring in his step has enabled Jeter to beat out two infield singles so far.
Think this is wholly unsustainable? Derek Jeter's current BABIP of .359 is just four points more than his career BABIP, and is nine points lower than his 2009 BABIP.
While he's swinging at the same percentage of pitches as he did last year and in 2010, he's missing far less often: just 5.3 percent, compared to 6.9 percent in 2011 and 6.7 percent in 2010.
Derek Jeter has already produced 5.2 runs above average at the plate. He produce d7.6 runs above average last year. After park adjustments, Jeter has produced 5.0 runs above average this year, after producing 5.5 last year.
In an up-and-down start to the season, Jeter has provided quite the bright spot for the Yankees. What makes his hot start even better is that it continues the surge that started when he returned from the DL last year. Since then he has 357 PA and has hit .337/.387/.477. While there's a good chance he'll slow down at some point this year — he will turn 38 in June, after all — his hot start has renewed faith in his continued ability to remain effective at a time when most shortstops have packed it up and called it a career. We might not see these Derek Jeter facts all season, so let's enjoy them while they're fresh.