The afternoon started with Jorge Posada throwing out the ceremonial first pitch and ended with the Yankees celebrating a 5-0 win over the Angels.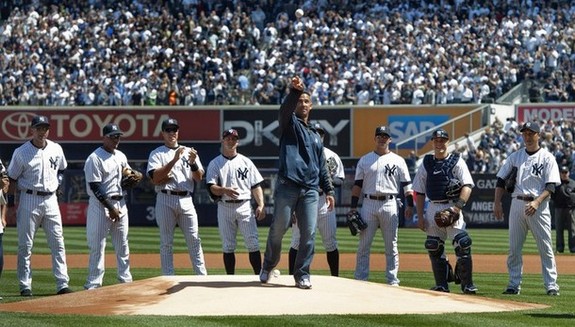 Two-Out Rally
The Yankees scored 29 runs in their first six games of the season, and more than half (15) of them came with two outs. They continued that trend in the very first inning on Friday even though Derek Jeter and Curtis Granderson struck out to open the frame. New three-hole hitter Alex Rodriguez got the whole thing started with a single to left field, his first of three hits. Ervin Santana lost the strike zone after that, throwing balls with eight of his next nine pitches — all fastballs. Robinson Cano and Mark Teixeira had walked to load the bases with two outs.
Nick Swisher was the hero on Wednesday night, clubbing that two-run homer in the tenth inning to sink the Orioles. After Santana fell behind in the count 2-0 and then 2-1, Swisher sat on a fastball and turned a 96 mph offering around for a double into the right-center field gap and over Peter Bourjos' head. All three runners came around to score, giving the Yankees and Hiroki Kuroda some breathing room in the early going. Swisher has driven in nine of the team's 34 runs this season.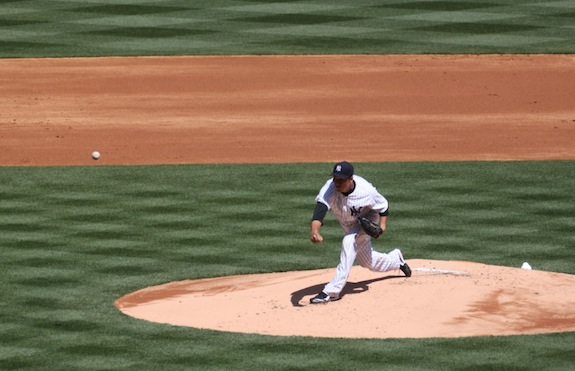 We Will Hirok You
After struggling through 5.2 IP against the Rays last Saturday, Kuroda had to answer questions and deal with speculation about his ability to make the transition from the NL to the AL. He answered every one of those questions against the Angels, for at least one day. Kuroda held the Halos to just five singles and two walks in eight shutout innings, allowing just two batters to reach second base and none to reach third. Nine of 29 batters hit the ball out of the infield. Nine.
Kuroda has a reputation of being a pitch-efficient guy, and he certainly lived up to the billing. He threw a first pitch strike to 19 batters and only once — the first inning — did he throw more than 15 pitches in an inning. Hiroki retired the side on a dozen pitches or fewer in half of his eight innings, and only three of those 29 batters managed to work a three-ball count. He threw first pitch breaking balls for strikes and was able to command his fastball much better than he did against the Rays. Only 52 of his 109 pitches were fastballs, the rest were all offspeed — changeups, breaking balls, splitters.
The Yankees can't expect Kuroda to be this good every time out, but this is the guy they expected to see when they agreed to sign him three months ago — efficient, mixing his pitches, keeping the ball out of the middle of the plate. Outside of the first inning, when Albert Pujols and Kendrys Morales batted with a man on second base, Hiroki was under no stress whatsoever. He retired ten of the last eleven men he faced, the one exception being Bobby Abreu's infield single to open the ninth. Kuroda walked off the mound to standing ovation, and he deserved every bit of it. Just a marvelous performance in the home opener, his first career game in the Bronx.
A-Rod Makes History
With just four hits in the first six games of the season, A-Rod traded lineup spots with Cano and responded with a 3-for-4 game. His second hit was his first homer of the season, a first pitch fastball from Santana that Alex muscled out to dead center and into Monument Park. It was the 630th homer of his career, tying him with former teammate Ken Griffey Jr. for fifth on the all-time list. Next up is Willie Mays at 660, at which point A-Rod will start to earn those $6M bonuses in his contract.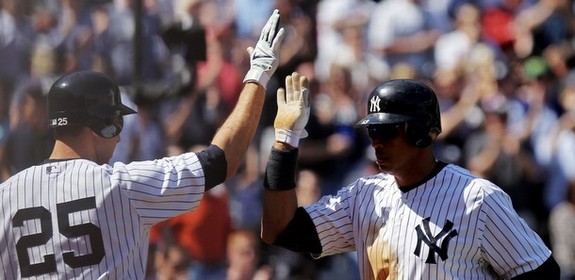 Leftovers
It was a very hot-and-cold day for Granderson. Santana struck him out on eight total pitches in his first two at-bats — including five swings and misses against the same down-and-in slider — before Curtis returned the favor and homered to right in his third trip to the plate. It was a total Yankee Stadium cheapie, a line drive maybe one row back. Granderson then struck out against Jason Isringhausen in his fourth at-bat. Of his six hits this year, four have gone for extra bases.
For only the second time this season, Jeter did not lead the game off with a hit. He did double later in the game. Swisher had a single in addition to that first inning double, and Russell Martin singled as well. Cano, Mark Teixeira, and Brett Gardner each drew a walk while Raul Ibanez was the only starter not to reach base. A-Rod and Martin each stole a base while Gardner got picked off first. The replay showed he was probably safe, though it was definitely bang-bang.
David Robertson replaced Kuroda after Abreu's swinging bunt single in the ninth, and he had what will probably be his easiest outing of the season. He got Pujols to ground into a double play on the second pitch before striking out Morales. Eight pitches, six strikes, game over.
Kuroda became the first Yankee to throw eight scoreless innings in his Yankee Stadium debut since Bob Shirley back in 1983. Javy Vazquez came close, he allowed one run in eight innings in his Bronx debut.
There is a special place in hell reserved for whoever came up with the promotion campaign for the Three Stooges movie. That might be the most annoying ad campaign since Frank Caliendo's … thing a few years ago.
Box Score, WPA Graph & Standings
MLB.com has the box score and video highlights, FanGraphs the nerd score, and ESPN the updated standings.

Source: FanGraphs
Up Next
Game two of the three-game series will be played Saturday afternoon. Phil Hughes will look to actually complete five innings or work and possibly more in his second start of the season. C.J. Wilson goes for the Halos. RAB Tickets can help get you in the door if you want to attend.