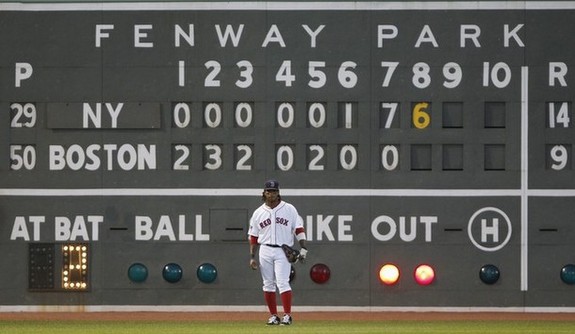 The Yankees had nine games postponed by rain last season, the most in the majors. They had their first weather-induced postponement of 2012 on Sunday, and I think the baseball gods just decided to have mercy on the Red Sox given their recent performance. Either way, we'll get to enjoy Saturday's amazing comeback while the Sox have to wallow in the stench of defeat for another day. That works for me.
After the postponement was announced, Joe Girardi confirmed they'll simply push their starting pitchers back a day. That means CC Sabathia on Monday, Hiroki Kuroda on Tuesday, and Phil Hughes on Wednesday against the Rangers. The Yankees have the option of throwing Ivan Nova on Wednesday instead of Hughes, though it doesn't sound like that will happen. No decision has been made about Freddy Garcia, but I have to think they'll use Thursday's off day to skip his next start.
The bullpen was actually in pretty good shape despite Garcia's short start on Saturday, though the extra day of rest will only help. Mariano Rivera and David Robertson will each have two straight days off, so we could see them in all three games against Texas knowing that they'll get a breather come Thursday. Girardi also confirmed that they'll still with 13 pitches through the series with the Rangers, so Cody Eppley survives the roster crunch for another few days. He was originally drafted and developed by Texas, so I'm sure the trip to Arlington will be special for him.
It's unfortunate the Yankees won't get to beat up on these Red Sox one more time because they're definitely down and out at the moment. Plus their bullpen is trashed after Saturday's game. Now this game will be delayed until at least July, when things could be much different. That's life though. The Yankees will instead enjoy the breather and head to Texas for their biggest test in this young season.