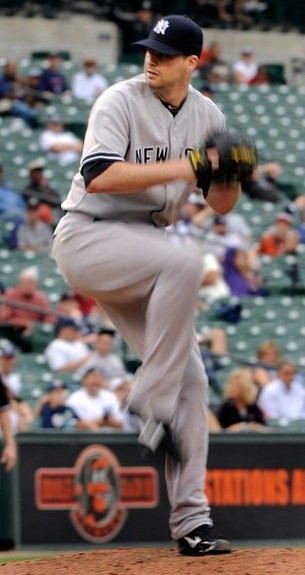 The bullpen has been, by far, the most dominant aspect of the Yankees this season. Their relief corps leads the league in ERA (2.05), strikeout rate (10.44 K/9), homerun rate (0.47 HR/9), and is second in FIP (2.60). They've also thrown the seventh most innings in baseball (57.0) thanks in large part to the generally underwhelming performances turned in by the starting rotation. Lots of innings from the bullpen is usually bad news, but the team's current crop of relievers is both highly effective and well-rested thanks to Joe Girardi.
Other than David Phelps, the long man whose role is specifically designed to soak up innings, no other reliever on the team has thrown more than ten innings and only two have thrown more than eight. Cory Wade leads the short reliever crew with 9.1 IP while Boone Logan of all people is second at 8.2 IP. I say "of all people" only because he's thought of as a one or two-batter specialist. With nine games pitches, Logan is the only reliever on the team that ranks among the top 40 in baseball in pitching appearances, so despite all those innings being thrown, the workload has been spread out very well.
The Yankees have been able to survive this hopefully temporary period of high bullpen usage for two reasons. The first is just the quality of the players in the bullpen. Outside of the recently-recalled Cody Eppley, no one out there qualifies as filler. They're all big league caliber pitchers that if anything, are overqualified for their current roles. David Robertson and Rafael Soriano are setup men who could both close, Wade and Logan are middle relievers who could setup, Clay Rapada is a second lefty specialist who could be a primary lefty specialist, and David Phelps is a long man who could start. It doesn't matter who Girardi calls upon in a given spot, he's bringing in a quality arm.
That's the second reason why the bullpen has been so good so far, Girardi is the master at deploying his relievers. It's by far his best on-field quality as a manager. He not only ensures that everyone out there is rested both for the short-term and long-term, but he also makes sure no one starts to collect cobwebs. Seeing no game action for two weeks at a time is just as damaging in terms of on-field performance than running a guy into the ground. We know too much work is a bad thing, but so is too little work.
Thanks to the performances of CC Sabathia and Hiroki Kuroda these last two nights, the bullpen is very well-rested for tonight's series finale against the Rangers. With the off-day tomorrow, Girardi could probably extend his core relievers a little longer than usual, maybe asking Soriano and Robertson to get four or five outs each instead of just three. Expectations are rightful low for Phil Hughes against a great lineup, so this is a pretty good night to have that extra bullpen versatility. Regardless of how many outs are left to get, the Yankees will be in pretty good hands if Hughes managed to turn over a lead to the bullpen at some point tonight.