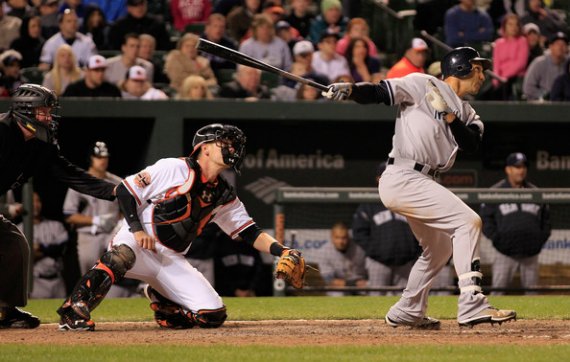 That Raul Ibanez is off to a slow start comes with little surprise. His poor spring portended such a performance, as did his declining numbers the last two seasons in Philadelphia. The Yankees, we can only hope, did not expect a full recovery from Ibanez, who will turn 40 in just over a month. Instead they sought a serviceable player who could lend a hand for at least half the season.
At .250/.277/.409, Ibanez is looking a lot like his 2011 self. He oftentimes looks overmatched at the plate, as he did last night against Yu Darvish, unable to get his bat around on top-flight fastballs. So far he has been a half-run below average on offense, and his presence in the DH spot, or otherwise playing a poor outfield, further diminishes his value. Thankfully, there is a redeeming factor.
Ibanez has been at his worst in the most forgivable situations: no men on base. In his 21 bases empty PA he has gone 4 for 20 with a walk and no extra base hits. Yet when there have been men on he has put in his best effort. In 26 such PA he has gone 7 for 24 with all three of his extra base hits. As such, he's been able to turn his 11 hits this season into 9 RBI. The fortuitous timing has made Ibanez more valuable in reality than his overall stat line indicates.
It's normal, of course, for hitters to perform better with the pitcher in the stretch. This year AL hitters are OPSing 20 points better with men on than they are with the bases empty; in 2011 they hit .013 better with men on. Even still, Ibanez's performance is out of line even with that disparity. That he's hit all three of his extra base hits with men on base means a lot for the Yankees' run scoring. We'd probably have a much more negative opinion of him if he'd hit a pair of solo homers and got stranded after a bases-empty double.
Just as we'd expect Ibanez to even out a bit, so we should expect the Yankees offense to do the same. They're out of line with the league trend, OPSing just 9 points better with men on base than with the bases empty. That is, Ibanez has picked them up early on, when they needed the boost. Yet this doesn't mean Ibanez will suddenly disappear. Remember, last year he was hitting .154/.238/.209 after 100 PA. From that point on he hit .264/.300/.462 in 474 PA. Those are no sterling numbers, but for $1.1 million the Yankees would probably take that.
It won't be an easy year for Ibanez. He's clearly a shell of his former self at the plate, and his previously poor defensive skills have completely eroded. But for a temporary solution to a vacant DH slot, the Yankees could have done worse. If the Yankees can squeeze just a little more well-timed value out of Ibanez, they can approach the trade deadline with an eye on acquiring a bat. That might sound a little cold, to eke as much value out of a guy as possible and then bid him goodbye, but that's the reality of a team pursuing a championship.