Over the last three days I spend way too much time looking at Mark Teixeira's declining offensive production — part one, part two, and part three. To save you the headache of readhing, here's a quick recap of the findings…
Teixeira is still a monster as a right-handed hitter. Nothing's changed from that side of the plate in recent years.
Teixeira's walk, strikeout, and homerun power rates as a left-handed batter have not declined at all. His batting average and BABIP have steadily dropped, however.
The shift is a problem given Teixeira's new pull-happy ways, but he's also added an uppercut to his swing that has resulted in more fly balls. Fly balls turn into outs more than any other type of batted ball, hence the BABIP and average decline.
That uppercut swing was on full display last night, as Tex flew out to relatively deep right field to end the game. He's a notoriously slow starter, we knew this before he ever played a game in pinstripes, but this was probably the one year he could have used a strong start to help silence all the critics. He has come around a bit of late, with three straight two-hit games and nine hits in his last 25 at-bats. Strangely enough, Tex has yet to hit a homer in 2012, and that includes Spring Training. I know people are going to freak out about that, but I have a hard time taking it seriously after a dozen regular season games.
Teixeira acknowledged the problems with his swing late last year and has reportedly worked to correct them with hitting coach Kevin Long, but it's still far too early to know if the adjustments are working. He's only had 35 plate appearances as a left-handed batter so far, and in only 25 of the 35 did he actually put the ball in play (five walks, four strikeouts, one hit-by-pitch). Here's his spray chart as a lefty…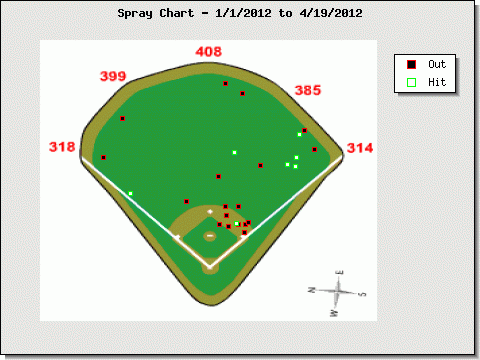 He's hit two balls pretty deep to left field — one came in last night's game — but we're still weeks away from being able to say anything definitive about an adjustment to his left-handed swing. This is all just window dressing at the moment.
I think the most important we have to realize is that the old Teixeira, the MVP-caliber hitter from 2005-2009, is probably never coming back even if Long's fixes manage to stick. Tex just turned 32 a week ago and is leaving his prime years, so some semblance of decline is inevitable. Similarity scores hardly qualify as analysis, but Baseball-Reference says the most similar player to Tex through age 31 is Carlos Delgado. Delgado was one of the best hitters of his generation, but his production started to drop off at age 32. It's the baseball circle of life.
The best case scenario probably calls for the adjustments to halt any further decline, at least temporarily. You can't control age, but Teixeira can control his swing and perhaps break some of the bad habits he's developed over the last two seasons or so. Remember, he wasn't a bad hitter last season by any means, but his performance has fallen below his expected level of production. I think I know how this is going to turn out, but I'm going to ask the question anyway…
Will Teixeira be able to correct his swing?