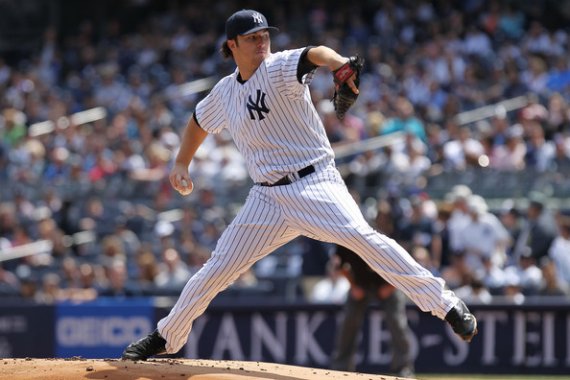 Tonight Phil Hughes takes the mound in a pretty big start during a pretty big season for him. We all know the story, so there's no need to rehash. He's probably not in immediate danger of losing his rotation spot; the Yankees will likely wait for Andy Pettitte and Michael Pineda to make any non-injury changes. But he's already dug himself a hole, and if he doesn't start climbing out of it tonight it might be too late. The hole might be too deep by the time Pettitte and Pineda are ready.
If we can take one thing away from Hughes's first two starts it's that his four-seam fastball is in peak form. He's thrown it nearly 60 percent of the time, which shows you how much he relies on it. The results have been there in a way, as he's getting swings and misses more than a quarter of the time when the batter swings. He's also inducing some poor contact, getting a pop-up 30 percent of the time when hitters put the ball in play. It's when he turns away from his fastball that he runs into heaps of trouble.
When he turned pro, Hughes featured a slider that Baseball America said had "good bite and depth." The projected it to be at least average. In 2005, however, the Yankees had him scrap that slider for a curveball. That seems odd, to take away an effective and projectable pitch. But that turned out as well as possible. In an oft-quoted line, Baseball America said before the 2007 season: "Hughes' greatest accomplishment as a pro has been to forsake his slider in favor of a knockout curveball, which is more of a strikeout pitch and produces less stress on his arm." Yet in recent years that curveball has faded considerably.
In recent years Hughes actually dumped the 1-to-7 breaking ball for a knuckle curve, a la A.J. Burnett and Mike Mussina. Last year, during his struggles, he switched back to the straight grip on the curve. It hasn't helped him much. Part of the problem is that he's rarely throwing the pitch. He's thrown just 33 curveballs this year, compared to 32 cutters, 28 changeups, and 142 four-seamers. But what's most striking about the curveball is its complete ineffectiveness to date.
For starters, hitters are rarely swinging at old Uncle Charlie. Of the 33 times he's thrown it, they've swung 12 times and taken 21 — 11 balls and 10 strikes. Of those 12 swings he's generated zero misses. That is, every time he's gone to bury a curveball in the dirt, the hitter has laid off. Even worse, the Pitch F/X data has recorded four line drives out of seven balls put in play. We're dealing with a sample of only 18 hitters, but it sure seems as though those 18 hitters saw Hughes's curve very well.
The changeup hasn't been that effective for Hughes, either. He's thrown more of them, as shown above, which is a good start. But he has little control of it, as 15 of the 28 times he's thrown it the batter has taken it for a ball. He has generated four swings and misses, however, so he does stand some chance of getting guys to chase it. While it's tough to make the comparison, since he's thrown the fastball five times more often than the changeup, his swing and miss percentage is roughly the same with both pitches. Of course, the fastball has been called for a ball roughly half as frequently as the changeup.
It's understandable why Hughes has gone to his four-seamer so often. He can overpower hitters with it, as he throws it high in the zone with late life. But he can't continue throwing it almost 60 percent of the time and expect to succeed in the rotation. He's going to have to get that curveball going if he wants to stand a chance. The changeup will have to come along as well. If not, Hughes could find himself in the bullpen for good, at least in pinstripes, come early May. That's usually where they send guys who rely on just one or two good pitches.