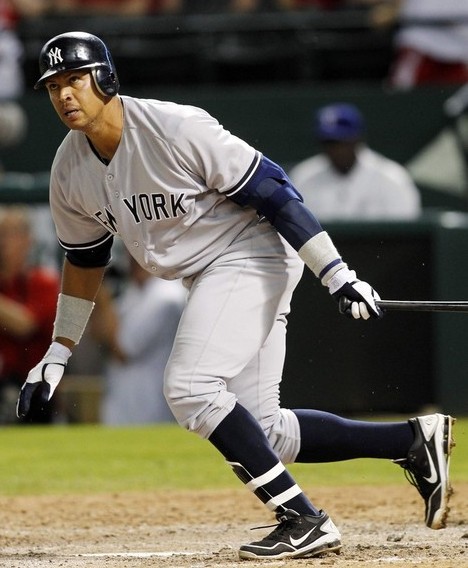 Despite scoring just three runs in their last 21 offensive innings, the Yankees still lead baseball with a 126 wRC+ and are second in runs per game at 5.56. Derek Jeter and Curtis Granderson have been the club's two best hitters so far in this young season, but their two least productive lineup spots have been three and four. If you happen to be new to baseball, that's traditionally where teams stash their best hitters.
The Yankees' number three hitters have produced a .300/.341/.438 batting line in 85 plate appearances, which is actually 4% worse than league average despite that shiny batting average. Power and on-base ability matters. The cleanup men have hit a much uglier .206/.341/.368 in 82 plate appearances, a whopping 17% worse than league average. Every other lineup spot has been at least 2% better than average, most substantially more than that. It's like this giant hole of non-production right smack in the middle of the order.
Other than a one-game cameo by Mark Teixeira, the three and four spots of the lineup have belonged to Robinson Cano and Alex Rodriguez this season. They've been flipping back and forth based on the opposing starter and Joe Girardi's whim, but it's been those two since day one. Cano's struggles — .264/.337/.413 — are frustrating but unexpected, plus he has gone 12-for-40 with five doubles and homer in his last ten games (.300/.378/.500). I'm very confident that he'll continue to right the ship.
A-Rod has managed to stay healthy so far this year (knock on wood) but the performance hasn't been there: .221/.329/.382 in 79 plate appearances. He's been streaky in the early going — six bad games followed by seven awesome games followed by four bad games — but that's expected this time of year. Day-to-day consistency is baseball's greatest myth, it just doesn't exist. I think A-Rod will hit better as a the season progresses though he'll never be the guy he used to be, but the real problem as that two of the team's least productive players are currently hitting right behind their two most productive players. It's not a coincidence that Jeter has been on-base more times than anyone other than Matt Kemp but is only ninth in runs scored.
We know that batting order doesn't made a huge difference over the course of the 162-game season, but in one individual game it could have a huge impact. I think the best solution might be to move Alex up in the order, not down. Bat him second behind Jeter, who is on base all the time these days and forces the pitcher to work from the stretch. Keep Cano in the three-hole and bat Curtis Granderson cleanup. It might help kick start A-Rod's bat a little bit and if not, no big deal. They can always change things up in the future. Patience is a wonderful thing in baseball, but sometimes it's okay to jump the gun a bit and make changes earlier than expected. Rearranging the lineup furniture at this point is perfectly fine and worth trying.