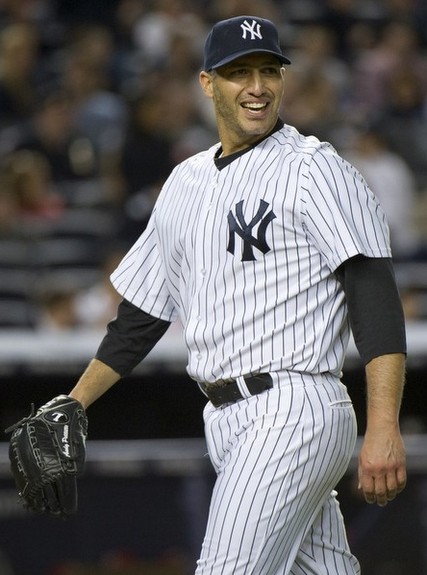 When Andy Pettitte announced that he was coming out of retirement … well, wait. He never really announced it. The Yankees just signed him out of the blue one Friday afternoon in mid-March and that was it. There were no indications that was planning to come back, in fact there was quite the opposite — insistence that he wasn't coming back. Pettitte was with the team as a guest instructor in Spring Training but there's nothing unusual about that. Former players are all over the place in camp.
Anyway, when we found out Pettitte was coming out of retirement to rejoin the Yankees, I admit I was very skeptical about his ability to contribute anything meaningful this summer. We all love Andy, but he was still an almost 40-year-old guy who had spent a year away from the game and had missed a bunch of time due to injury in his final season as a player. The "attempt" part of his "comeback attempt" wasn't being emphasized enough I thought; the odds were stacked against this thing working out.
Pettitte went through his various minor league tune-up starts and was actually pretty underwhelming statistically. He was allowing a ton of hits and runs to minor league kids but the team said not to worry about it, he was throwing strikes and the wind was blowing really hard. Fine, whatever. The Yankees called him up three weeks ago and to much fanfare and celebration, Pettitte allowed four runs in 6.1 innings against the light-hitting Mariners in his return. All four runs came on a pair of two-run homers and he walked more batters (three) than he struck out (two).
I was still pretty skeptical. There was some obvious rust still to be shaken off and we needed to see how Andy would rebound in five days. One feel-good start back does not a comeback make. Pettitte rebounded well of course, striking out nine Reds in eight shutout innings in his second start before holding the Royals to two runs in seven innings with eight strikeouts last night. It was the first time he struck out at least eight hitters in back-to-back starts since he wore an Astros' uniform in July of 2006.
I'm not skeptical anymore. Three starts into his comeback, it's pretty obvious that Pettitte can not only contribute to the Yankees this season, but he can be a damn good starting pitcher for them. Heck, if the Yankees were going to start a best-of-five playoff series today, Andy would be my number two starter. He's looked that good. He's running his cutter in on righties, he's bending his curveball on the corners of the plate, and his changeup looks like it stops in mid-air. Pettitte doesn't just look like he never left, he looks better than he has in a while. Maybe the year away from the game put some life back into that body.
Who knows what Andy will do from here on out. There is still a lot of season to be played and his body will have plenty of chances to betray him, but it's hard to look at Pettitte right now and not consider him a bright spot. He's exceeded my expectations in the sense that he's shown he can still be dominant and pitch deep into games, curtailing concerns about him becoming a five-and-fly fifth starter type. Andy is no fifth starter right now. He's the second best pitcher on the team already and the Yankees are going to need him to continue to pitch well as they help shake off this recent slump and climb back in the AL East race.