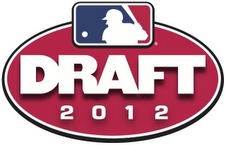 After three long and sometimes tedious days, the 2012 amateur draft is complete. The Yankees selected 41 players across the 40 rounds, starting with first rounder Ty Hensley on Monday night. They added another 15 players on Tuesday and concluded with the final 25 rounds yesterday. The spending restrictions implemented by the new Collective Bargaining Agreement led to some creative drafting around the league including in New York's war room, which emphasized young and upside around the typical unspectacular Day Three picks on Wednesday.
All of Yankees' picks can be seen at Baseball America. The majority of the players selected yesterday will just help fill out low minors rosters for a summer or two but there are some gems mixed in. Teams usually signed 30-35 players out of a typical 50-round draft in the past, but I'm not sure if that number will change with the new 40-round format. It's easy enough to plug roster holes with undrafted free agents anyway. Here's a look of the players the Yankees hauled in the yesterday, the forgotten 16-40th round crop.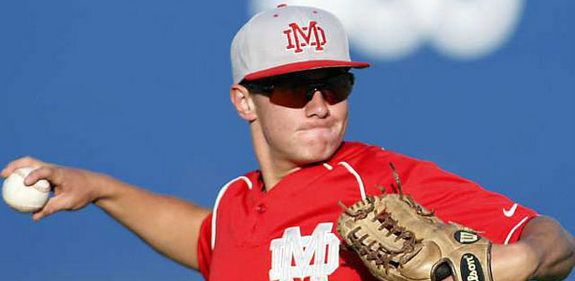 The Upside Plays
By taking five college seniors in the first ten rounds on Tuesday, the Yankees saved enough draft pool space to roll the dice with same late-round gambles in the later round. High school outfielders Vincent Jackson (23rd round), Ty Moore (25), and D.J. Stewart (28) were selected within five picks of each other and represent the best of the late-round, high-upside lot. I actually wrote Moore up as a potential target a few weeks ago and I'll just refer you to that, but the short-version is that he's a bat-first prospect with left-handed power.
Jackson is the best prospect of the bunch, a left-handed hitter with the innate ability to get the barrel of the bat on the ball and future power potential based on his 6-foot-5, 195 lb. frame. He pitched some in high school and has a strong arm to go with good speed, though not good enough to play center field long-term. The Yankees like Stewart so much that they invited him to Tampa for not one but two pre-draft workouts according to Corey Dowlar. Another lefty hitter, he has power but lacks baseball experience because he focused primarily on football in high school. There's lots of athleticism in Stewart's stocky 6-foot-0, 215 lb. frame.
Prepsters Brady Lail (18) and Jose Diaz (29) belong in this mix as well, though they don't offer the same kind of obvious upside as Jackson, Moore, and Stewart. The former is 6-foot-3, 170 lb. right-hander who's shown three pitches — 85-91 fastball, curveball, changeup — while the latter is a 6-foot-2, 180 lb. southpaw with an 86-91 mph fastball and sweepy low-70s slider. Both Lail and Diaz need years of development, but they do offer some intriguing long-term potential. That late in the draft, rolling the dice on projectable arms is never a bad move. The Yankees will not lose any draft pool money if these guys don't sign because they were selected after the tenth round.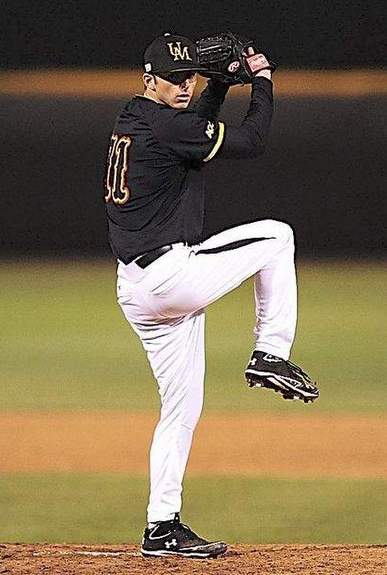 Bullpen Arms
Say what you want about their ability (or inability. really) to develop starting pitchers, but the Yankees pump out quality bullpen arms like few others. They continued to replenish that pipeline on Day Three, starting with 16th rounder Stefan Lopez. The right-hander sits anywhere from 91-94 and relies on his fastball heavily, rarely breaking out his slider or changeup. Lopez has a classic bulldog reliever mentality, pitching through a torn ACL at the end of the season for Southeastern Louisiana.
The Yankees liked Maryland's bullpen so much that they drafted the Terrapins' closer in Jimmy Reed (21) and setup man in Charlie Haslup (26). Haslup, a right-hander, is actually the better prospect of the two. He's a big guy (listed at 6-foot-4 and 200 lbs.) with a low-90s fastball and a solid slider that can miss bats. Reed is a tiny little southpaw (listed at 6-foot-0 and 163 lbs.) who relies heavily on his low-80s slider. He has a chance to provide some value as a lefty specialist down the road.
Catching Depth
The Yankees value catching depth and although they selected just one true backstop on Day Three — prepster Dalton Smith (36) — they did grab two interesting conversion candidates. Samford's Saxon Butler (33) provides power from the left side and although he spent most of his college career at first, he showed off his catching skills in pre-draft workouts. JuCo outfielder Sherman Lacrus (40) has some right-handed pop and experience all over the outfield and behind the plate. He doubled as a reliever and offers a strong arm to help neutralize the running game.
One-Tool Wonders
Once you get this late in the draft, into the double digit rounds, there's not much more teams can do other than lock in on a guy with one standout tool and hope it carries him up the ladder. Georgia shortstop Kyle Farmer (35) is a standout defender at one of the toughest positions to fill on the diamond. LSU outfielder Raph Rhymes (30) was one of the best pure contact hitters in the entire draft. Butler provides power and Reed a wipeout breaking ball, both from the left side. Doing one thing very well is an advantage these late rounders have over their peers.
Accomplished Players
Rhymes led the nation in hitting with a .469 average this year and won the SEC Player of the Year award. Left-hander Tim Flight (17) was named the Division II Pitcher of the Year at Southern New Hampshire, striking out 140 in 102.2 innings. Lopez led the country in saves this spring with 19. Accolades and individual accomplishments really mean nothing as far as a player's pro potential in concerned, and frankly every draft class will have its fair share of decorated players. These three deserve some acknowledgement for their excellent seasons.

Nepotism Picks
Every team uses some late-round picks on friends and relatives of former players, current staff, etc. and the Yankees are no different. They took Andy Cannizaro's younger brother Garrett (32) out of Tulane six years after he briefly wore pinstripes. This doesn't really qualify as nepotism, but New York drafted Miami southpaw Eric Erickson (34) six years (!) after taking him out of high school in the 43rd round in 2006. Erickson had Tommy John surgery twice in college because the first new ligament didn't take (missed all of 2009 and 2011) and this pick feels like a bit of a favor after a tough few years. I suppose it's also worth mentioning that the Yankees drafted right-hander Jose Mesa Jr. in the 24th round, the son of the former big league closer of the same name. That's not exactly nepotism though, the senior Joe Table never played for the Bombers.
Day Three Overview
The new spending restrictions actually made the third day of the draft more interesting than the second. The Yankees saved some serious draft pool money by going college senior heavy in the top ten rounds and followed up by grabbing a number of high-end prospects yesterday. Jackson, Moore, and Stewart are premium high school talents and prep arms like Lail and Diaz offer upside on the mound as well. Don't expect New York to sign all of them — they're all essentially back-up plans for each other — but reeling in even one with the saved draft pool would be win. Signing two would be a minor miracle and the core of a strong draft haul headlined by Hensley, Austin Aune (2), and Pete O'Brien (2).