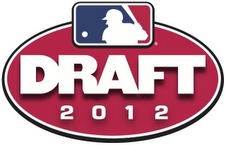 The new Collective Bargaining Agreement has changed the draft. A few weeks ago we had a pretty good idea that the Yankees would take some college seniors in the top ten rounds in order to save draft pool money and reallocate it elsewhere, but they took it to the extreme and so did a number of other clubs. I don't think it's a coincidence that the four teams who took the most college seniors in the top ten rounds — Yankees (five), Rangers (five), Red Sox (five), and Blue Jays (seven) — are four of the smartest run organizations in baseball.
By saving all that draft pool money, the Yankees are in a position to take some serious high-upside plays on Day Three. Since we're beyond the tenth round — the draft resumes with the 16th round at noon ET — there is no penalty for failing to sign a player. If you don't sign a player in the top ten rounds, you lose the draft pool money. Any money spent in excess of $100k on a post-tenth rounder counts towards the draft pool, so think of any player taken from the 11th round on down as coming with a $100k draft pool discount. It's a pretty smart strategy and I kinda feel stupid for not realizing it earlier.
The Yankees have selected 16 players through 15 rounds so far, highlighted of course by first rounder Ty Hensley. It sounds like he's going to sign very soon, so that's pretty cool. You can see all of New York's selections at Baseball America, and as expected, they're a diverse group.
High School Upside
Although they went college senior heavy on Day Two, the Yankees still picked a number of prep players with big tools. The headliner is outfielder Austin Aune (2nd rounder), who has actually already agreed to sign. Hailing from Texas with a dual-sport (baseball and football) scholarship to TCU in place, Aune is said to offer big raw power from the left side with arm strength and speed in center field. Like most Yankees' draftees, his makeup is considered a plus as well. The team acted so quickly to sign him that I have to think a pre-draft agreement was in place, or least the two sides were on the same page.
First baseman Nathan Mikolas (3) is another left-handed hitter with big raw power and an above average hit tool. He has consistently produced with wood bats against top competition in showcase events, though it remains to be seen if he can stick in an outfield corner or has to be relegated to first base. Canadian right-hander Dayton Dawe (15) is a projectable 6-foot-2, 180 lb. hurler with the ability to command two low-90s fastballs (two and four-seamer). His soft curveball and changeup need work, as does his delivery. Because he hasn't played as much baseball as his peers, Dawe needs quite a bit of refinement. The present package is intriguing though, especially in round 15.
The Yankees value depth behind the plate and added to it with Chris Breen (12) out of Florida. He's a pure hitter from the right side, having shown the ability to hit breaking balls and with wood in showcase events. Breen, like most of New York's selections, is lauded for his makeup and leadership skills. He's athletic but at 6-foot-3 and 215 lbs., remaining behind the plate long-term is far from guaranteed.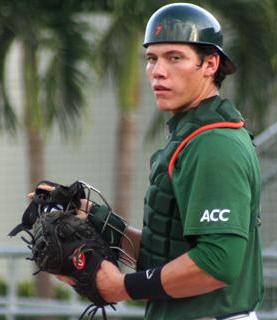 Cheap Value
College seniors may come with small price tags due to a lack of leverage, but that doesn't mean they're short on ability. Miami catcher Peter O'Brien (2) was one of the best seniors in the draft, a right-handed hitter with power to all fields and strong knowledge of the strike zone. Because he stands 6-foot-5 and 225 lbs., it's unclear if he can remain behind the plate long-term despite a strong throwing arm. O'Brien is bilingual and has been lauded for his leadership skills all throughout his time with the Hurricanes. It's worth noting that he's currently out with hairline fracture in his left wrist.
Right-hander Taylor Garrison (7) is an accomplished college closer at Fresno State thanks to his low-to-mid-90s fastball and above average cutter. He also mixes in a curveball and changeup, but expect him to focus on his two best pitches as a pro. Ole Miss first baseman Matt Snyder (10) is just a masher, a brute strength hitter from the left side. He has raw power, hitting smarts, no defensive value, no speed, and big league bloodlines — his brother Brandon was a long-time Orioles' prospect and is currently coming off the Rangers' bench. Power is hard to find, but Snyder has a ton of it.
Power Arms
In addition to Garrison, the Yankees added a pair of hard-throwing right-handers in Faulkner University's Corey Black (4) and LSU's Nick Goody (6). Black, a redshirt junior, missed most of last season with Tommy John surgery but returned to throw 88 innings this spring. His long-term future may be in the bullpen but he at least has a chance to start with a legit mid-90s fastball and a reliable changeup. Black's ability to remain in the rotation depends on the development of his inconsistent breaking ball. He told A. Stacy Long that he intends to sign quickly.
The Yankees like Goody so much they drafted him twice, in the sixth round this year and in the 11th round last year. He's strictly a bullpen guy with two power offerings — a fastball in the 90-94 range with a sharp slider in the low-80s. Goody is an extreme strike-thrower evidenced by his 45/3 K/BB in 32.2 IP for the Tigers this spring. He's not Mark Montgomery, but he has a chance to climb the minor league ladder quickly as a strikeout reliever.
Left-hander James Pazos (13) is one of only two southpaws the Yankees have drafted in the first 15 rounds. The San Diego junior is big — listed at 6-foot-3 and 225 lbs. — and aggressive with a low-90s fastball. His slider has improved greatly this spring, though he'll probably scrap his nascent changeup as a pro and focus on his two best pitches as a reliever. Pazos has been a workhorse for the Toreros, showing the ability to work consecutive days and multiple innings. The Yankees have a lot of interesting power bullpen arms in their farm system, but most of them are right-handed. Pazos adds some much needed left-handedness.

The Conversion Candidate
New York selected Rob Refsnyder (5) as a second baseman out of Arizona even though he's been an outfielder for the Wildcats. Born in South Korea before being adopted by an American family as an infant, Refsnyder has the compact frame (6-foot-0 and 200 lbs.) and first step quickness to handle the middle infield, where he played in high school. His bat is his calling card, with a level right-handed swing geared for hard contact to all fields. If the conversion takes, the Yankees will have nabbed an offense-first second baseman in the middle rounds of the draft.
The Long-Term Project
Almost no one is a finished project at the time of the draft but some need more development time than others. Lots more. Prep left-hander Caleb Frare (11) is as raw as it gets, hailing from Montana where they don't even play high school baseball. He's been pitching for an independent travel team, sitting in the mid-80s with his fastball and in the low-70s/sometimes mid-60s with his curveball. The hope is that pro instruction and training programs will add some strength to his 6-foot-2, 195 lb. frame and turn an athletic kid with an idea of how to pitch in a bonafide pitching prospect with good stuff.
Organizational Depth
Outfielder Taylor Dugas (8) is a speedy leadoff type out of Alabama, and in fact I wrote him up as a potential cost-saving senior sign option back in March. That's exactly the reason why New York took him, to save some draft pool space for other players. Right-handers Derek Varnadore (7) and Andrew Benak (14) are classic college pitchers with nondescript stuff who have shown the ability to handle big workloads at major college programs, Auburn and Rice respectively. None of the three are strong prospects, but they add depth to soak up the leftover at-bats and innings in the minors. Organizational players are important but not necessarily exciting.
Day Two Overview
Thanks to the new CBA, we've reached a point where rounds 11+ are more interesting than 6-10. The Yankees added a few interesting prospects in Aune, O'Brien, Black, Goody, Pazos, Refsnyder, Dawe, and Breen on Day Two but their draft is obviously incomplete. How they use the savings from the five college seniors — total of $1.031M worth of draft pool money is tied up in those five picks — in Day Three today will really shape the draft overall. Expect to see them take a number of higher upside players late in hopes of signing one or two or three of them with that excess draft pool money. Day Two was the inside fastball to Day Three's outside slider, it was a setup pitch.