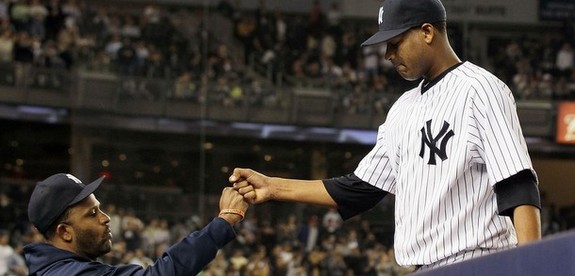 Ivan Nova pitched poorly in Anaheim last week. So poorly that I said the Yankees needed to consider sending him to the minors if he didn't start to show improvement and soon. Nova showed improvement last night and then some, holding the Rays to one garbage time run across eight innings of work. After allowing five runs in 6.2 innings to the Halos last time out, it was a very welcome sight.
"After the game in Anaheim I had a nice conversation with Robbie Cano," said Nova after last night's game. "He was telling me I had to start pitching good. I had to be ready. I had to prepare myself more if I need it. (Andy Pettitte), even when he came out of the game [on Tuesday], he told me, 'Your turn tomorrow.' He was waiting for me to pitch today, even though he pitched. He came out and the first thing he said was, 'Your turn tomorrow.' That motivates you when guys like that want you to do good.
More than anything else, what stood out last night was Nova's ability to induce the ground ball. He came into the start with a 44.8% ground ball rate — down from 52.7% last year — but generated a season-high 13 ground ball outs for the second straight outing. Nine of those 13 ground balls came off the fastball, which is vintage Nova. After getting a grounder on 53.42% of all balls-in-play off his fastball last year, that rate was down to just 43.75% prior to last night. Getting the heat down had been the problem all season, until Nova appears to have made an adjustment to get back to being the guy he's supposed to be.
"He has an understanding of what he needs to get done. He wasn't kidding himself," said pitching coach Larry Rothschild last night. "Sometimes, with young pitchers, they will delude themselves into thinking other things, but he knew. He knew he wasn't throwing the ball the way he can and making the pitches that he should. That's the start of making some adjustments. If you don't feel like you need to do that, you're not going to do it. But he knew after the game he needed to make some adjustments both mentally and physically and he did it tonight."
The Yankees have won ten of their last 13 games and two of those losses were imminently winnable walk-off defeats. This recent success has started on the mound with the starting pitchers, who pitched poorly as a group for the first six weeks of the season before turning things around of late. During this 13-game stretch, the rotation has pitched to a 3.22 ERA in 99.1 IP with a stellar 3.47 K/BB ratio. Compare that to a 4.93 ERA and a 2.78 K/BB ratio earlier in the season. It's just a massive difference. Getting quality starting pitching every time out makes life so much easier.
Andy Pettitte's return has helped solidify things, ditto Phil Hughes' recent turn around — he's allowed two earned runs or less in four of his last five starts. Hiroki Kuroda has been tagged with the "inconsistent" label but has surrendered no more than three earned runs in seven of his last starts. That's exactly what was expected of him coming into the season. CC Sabathia provides quality bulk innings like few others; I don't need to tell you that. One start does not mean Nova is out of the woods of course, but he looked better last night than he has at any other point this season. If he's made the necessary adjustment to keep the fastball down, the Yankees will be running a quality arm out there game after game and the wins will follow.