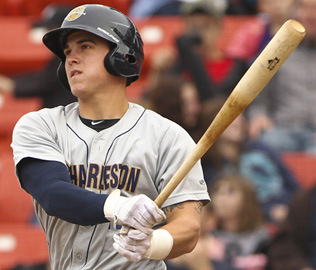 The regular season is only two months old, but it's already safe to say it's been a pretty down year for the farm system. Injuries have wreaked havoc on some of the Yankees' top pitching prospects and a few of the lower level position players have battled extended slumps. The number of disappointments is always greater than the number of surprises, but I feel like it's been taken to the extreme in 2012.
The pre-draft list is unquestionably my least favorite of the three prospects lists I publish (preseason, pre-draft, post-draft) because not a much has changed this early in the season. There's always injuries and extreme performances (both good and bad), but most prospects just maintain the status quo. Just three prospects have dropped off the Preseason Top 30 List — Cesar Cabral, Graham Stoneburner, and David Adams — and that's almost entirely due to injury. None of the preseason list guys have graduated to the big leagues yet, though David Phelps is getting awfully close.
The post-draft list is always a ton of fun though. Figuring out where the new guys fit in is always a challenge and frankly, it's nice to have new players to write about. There's only so long you can write about these guys before you start to get prospect fatigue (coughDellinBetancescough). Anyway, so here is an updated look at the 30 best aspiring big leaguers in the Yankees' organization. Ages are as of today.
LHP Manny Banuelos, 21 — currently on the DL with a sore elbow after missing time with a lat issue, we really haven't gotten a chance to see the southpaw all that much this season (3.83 FIP in just 24.0 IP)
OF Mason Williams, 20 — the most exciting player in the system got off a scorching hot start but has battling nagging injuries and perhaps relatedly, a prolonged slump over the last two or three weeks (.331 wOBA)
C  Gary Sanchez, 19 — he's pounding Low-A pitching (.383 wOBA) as he should be in his second tour of duty, and you have to figure a promotion is coming soon
RHP Jose Campos, 19 — manhandled the competition (3.24 FIP in 24.2 IP) before elbow inflammation put him on the shelf indefinitely
RHP Rafael DePaula, 21 — has yet to appear in a game after finally securing his visa, so this ranking is based on his substantial upside
3B Dante Bichette Jr., 19 — he got off to a slow start and didn't hit his first homer until yesterday, but DBJ has come on strong of late (.324 wOBA) and is poised for a big second half
OF Tyler Austin, 20 — the run-away favorite for farm system MVP through the first two months (.477 wOBA), Austin has continued to show his all-around offensive game while adapting well to right field
RHP David Phelps, 25 — has pitched to a 4.49 FIP in 33.1 IP as a swingman for the big league team, and I doubt he'll be eligible for the post-draft list in mid-July
RHP Dellin Betances, 24 — his control issues have gone from bad to worse (7.69 BB/9 and 18.5 BB%) and his days as a starter appear to be numbered
C  J.R. Murphy, 21 — having what might be the quietest bad year in Yankees' prospect history (.297 wOBA), though his walk (9.5%) and strikeout (12.2%) rates remain very strong
OF Ravel Santana, 20 — the ankle is all healed up and he's slated to join Short Season Staten Island when their season begins later this month
RHP D.J. Mitchell, 25 — got his first taste of the big leagues and is having another solid season with the traveling circus in Triple-A (3.40 FIP)
C  Austin Romine, 23 — hasn't played yet this season due to an inflamed disc in his back, but he's been cleared to resume baseball activities and is expected to return until July
OF Ramon Flores, 20 — he's been pretty streaky so far (.313 wOBA) but continues to control the strike zone well (8.1 BB% and 16.5 K%)
OF Slade Heathcott, 21 — has yet to play this season due to another left shoulder surgery, but he's scheduled to debut with High-A Tampa next week
RHP Adam Warren, 24 — hasn't pitched all that well this year (4.74 FIP) and frankly, has been underwhelming in Triple-A since getting their last season (4.24 FIP in 207.2 IP)
RHP Mark Montgomery, 21 — I'm not going to call him the next David Robertson, but Montgomery is the closest thing we've seen to the next D-Rob thanks to his knockout slider and pure dominance (1.21 FIP)
RHP Brett Marshall, 22 — has turned into a steady and reliable workhorse, but he isn't missing bats in Double-A (5.02 K/9 and 13.7 K%) and that's a red flag
2B Angelo Gumbs, 19 — has been sneaky great so far (.355 wOBA) and has done his best work on the bases (19-for-22 in stolen base attempts)
RHP Bryan Mitchell, 21 — the long-term project has been inconsistent from start-to-start but has some of the best stuff in the organization (3.20 FIP) and the strikeout rates to back it up (9.62 K/9 and 26.3 K%)
SS Cito Culver, 19 — another slow starter (.310 wOBA), Culver gets a bit of a pass because his missed time following his grandfather's death … he's started to kick it into gear in May and has shown off a great batting eye (14.6 BB%)
LHP Nik Turley, 22 — has battled on-and-off blister issues but has otherwise continued the progress he made last season (2.97 FIP)
OF Zoilo Almonte, 22 — missed several weeks with a hamstring issue but has hit well when on the field (.342 wOBA)
C  Greg Bird, 19 — power-hitting backstop will try to prove he can stick behind the plate when he joins one of the Short Season clubs later this month
OF Ben Gamel, 20 — Mat's little brother has been a consistent producer this season (.325 wOBA) but he needs to develop some pop down to road since he's stuck in the corner outfield
RHP Chase Whitley, 22 — three-pitch reliever has forced his way to Triple-A early this spring (3.61 FIP) and could be in line for a late-season call-up
UTIL Ronnie Mustelier, 27 — is he the position player version of Al Aceves? I don't know, but you can't ignore the .412 wOBA he's put up since signing
UTIL Brandon Laird, 24 — hasn't hit at all in Triple-A dating back to two years ago (.299 wOBA in 823 plate appearances), but he sneaks into the list because he's versatile and does have power
LHP Daniel Camarena, 19 — three-pitch command lefty is likely to debut with the Rookie Level Gulf Coast League Yankees following his stint in Extended Spring Training
2B Corban Joseph, 23 — returning to Double-A for a third straight season (.390 wOBA) after starting the year on the DL with a shoulder program is odd, but he was hanging onto the list by the skin of his teeth anyway