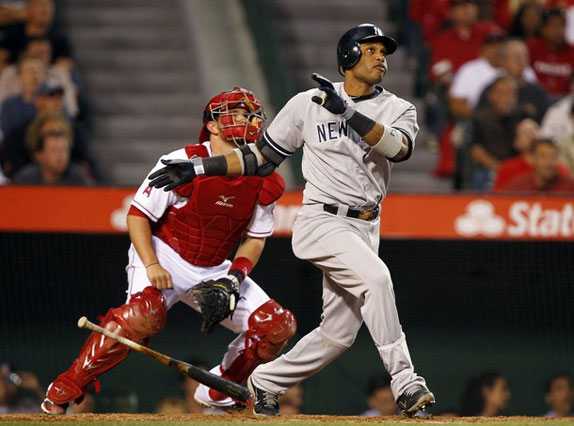 For last month's wrap-up, please click here. I went a little overboard collecting data this month, so I'll try to make this as brief as possible.

The Yankees played a decidedly mediocre month of baseball in May, going 14-14 and splitting both their home and road contests. They're probably lucky to have managed a .500 record considering they gave up slightly more runs than they scored, but all things considered one can't complain too much about the mostly uninspired ball the team played seeing as how they didn't lose any games in the standings. Although that 4.0 runs per game mark is pretty sad considering they never even dipped below 4.5 runs per game during any one calendar month over the last two seasons.
The Offense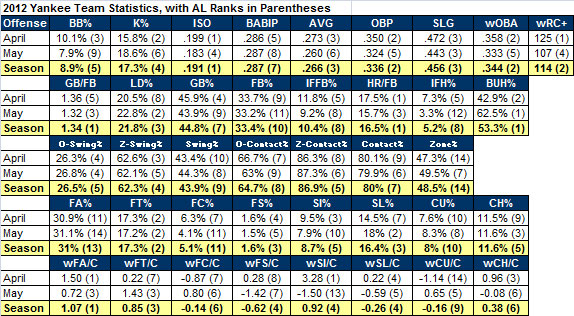 Despite one of the most wretched stretches of futility in recent Yankee history mid–month, the team still wound up with an above-average attack in May (107 wRC+), although in reality the team's primary issue wasn't putting runners on but actually taking advantage of their opportunities and scoring those runners. Unfortunately I can't split RISP down by month — I can't imagine how gross the team's numbers would've been in May — but on the season the Yankees have a .309 wOBA/90 wRC+ with runners in scoring position, which is just unacceptable for a team with this much firepower. I still expect things will even out in due course, but it doesn't make the futility any less frustrating to watch.
On an individual level, Robinson Cano finally remembered he was Robinson Cano, putting up a .399 wOBA/152 wRC+, and the much-maligned Mark Teixeira (137 wRC+) and the slightly lesser-maligned Alex Rodriguez (131 wRC+) also provided output closer to their career norms, though the latter's line remains rather punchless (.431 SLG in May; .424 overall). Raul Ibanez also continued to do work, with a big-time .397 wOBA/151 wRC+. On the flip side, Russell Martin's hitting woes continued, with a below-average (though fairly well above-average for a catcher) .313 wOBA/93 wRC+; while Derek Jeter's hot hitting cooled off as he turned in a .315 wOBA/94 wRC+ month.
However, most surprising was Nick Swisher, who went from red-hot in April to completely useless in May, with a .242 wOBA/44 wRC+ showing. This was Swish's second consecutive sub-par May (last year .293/78); hopefully he can get back to where he's supposed to be in June.
Starting Pitching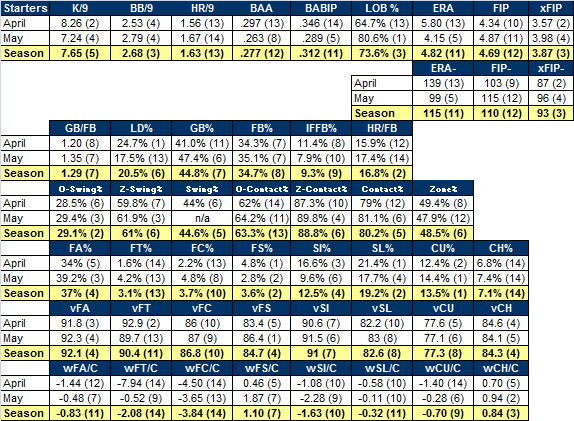 After a horrific start to the season, the starting rotation got somewhat back on track on May, although the staff's most glaring weakness — susceptibility to the longball — actually got even worse. I keep waiting for the HR/9 to regress, and while it seems unlikely that the Bombers' starters will go an entire year giving up home runs at  an absurd 1.63 per nine clip — only five teams in the last decade featured rotations that even posted 1.5 HR/9 rates for a full season, and the highest of those five was 1.59 by the 2003 Rangers — they are going to have to cut the longball crap out if they intend to both make and make a deep run in the playoffs. Of the bottom 30 rotations by HR/9 in that link, only three made the postseason — the 2006 Twins (1.37 HR/9), the 2007 Phillies (1.35) and 2009 Phillies (1.34).
As usual, CC Sabathia led the way with another badass month of May, although even he wasn't immune to the home run (1.14 per nine); Hiroki Kuroda continued to outpitch underwhelming peripherals (3.96 ERA/5.01 FIP); Andy Pettitte returned to the team for the first time since October 2010 and didn't skip a beat, helping lend some stability to the rotation; while Phil Hughes and Ivan Nova continued to play which-young-Yankee-righthander-will-get-demoted-first, as Hughes' season line sits at 5.64 ERA/5.04 FIP despite a stretch of four better-than-expected starts, while Nova continued to give up rockets all over the field en route to a 5.60 ERA/5.02 FIP on the year. Perhaps the most frustrating aspect of Hughes' and Nova's struggles is that they continue to strike a lot of hitters out and mostly limit the walks, but they are making far too many mistakes and when they do, those mistakes are getting crushed. Incredibly, Hughes' 1.7 HR/9 was actually an improvement from April's 2.9 rate.
The Bullpen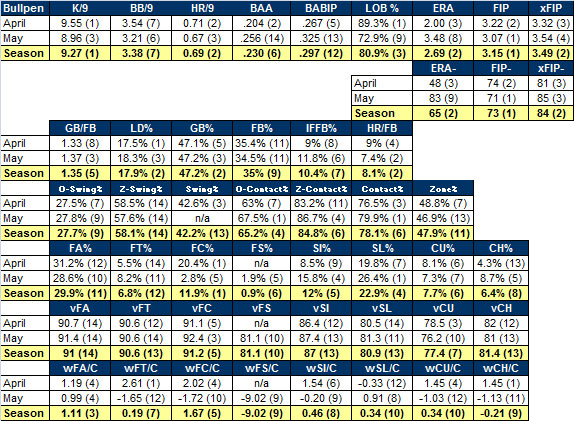 For the second straight month, the bullpen was the team's most consistent component — not to mention remained one of the most effective units in the AL — which is pretty amazing considering Mariano Rivera didn't pitch and David Robertson threw 3.1 innings. Boone Logan wins the award for most ridiculous line of the month, with a 15.4 K/9, 1.0 BB/9, zero home runs, .538 BABIP, 4.82 ERA and -0.08 FIP. Yes, negative.
Platoon and Home/Road Splits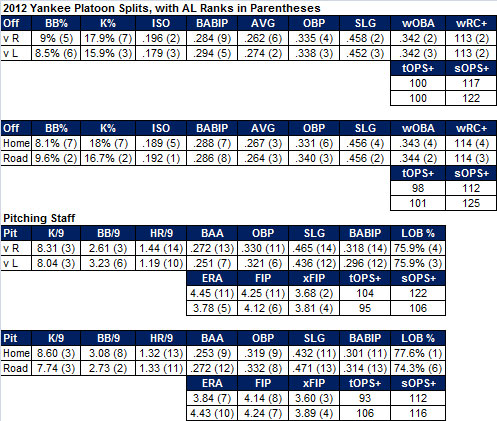 Because I am a glutton for punishment, I also compiled the team's platoon and home/road splits for the first time ever in a monthly wrap-up, to see what, if any, trends have emerged.
As you can see, the offense has turned in nearly identical performances against both righthanders and lefthanders. I was probably most surprised to see that the offense has performed slightly better on the road than at home — in particular, the team somewhat surprisingly leads the AL in road ISO, although they did come in 2nd in the AL in that category last year, so I suppose it's not that bizarre.
The pitching staff has been getting absolutely brutalized by righthanded hitters, giving up a league-worst 1.44 home runs per nine to righties and league-worst .465 slugging. Lefties have been kept at bay slightly more effectively, although they're still doing their share of damage. And it may surprise some of you that the staff has pitched better at home thus far this season despite Yankee Stadium's friendly offensive confines, though they are still giving up way too many extra-base hits.