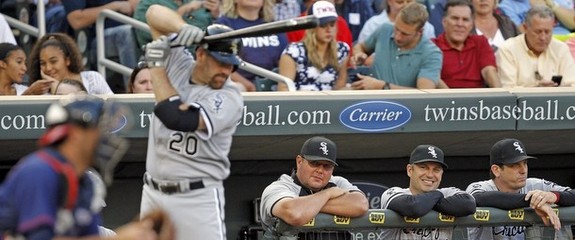 The Yankees have played every AL team except for one this season, but that will change today. The White Sox and new manager/former Yankee Robin Ventura are in town for a four-game set, New York's eighth consecutive series against a team with a winning record.
What Have They Done Lately?
Chicago just won two straight against the Twins and have won four of their past five games. Prior to that they had lost seven of nine. At 40-35 with a +40 run differential, the ChiSox sit atop the AL Central thanks in part to New York's sweep of the Indians this week.
Offense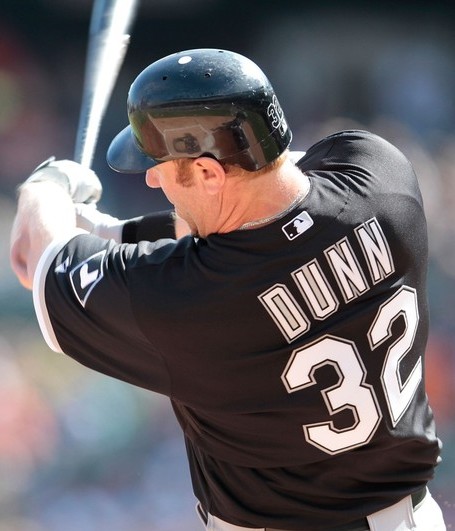 The White Sox are a sneaky good offensive team, averaging 4.64 runs per game. That's a top-ten mark in baseball and not all that far behind the Yankees (4.80 R/G). Paul Konerko (159 wRC+) has been their MVP yet again, but he had a minor wrist procedure earlier this month and has hit just .238/.314/.349 since. I wouldn't take any solace in that, the man can still mash.
Adam Dunn (136 wRC+) is second in the AL with 24 homers while ranking first in walk (18.7%) and strikeout (37.8%) rate. He's a three true outcomes machine. Dunn and Konerko have been one of the game's best 3-4 combinations this season. Alejandro De Aza (109 wRC+) has shaken off the Quad-A tag to emerge as a legitimate leadoff man this year, and new addition Kevin Youkilis (91 wRC+) will put together some annoyingly good at-bats from the two-hole.
The rest of Ventura's regular lineup features the enigmatic Alex Rios (125 wRC+), contract year A.J. Pierzynski (119 wRC+), the powerful Dayan Viciedo (93 wRC+), the slumping Alexei Ramirez (52 wRC+), and the disappointing Gordon Beckham (81 wRC+). The ChiSox don't have much a bench, with backup catcher Tyler Flowers (67 wRC+), infielders Orlando Hudson (52 wRC+) and Eduardo Escobar (64 wRC+), and outfielder Jordan Danks (137 wRC+ in very limited time) doing the honors. Yes, Jordan is John's brother.
Pitching Matchups
Thursday: RHP Ivan Nova vs. RHP Dylan Axelrod
The White Sox probably do a better job of turning random arms into serviceable big leaguers than any other team, and Axelrod is another guy they plucked off the scrap heap and inserted into their rotation. He's taking the place of the injured Phil Humber. Axelrod has made two starts and two relief appearances this year, pitching to a 4.85 ERA with a 6.05 FIP. His strikeout (6.23 K/9 and 14.8 K%), walk (2.08 BB/9 and 4.9 BB%), and ground ball (42.2%) rates aren't awful, but Axelrod has allowed three homers in his 13 innings so far. The 26-year-old former minor league free agent is a low-80s slider specialist, throwing the pitch more often than either of his upper-80s fastballs (two and four-seamer). He'll also mix in a low-80s changeup and an upper-70s curveball.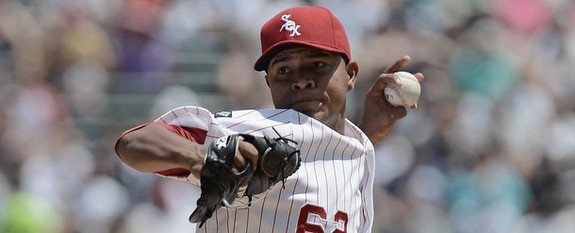 Friday: RHP Adam Warren vs. LHP Jose Quintana
At this time last year, Quintana was pitching for High-A Tampa and giving the Yankees something to think about. They declined to add him to the 40-man roster after the season and he signed with the ChiSox, who have used the 23-year-old southpaw to replace the injured John Danks. Like I said, they pluck the scrap heap as well as anyone. Quintana has pitched to a 1.25 ERA (2.96 FIP) in six starts and two relief appearances, relying more on his ability to limit walks (1.25 BB/9 and 3.7 BB%) than get strikeouts (4.98 K/9 and 14.8 K%) and grounders (41.1%). He is primarily a two-pitch pitcher — upper-80s fastball and low-80s slider — that will also throw an upper-70s curveball and once or twice a start, a mid-80s changeup. At some point his 0.42 HR/9 and 4.4% HR/FB will correct given his ground ball rate and home park, and hopefully the correction starts tomorrow.
Saturday: RHP Hiroki Kuroda vs. RHP Jake Peavy
No longer the Cy Young Award winning version of himself, Peavy is having a legitimately excellent season after battling injuries for the last few years. He's among the league leaders in ERA (2.84) and FIP (3.13) thanks to rock solid strikeout (7.74 K/9 and 22.0 K%) and walk (2.06 BB/9 and 5.9 BB%) rates. Peavy is very fly ball prone (34.4% grounders), however. He'll use six different pitches, including three fastballs (low-90s two and four-seamers plus a mid-80s cutter), two breaking balls (low-80s slider and upper-70s curve), and a low-80s changeup. Peavy has been death on righties this season (.223 wOBA against), so this wouldn't be a bad game to rest Alex Rodriguez and start Eric Chavez.
Sunday: RHP Phil Hughes vs. RHP Gavin Floyd
It's been a tough year for the former fourth overall pick, as Floyd has pitched to a 4.80 ERA and 4.43 FIP. His strikeout rate (8.40 K/9 and 22.1 K%) is a career high, though his homerun rate (1.50 HR/9) is a career worst. The walk (2.40 BB/9 and 6.3 BB%) and ground ball (44.1%) rates are in line with his career norms. Floyd loves his mid-80s cutter, using it heavily along with his low-90s four-seamer and knockout upper-70s curve. He'll mix in a handful of mid-80s changeup as well. Floyd hasn't allowed a run in either of his last two starts and he's known for going on stretches of dominance once the weather warms up, which may or may not be bad news for the Yankees. We'll find out this weekend.

Bullpen Status
Ventura's bullpen is been decent this season (3.87 ERA), and yesterday they ran lefty specialist Will Ohman into the ground (two innings and 46 pitches) before designating him for assignment after the game. That means everyone on the current roster is fresh coming into the series, including rookie closer Addison Reed (2.76 FIP). He's a high strikeout (10.00 K/9 and 25.6 K%) flame-thrower that will walk people (3.67 BB/9 and 9.4 BB%) and give up fly balls (29.7% grounders). Reed is setup by the hard-throwing veteran left-hander Matt Thornton (3.08 FIP).
The rest of their relief corps features some veteran guys you know — Jesse Crain (2.92 FIP) and former Yankee Brian Bruney (5.05 FIP in limited time) — and some guys you've probably never heard of before — righty Nate Jones (3.42 FIP) and lefty Hector Santiago (5.56 FIP). It's unclear who the ChiSox are bringing up to replace Ohman, but based on their 40-man roster, odds are in favor of it being a rookie who will make his big league debut. The Yankees' bullpen is kind of a wreck following Andy Pettitte's short start yesterday, so check out our Bullpen Workload page for the details. Rafael Soriano is unlikely to be available tonight after appearing in four of the last five games. For the latest and greatest on the White Sox, check out South Side Sox.