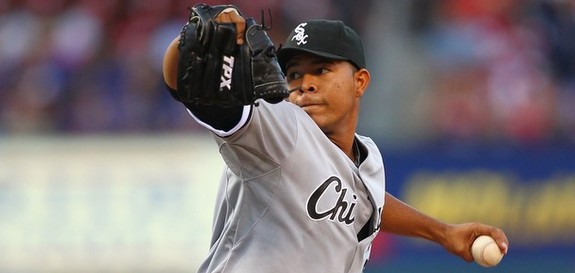 Travis asks: Why did the Yankees let Jose Quintana walk after 2011? He is having a nice year to date with the Chicago White Sox.
Quintana, 23, has pitched to a 1.53 ERA (3.18 FIP) in five starts and two relief appearances (35.1 IP) for the ChiSox this year after pitching to a 2.91 ERA (2.96 FIP) in 102 IP for High-A Tampa last season. As we learned last August, he started his career in the Mets' farm system before being released — following a PED-related suspension — and hooking on with the Bombers. There's a good chance the Yankees will get a look at him when the Sox come to town for four games late next week.
Joel Sherman wrote about Quintana today (great timing, eh?) and the team's decision to let him leave as a minor league free agent after last season…
…the Yankees did not put Quintana on the 40-man roster, making him a free agent. GM Brian Cashman said they deliberated on the matter and, despite a dearth of quality lefties in the system, "We looked at him as a fringy prospect. We offered him a minor league contract to stay, but not a 40-man roster position. We didn't feel he was ahead of other guys we gave spots to. It was a numbers game, but right now it does not look like a good decision."
Quintana's agent hunted around for a 40-man roster spot and found a taker in Chicago. Quintana made nine starts in Double-A before coming up for good when John Danks hit the disabled list. He's excelled at limiting walks (1.53 BB/9 and 4.5 BB%) and homers (0.51 HR/9) but he hasn't racked up many strikeouts (5.09 K/9 and 15.0 K%) or ground balls (40.4%). Quintana uses his upper-80s fastball and mid-80s slider heavily but will also mix in the occasional upper-70s curveball and on the rarest of occasions, a mid-80s changeup. Sherman spoke to a scout who had a little more to offer…
A scout for an NL team who saw two of his major league starts reported a good fastball that Quintana cuts and sinks, but worried there was no clear swing-and-miss pitch, and also that the southpaw had a bad pickoff move and was slow to the plate, making him susceptible to stolen bases.
It's worth noting that White Sox pitching Don Cooper is the best in the business, with a long track record of turning mediocre arms into solid starting pitchers if not more. Guys like Esteban Loaiza, Gavin Floyd, and Phil Humber owe a great deal of their MLB success to Cooper. Who knows what he did with Quintana to lead to this success, if anything.
The Yankees protected two pitchers — David Phelps and D.J. Mitchell — from the Rule 5 Draft last offseason (as well as three position players) but they were still left with an open 40-man spot and theoretically had room for Quintana. Whether or not the southpaw's success is sustainable given his lack of strikeouts and grounders — of if he'd even have this success without Cooper — is worth debating, but the obvious it would be nice if the Yankees had him in their farm system right now. They goofed, it happens.