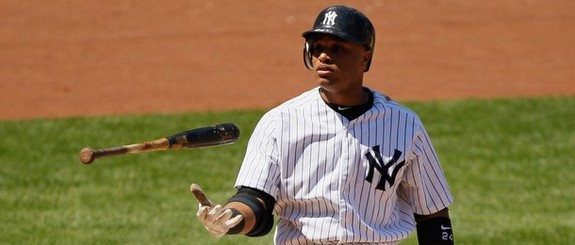 Power and patience. Those two traits have defined the Yankees' offense for more than two decades now. They work deep counts and force pitchers to throw a ton of pitches, then take advantage by driving the ball all over the field and homers over the fence. It's brutally effective, but lately the Yankees seem to have gotten away from the patience part. They're still hitting for a ton of power — second in baseball in homers (61) and fifth in extra-base hits (135) — but the at-bats don't seem to be as long as usual.
Anecdotally, we've seen a whole lotta first pitch swinging of late. Heck, Alex Rodriguez saw a total of six pitches (!) in four trips to the plate just yesterday, so this isn't completely a case of my mind playing tricks on me. Bronson Arroyo started the eighth inning with a pitch count of just 83 on Friday and a day later Homey Bailey needed 97 pitches to navigate seven innings. When right, the Yankees have the opponent's pitch count up in the 80s by the fourth or fifth inning, so clearly something has been amiss during this recent offensive slide.
At the moment, the Yankees average 3.83 pitches per plate appearances and that is actually below the league average. Granted, it's below average by one-hundredth of a pitch per plate appearance, but below average is below average. The Yankees as currently constructed should be far above the league average in terms of seeing pitches. I was floored when I dug this up. It just doesn't make sense. Worst of all, they've been hovering right around the league average all season…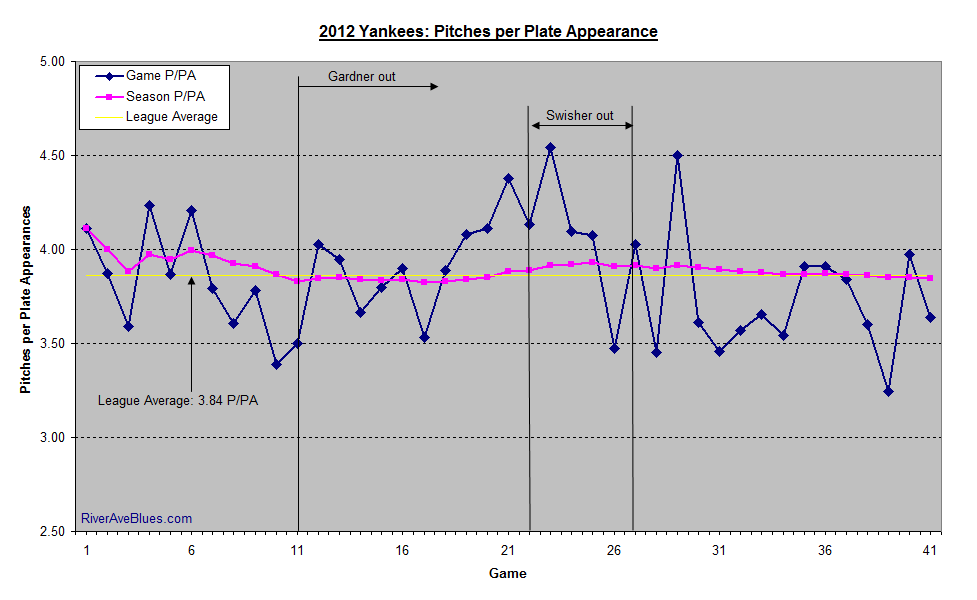 (click to embiggen)
Other than a short climb in late-April and early-May, the Yankees have sat right around the league average in pitches per plate appearance since things stabilized about ten games into the season. That coincides with Brett Gardner's injury and he's obviously a guy that will work counts and see a ton of pitches each time up. One guy isn't enough to explain the huge difference from what the Yankees have established as the norm. They saw 3.92 pitches per plate appearance in each of the last two seasons and that's right around where they should be in 2012 even though Jorge Posada has been replaced by Raul Ibanez.
It stands to reason that fewer pitches seen would result in a decline in walk rate, and sure enough…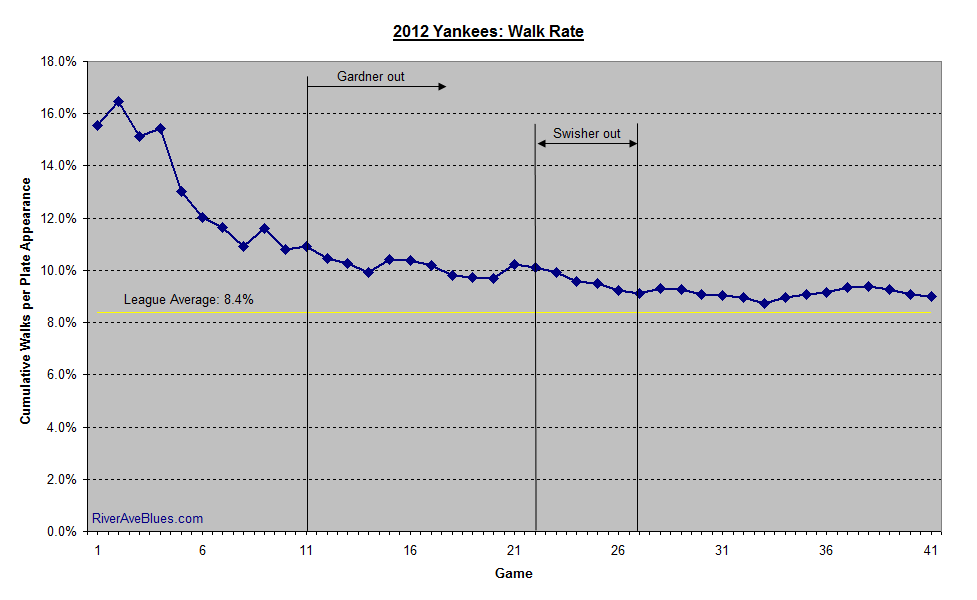 (click to embiggen)
The Yankees have walked in 9.0% of their plate appearances this season, above the 8.4% league average. That walk rate has steadily declined as the season has progressed, particularly in the last 15-20 games. Last season they had a 9.9% walk rate and the year before it was 10.4%, and that's right around where they were sitting this year until this ridiculous offensive slump set in about three weeks ago. Obviously hits are better than walks but this isn't an either/or situation, the Yankees have dominated offensively for years because they've done both, hit and walked. Lately they haven't done much of either.
The run production has been dreadful of late, like throw your remote at the television awful. The Yankees have scored two runs or less in half of their last 20 games and it's no surprise given some of the at-bats. Maybe they're pressing, maybe it's irreversible decline, maybe it's bad coaching, maybe it's just small sample size noise, maybe it's all of that and more. The Yankees have gotten away from being patient and waiting for the pitcher to make mistakes, and although we can't definitively say it's the root cause of their offensive problems, it sure seems to be a contributing factor. The sooner they get back to grinding out at-bats (in all situations!), the better.