The Yankees pulled out a nail-biting 5-4 win to sweep the Indians on Wednesday — their fifth straight win and 15th in the last 18 games — but they lost quite a bit as well. Before the game the team announced that CC Sabathia was placed on the DL with a left adductor strain, and during the game Andy Pettitte was struck by a batted ball that fractured his ankle. Just like that, two-fifths of the rotation is gone.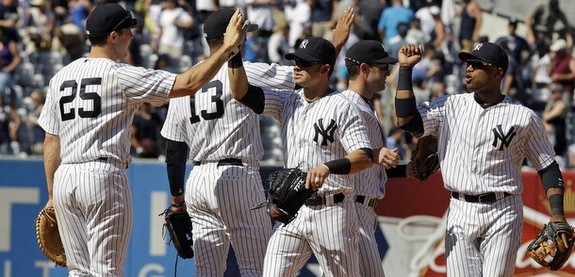 Zombie
The Yankees forced Cleveland's pitchers to throw a total of 83 pitches (!) in the first inning this series, but they were unable to capitalize on Ubaldo Jimenez's two first inning walks on Wednesday. The Tribe took a one-zip lead in the second and Ubaldo settled a bit, retiring nine in a row before Robinson Cano singled with one out in the fourth. It was New York's first hit of the game.
Mark Teixeira struck out on a nasty Bartolo Colon-esque inside two-seamer, but Raul Ibanez managed to work a walk before Eric Chavez drove a two-run, two-out double the other way into the left-center field gap. Maybe my memory is playing tricks on me, but I don't remember Chavez hitting balls with this much authority last year. Last season it seemed to be an awful lot of ground ball singles and stuff like that, but now he's driving the ball well and being rewarded with extra-base hits. His latest gave the Bombers a 2-1 lead.
The Bad Inning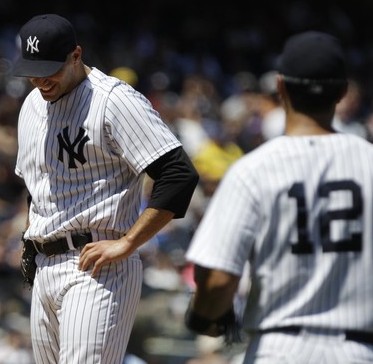 Everything seemed to go wrong in the top of the fifth. The inning started with Pettitte's injury, a hard-hit one-hopper that resulted in Casey Kotchman's infield single. Joe Girardi went to Cody Eppley, but another infield single put two men on. A sac bunt moved them up to second and third with one out. Clay Rapada came in to get a ground ball to first, a ball that was hit hard enough for Chavez to make the throw home to keep the run from scoring.
Freddy Garcia — Friday's scheduled starter at that point — was warming up in the bullpen but Girardi elected to keep Rapada in to face the switch-hitting Asdrubal Cabrera. I know he's been quite good of late, but Rapada is awful against right-handed batters (career .439 wOBA against) and he predictably allowed the game-tying single. Jason Kipnis, a lefty, followed with a bloop single to give the Indians a 3-2 lead. I like that Girardi matched up in an effort to escape the jam in the middle innings, but he ended up having to bring Freddy into the game in the middle of the inning anyway. Garcia struck out Jose Lopez but the damage was done, both on the scoreboard and to Pettitte.
En Fuego
Cano has been his team's hottest hitter of late, coming into this game with a .331/.407/.703 batting line in his last 46 games and six homers in his last nine games. He made it seven homers in ten games with a two-run shot in the sixth, a two-strike opposite field job off Ubaldo after Alex Rodriguez started the inning with a double to right. I didn't think Robbie got enough of it for a homer, but it definitely looked like extra bases off the bat. The ball just kept carrying though, and it clanked off the front wall of the left field bleachers. It didn't just sneak over the fence. Cano's been coming up with some monster hits of late, and this one turned a one-run deficit into a one-run lead.
Shutdown
I feel like Garcia's 2.1 innings are going to get lost in the mix of everything else that happened, but he was the unsung hero of the day. Pettitte was out of the game and Freddy retired all seven men he faced to give the offense a chance to get back in it. You know what this was? It was a vintage 2009 Al Aceves appearance. Garcia came in, soaked up some innings, and kept the Yankees in the game. He deserves some serious props for his effort on Wednesday, and his reward is a start in Pettitte's place on Monday.
David Robertson took over in the eighth and threw a rare 1-2-3 inning, striking out two. The Yankees tacked on an insurance run in the bottom of the inning — Chavez singled in Teixeira, so a big day for him — and that run proved to be important because Rafael Soriano had a tough time in the ninth. Pitching for the fourth time in five days, he loaded the bases on two singles and a walk before walking in a run and escaping the jam on a Cabrera fly ball. He also struck out the oh-so-clutch Johnny Damon for the second out. It wasn't pretty but it was effective.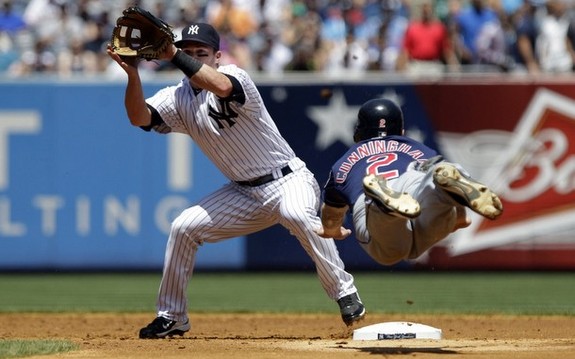 Leftovers
I feel like I should mention the defense a bit. A-Rod made a throwing error in the second that led to the first run of the game, though Jayson Nix made a sweet bare hand play on a slow chopper in the same inning. Nix also made a nice tag on the pickoff play you see above to end the inning. Chavez made a real nice stretch to corral an errant Cano throw to end the third, then he teamed up with Russell Martin for the play at the plate in the fifth. There was a little bit of good and a little bit of bad with the gloves, which is kinda par for the course these days.
The 3-7 hitters went a combined 7-for-17 with two doubles, a homer, and three walks. The other four lineup spots went a combined 0-for-14 with one walk, a stolen base (by Curtis Granderson after that walk) and seven strikeouts. As a team, the Yankees went 3-for-8 with runners in scoring position and 8-for-19 (.421) in the series. It's almost like hitting .220-something in those spots with this lineup wasn't going to last forever.
Yet again, MLB.com won't let me embed it, but here is video of Wednesday's HOPE Week event. The Yankees brought five-year-old Andy Fass to Yankee Stadium and played tee-ball with him after the game. Andy suffers from a rare disease called oculocutaneous albinism, which impacts his eyesight and skin pigmentation. He's legally blind and has to avoid long exposure to the sun. Suddenly losing two starting pitchers in one day doesn't seem so bad.
Box Score, WPA Graph & Standings
MLB.com has the box score and video highlights, FanGraphs the advanced stats, and ESPN the updated standings. The Red Sox won and the Rays lost, so the Yankees are currently seven games up in the loss column on both.

Source: FanGraphs
Up Next
The Yankees have played every AL team but one so far this season, and that will change Thursday night when the White Sox come to town for a four-game series. Ivan Nova will kick things off against rookie right-hander Dylan Axelrod. Check out RAB Tickets if you want to head up to the Stadium for that one.