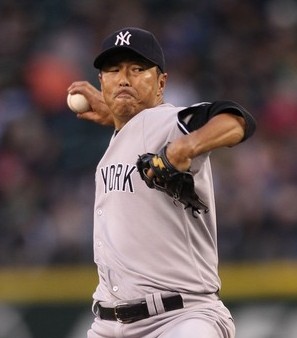 It happens every time media reports connect the Yankees with an NL pitcher, and one success story won't change that. There is a seemingly widespread belief that pitchers who succeed in the NL cannot succeed in the AL, or at least cannot succeed in the AL East. Hiroki Kuroda has proven doubters wrong. After a rough start to the season he has become one of the Yankees' most reliable pitchers. His results even line up pretty well with his career numbers, despite the league shift.
In 2010 and 2011 Kuroda produced a 3.23 ERA, which amounts to a 117 ERA+ (which accounts for league and ballpark factors). While his raw ERA is a tick higher this year at 3.34, the league and park factors change the picture. After last night's victory over Seattle Kuroda owns a 127 ERA+. That's good for 12th in the AL, just one spot behind CC Sabathia.
Not only has Kuroda delivered in results, but his peripherals seemingly line up well. His 19.4 percent strikeout rate matches up almost perfectly with his numbers from the last two years. The difference, of course, is that he doesn't face opposing pitchers any more. Against pitchers in 2011 his strikeout rate was a hair under 40 percent; in 2010 it was 37 percent. Viewed in that manner, his strikeout rate has virtually increased this season, since he doesn't have the benefit of facing that pitcher 60 times a season.
Kuroda does have two-plus months remaining, and perhaps AL lineups figure him out by then. But they haven't been able to do so in the past two months. Starting with his May 16th start against Toronto (as to exclude his previous one against Seattle) and through his start July 18th (for the same reason), he has a 3.40 ERA with a 7.94 K/9 rate (21.5 percent). That's a pretty hot run through some tough opponents.
The next time someone decries the Yankees' interest in a pitcher because he's an NL guy, try to think of Kuroda's success. He might not disprove the theory, but he does show that certain types of pitchers can succeed in any league.