When I looked at the Yankees and their potential needs two months ago, I noted that injuries were going to play a big part in their trade deadline strategy. Brett Gardner's elbow never healed and the team responded by acquiring Ichiro Suzuki, but Joba Chamberlain's return from Tommy John and ankle surgery have gone well so far. He could be back as soon as next week. Injuries at the minor league level also play a role since rosters these days run deeper than 25 players.
The trade deadline is one week from today, though in reality the deadline extends into August as well. Those players just have to pass through revocable waivers first, which usually isn't an issue. The Yankees may have the best record in baseball and some a sizable lead in the AL East, but there are still some cracks in the dam worth plugging.
A Quality Reliever
I've been harping on this for weeks, but New York needs another reliable, non-specialist reliever. This is tricky because relievers are just so unpredictable, but having four OOGYs in a seven-man bullpen really handcuffs Joe Girardi. Perhaps Joba is that guy and it would be amazing if he is, but as I've been saying, you can't really count on him for anything until he's actually back out on a big league mound contributing in a positive way. Those were two major injuries he suffered. Finding a solid middle reliever who can pitch to batters on both sides of the plate should be a priority, lest we be subjected to more Chad Qualls.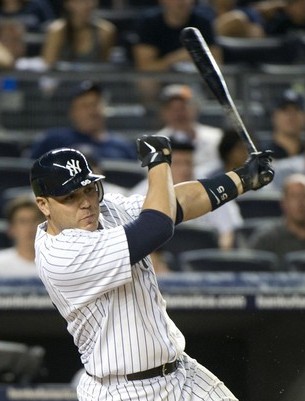 A Catcher
Somehow Russell Martin's second half BABIP (.143) is lower than his first half BABIP (.193). Yes, I know it's only been eight games, but the point is that the Yankees can't turn a blind eye to their catching situation forever. Martin has been awful (79 wRC+), Chris Stewart has been even worse (45 wRC+), and we aren't talking about a pair of Yadier Molina-level defenders either. They're below league average in throwing out base-stealers (24.1%), have allowed the sixth most passed pitches (wild pitches plus passed balls) in baseball (37), and rank 24th in Total Zone (-4). It's ugly.
I understand that quality catchers are hard to find, but we're not looking asking for a miracle. Just someone better with Stewart that can split time with Martin. Russ always hits better with more rest, so finding someone to take the load off three times a week would be ideal. Quality, above-average catching isn't a prerequisite for winning the World Series, but it's not a coincidence that most years the champion has a strong backstop.
Pitching Depth
This kinda ties in with the quality reliever thing above, but I'm talking more about the Triple-A level. The only 40-man roster pitchers in the highest level of the minors are Adam Warren, Cory Wade, Ryota Igarashi, and lefty specialist Justin Thomas following the trade of D.J. Mitchell. Dellin Betances in Double-A doesn't really count. It's not a super-high priority because the Yankees do have some non-40-man options — Manny Delcarmen and Juan Cedeno, specifically — but I would expect them to scour the waiver wire for an up-and-down arm or two over the next few weeks. Just to replenish the pipeline and add depth.
Utility Infielder
Jayson Nix has hit well enough for a utility infielder (79 wRC+), especially against left-handed pitchers (99 wRC+). He's not much of a defender though, especially at shortstop. Ramiro Pena is the club's only real shortstop alternative in Triple-A, at least until Eduardo Nunez returns from his thumb injury in a week or so, so the Yankees are stuck with Nix for the time being. That's fine for spot starts but will be a problem if Derek Jeter misses any length of time. This is the last item on the deadline shopping list, but digging up a 2009 Jerry Hairston Jr. type would be a marginal though legitimate upgrade.
* * *
The starting rotation has held up fine following Andy Pettitte's injury and even during CC Sabathia's DL stint, so I wouldn't expect the Yankees to swing a trade for a starter. Freddy Garcia has been serviceable as the fifth starter and both David Phelps and Warren provide some insurance. Pettitte's rehab is reportedly going well which is all we could ask for at this point. Maybe if they find out things hit a speed bump at some point they'll swing an August waiver trade, but otherwise I wouldn't expect a deal for a starter. The bullpen and catcher situation are obvious areas of need leading up to the trade deadline, with miscellaneous pitching depth and a utility infielder further down the list.